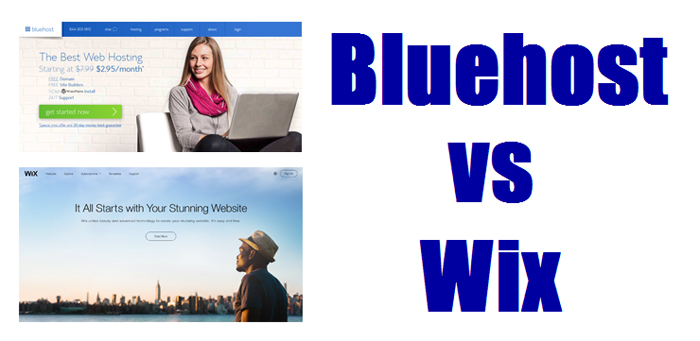 How does Bluehost compare with Wix? This comparison between a traditional web hosting plan and a website builder package takes a look at Bluehost's Shared Hosting plan versus Wix's website builder packages.
Bluehost vs Wix For eCommerce Websites
With Bluehost, you get access to the eCommerce applications available in cPanel. Because eCommerce websites can be tedious and challenging to build using a traditional hosting plan, Bluehost is probably not the best choice for most people that want to create an online store—especially newbies.
Wix has greatly streamlined the process of building an online store. In fact, you can purchase their website plan specifically for eCommerce. Best of all, when you purchase an eCommerce website builder plan at Wix, the additional functionality required for online stores is included such as payment processing, shipping charges, taxes, etc.
Wix is definitely the winner for eCommerce sites.
Bluehost vs Wix For Small Business Websites
For non-eCommerce sites for businesses, we also like Wix over Bluehost. While you can certainly create a professional website for your business using Bluehost, some of the features, performance, and support are not as robust as with other top web hosting companies. For that reason, we like the speed and convenience that Wix offers for creating small business websites.
For most small business websites, we recommend Wix over Bluehost.
Bluehost vs Wix For Blogs
Although you can easily add a blog with your Wix website, blog websites is the category where Bluehost does excel over Wix—mainly due to their WordPress hosting. Bluehost is one of the recommended web hosting companies by WordPress.org. And, their customized cPanel interface lets you easily install and maintain your WordPress website.
If you're strictly looking to create a blog, then Bluehost is recommended over using Wix.
Bluehost vs Wix Comparisons
| Features | Bluehost | Wix |
| --- | --- | --- |
| Easy Site Creation | | |
| Website Speed | | |
| Resources | | |
| Site Security | | |
| Customer Support | | |
| Transferability | | |
| Value | | |
Advantages and Disadvantages
Recommendation
This comparison between Bluehost and Wix is a little closer than most of our match ups between a traditional web host and a website builder company. Here, it really comes down to the amount of online experience you have.
Wix is ideal if you're starting out and have never created any kind of online entity. You can quickly and easily get a website online. With Bluehost, you get a more complete package that is better if you plan on growing and enhancing your websites in the future. Bluehost gives you a lot more control over your website. However, you'll have to put in more of your own time building your site.
In this comparison, I would choose Wix for most websites. While Bluehost is a decent choice for WordPress sites, their overall performance isn't as impressive as other web hosts we've tested and used. Therefore, the convenience and quickness of using Wix to build a website wins out here. See our review ratings for Wix below.