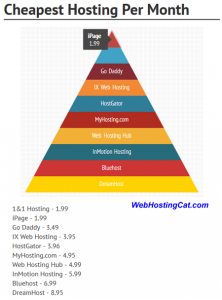 The Web Hosting Compare by the Numbers page has been updated for the 4th quarter of 2013. While many web hosts have introduced new features or added new services with their hosting plans, prices remain relatively the same.
Meanwhile on the social media front, Go Daddy remains the king in terms of numbers, but there are some interesting changes. 1&1 Hosting has made a big leap in Facebook likes. Bluehost has more than doubled its number of Twitter followers. And, HostGator shows a big increase in its number of Google +1s.
Check out our updated Web Hosting Comparison by the Numbers page to see the complete results.