Introduction
Earlier this year, we took a look at the best choices for eCommerce web hosting. Because online selling continues to be one of the most popular yet challenging types of websites to build and grow, in this article we compare in detail three of the best options for eCommerce websites in 2018: Shopify vs Wix vs WooCommerce.
With the emphasis these days on easier website creation, Shopify and Wix are part of the website builder arena that includes hosting and everything else you need to start selling online. Meanwhile, for WordPress users, WooCommerce is absolutely the preferred selling platform. Which one should you choose for your eCommerce site? Let's first take a look at what each platform has to offer and then see how they compare when it comes to price, features, performance, support, etc.
Shopify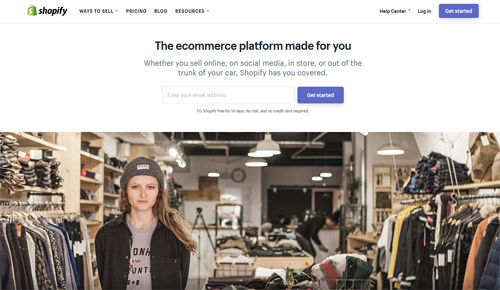 Shopify was created specifically to help website owners that want to sell products online. With Shopify, the process of creating an eCommerce website is greatly streamlined and simplified. You have access to everything you need to build and run a successful online store site.
Features
Unlimited Products and Inventory
Accept Credit Cards with Shopify Payments
Unlimited Bandwidth, Inventory, and Customer Data
14 Day Free Trial
Abandoned Checkout Recovery
Free SSL Certificate
Multiple Languages Supported
Automatic Calculation of Taxes Based on Location
Shopify App for Managing Store on Smartphone
Offer Discount Codes and Buy One Get One Promotions
Easy Inventory Management
Sell Digital Products
Pros and Cons
Pros:
Easy to Use for Dropshipping (e.g. AliExpress)
Includes Hosting
Live Chat Support Available
Cons:
Multiple Stores Require Multiple Accounts
Wix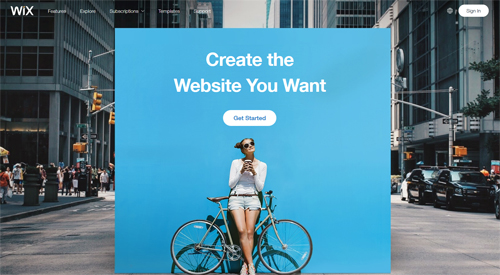 Wix is a good fit for small business owners that need a quick online brochure type of website to promote their business and attract new customers. However, Wix can also be used to create your eCommerce website. In fact, they have a special website package specifically for online stores.
Features
Drag and Drop Store Builder
Create Product Variants for Clothes Sizes, etc.
Easily Track Orders and Manage Inventory
Ability to Send Newsletters to Customers
Multiple Payment Options
Ability to Offer Discounts, Free Shipping, and Other Deals
Easily Integrate with Social Media
Pros and Cons
Pros:
Less Expensive
No Additional Transaction Fee Charges (Payment Processor Only)
Includes Hosting
Cons:
No Live Chat Support
Call Center Not Open 24/7
WooCommerce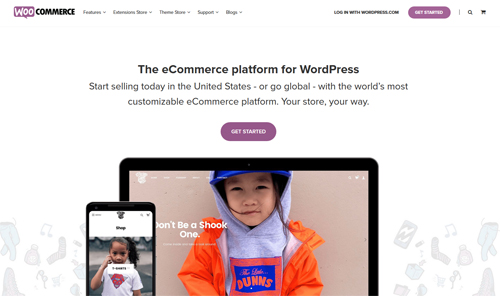 WooCommerce is by far the most popular eCommerce platform for WordPress websites. With WooCommerce, you purchase your domain and web hosting separately, and then you can install WooCommerce as a plugin with your self-hosted WordPress software. While WooCommerce isn't quite as easy to use as Shopify or Wix, the trade-off is that you have more customization and control over your online store.
Features
Completely Open Source
Add Unlimited Products, Users, and Orders
Add Unlimited Images and Galleries
Sell Physical Products, Digital Downloads, Subscriptions, Appointments, Affiliate Products, etc.
Built In Payment Processing (Stripe, PayPal)
Easy Inventory and Order Management
Send Email Notifications
Use Customer Accounts or Guest Checkout
Offer Coupons to Customers
Pros and Cons
Pros:
No Additional Transaction Fee Charges (Payment Processor Only)
More Control Over Your Website
WordPress SEO Benefits
More Outside Help Available
Cons:
Support is Dependent on your Web Host
Site Creation Not as Easy as Others
Native WooCommerce can be Slower
No Abandoned Cart Recovery
Website Pricing
Shopify: $29 mo. – $229 mo.
Wix: $17 mo.
WooCommerce: Free + Hosting Costs
Shopify offers three different levels of eCommerce website plans: Basic Shopify for new businesses; Shopify for growing businesses; and Advanced Shopify for scaling larger online stores. While Wix has different levels of website plans, their eCommerce package is priced at $17 mo. By contrast, WooCommerce is free to use as far as the software is concerned. However, you do have to pay for the web hosting provider you choose.
Website Creation
Both Shopify and Wix provide easier website creation. Wix is slightly easier as you can choose from two methods of creating your website. While Shopify also provides an easy to use eCommerce site creator, you do have to know which area or set of menus to click on to access certain features.
While WooCommerce requires a bit more work in creating your website, you do have more control and more options when building your eCommerce store.
Transaction Fees
Wix and WooCommerce don't charge transaction fees themselves. Here, your fees depend on the payment processor you use such as Stripe or PayPal. Generally, the transaction fees are around 2.9% +.30. Shopify provides their Shopify Payments method for accepting transactions, so they do have a fee schedule as you can see below. Basically, the more you pay for your website plan at Shopify, the lower your fees are (i.e. the Advanced Shopify plan includes the lowest fees).
Shopify
Basic Shopify:
Online Credit Card: 2.9% + .30
In-Person Credit Card: 2.7%
Additional Fees using Non-Shopify Payments: 2.0%
Shopify:
Online Credit Card: 2.6% + .30
In-Person Credit Card: 2.5%
Additional Fees using Non-Shopify Payments: 1.0%
Advanced Shopify:
Online Credit Card: 2.4% + .30
In-Person Credit Card: 2.4%
Additional Fees using Non-Shopify Payments: 0.5%
Wix
Payment Processor Fees
(e.g. Stripe, PayPal)
Usually around 2.9% + .30
WooCommerce
Payment Processor Fees
(e.g. Stripe, PayPal)
Usually around 2.9% + .30
Website Performance
Out of the box, I experienced slightly better speed with Shopify than with Wix. Sites at both places performed well with regards to uptime. WooCommerce performance definitely will vary depending on your web host. So, while native WooCommerce page loading may not be very fast, if you were to upgrade for example to a premium managed WooCommerce hosting plan from Liquid Web, your website speed could be drastically improved—with loading times reduced by 50% or more. In that case, WooCommerce would be the best performing option (though more expensive) of the three.
Customer Support
Here again, with WooCommerce your customer support experience will depend on your particular web host. If you choose a quality WordPress hosting provider, you should receive good customer support response time and issue resolution.
Shopify has excellent all around customer support coverage, and I found the response time to be very good. Wix has a nice knowledge base that includes some video tutorials. However, they don't offer live chat support, and their call center is not available at all times.
Recommendation
My recommendation for an eCommerce solution in this comparison totally depends on your particular situation. For absolute newbies that don't have a huge interest in spending time working on their online stores, I would recommend choosing Shopify. Shopify is also a great choice if you're primarily using drop shipping to sell products.
If you want more control over your online store, are familiar with WordPress, and have some experience in creating websites, then I would recommend WooCommerce. The key with choosing WooCommerce is to make sure you go with a quality WordPress web host. WooCommerce has many benefits, but because it isn't perfect out of the box, I would suggest you first start out with a quality, yet more affordable, hosting plan from a host such as SiteGround or A2 Hosting. Then, after your store is established and you start to make more sales and earn more revenue, I would recommend you consider switching over to a premium WooCommerce hosting option such as Liquid Web's Managed WooCommerce.
So in conclusion, for beginners with no website experience, Shopify gets the nod. However, for the majority of eCommerce websites, WooCommerce is the winner. See our WooCommerce ratings below. *These category ratings are based on the inclusion of one of our recommended WordPress web hosts.