Is Hostinger better than SiteGround? Or, is SiteGround the better choice? In this comparison of Hostinger vs SiteGround, we take a detailed look to see which one is a better fit for your websites.
Hostinger is one of the better choices for budget web hosting, while SiteGround continues to focus more on managed WordPress hosting. Let's see which one you should choose.
Hostinger vs SiteGround: Differences
Advantages of Hostinger over SiteGround:
Lower Initial Cost
Lower Renewal Rates
Easy Website Creation
Accepts Cryptocurrency for Payment
Advantages of SiteGround over Hostinger:
More Premium Managed WordPress Hosting Features
Recommended by WordPress.org
Expert Live Chat Support
Daily and On-Demand Data Backups
Hostinger vs SiteGround: WordPress
Both Hostinger and SiteGround list managed WordPress hosting features with their hosting plans. Between these two hosts, SiteGround provides more premium managed features and is recommended by WordPress.org. However, Hostinger's WordPress features are also impressive and cost less. And, Hostinger's website wizard makes creating a WordPress site extremely easy for newbies.
In my opinion, SiteGround is the winner in the WordPress category. They have superior WordPress features for both beginners (WordPress Starter) and experienced users (staging, on-demand backups, and expert WordPress support).
Hostinger vs SiteGround: Details

| Category | Hostinger | SiteGround | Comments |
| --- | --- | --- | --- |
| Data Centers | | | |
| Server Hardware | | | |
| Network | | | |
| Account Sign Up/Provision | | | |
| Control Panel | | | |
| Speed and Performance | | | See Below |
| Security | | | |
| Data Backup | | | |
| Developer Tools | | | |
| WordPress | | | |
| Website Applications | | | |
| Customer Support Response Time | | | |
| Customer Support Issue Resolution | | | |
| Money Back Guarantee | | | Tie. Both offer 30 Day Money Back Guarantee |
| Price/Value | | | $1.99 – $3.99 mo. |
Hostinger vs SiteGround: Website Speed
Hostinger is actually the surprise winner in this category. While we've always been impressed with SiteGround's hosting technology innovation, Hostinger actually produced better website speeds in our testing. Hostinger's page loading and performance results were consistently better than SiteGround—and that was very surprising.
See our sample speed test results via GTmetrix below: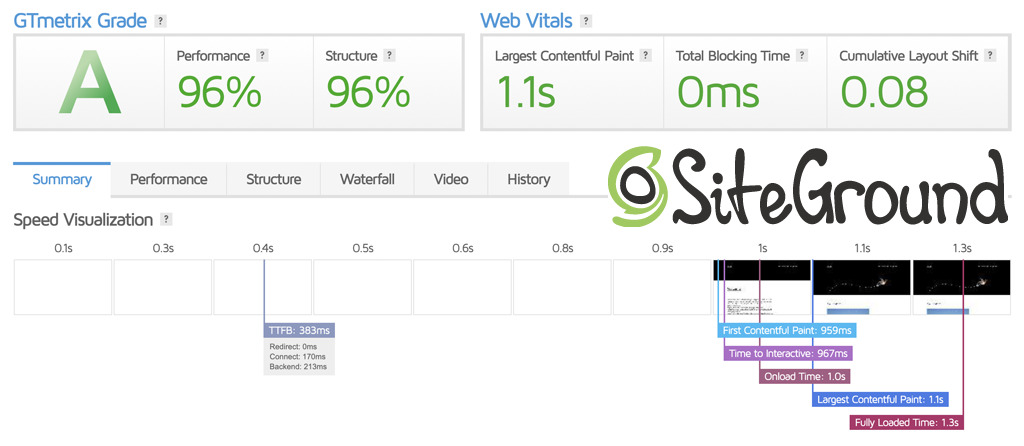 Hostinger vs SiteGround: Customer Support
For customer support, SiteGround is the winner. SiteGround has always had one of the better support departments in the industry. They have an extensive training program that all support team members go through. And, their live chat response times are usually excellent.
Although Hostinger does offer chat support, it isn't really live chat, as you'll need to wait for a response that can take 10 minutes or longer. So here, we give the advantage to SiteGround.
How Does Hostinger Compare with Other Web Hosts?
Hostinger vs A2 Hosting
A2 Hosting has continually been a top web hosting choice for WordPress and other types of websites, while Hostinger continues to be one of the best budget hosting options…
Hostinger vs Bluehost
In this comparison of Hostinger vs Bluehost, we take a look at how one of the best budget hosting options (Hostinger) matches up against one of the best beginner hosting choices (Bluehost)…
Hostinger vs GoDaddy
In this comparison of Hostinger vs GoDaddy, we'll take a detailed look at how one of the better budget hosting options (Hostinger) compares with the largest domain registrar and one of the most established…
How Does SiteGround Compare with Other Web Hosts?
SiteGround vs A2 Hosting
Comparing A2 Hosting and SiteGround is an extremely close call. They both provide many unique features that provide outstanding web hosting performance…
SiteGround vs Bluehost
SiteGround and Bluehost have many similarities within their web hosting offerings. SiteGround's and Bluehost's hosting plans are also very affordable…
SiteGround vs GoDaddy
SiteGround and GoDaddy both offer a wide variety of web hosting services. They have hosting plans that are suited for experienced and less experienced webmasters…
SiteGround vs InMotion Hosting
SiteGround and InMotion Hosting are two of the best web hosts you can find. As a customer of both of these web hosting companies, I've experienced first-hand excellent service and outstanding support…
SiteGround vs InterServer
Here's our comparison of two impressive web hosts that are both great for multi-website hosting. I personally use both SiteGround and InterServer, so I can give you a first-hand account of the advantages both have to offer…
SiteGround vs iPage
SiteGround and iPage both offer many different web hosting plans and services. In this comparison, we take a look at how their Shared Hosting Plans stack up against each other…
Recommendation
Overall, this comparison between Hostinger and SiteGround is extremely close. Both of these web hosts provide impressive features and website performance. If you're looking at creating your first website, then Hostinger would be the better fit. Also, if you're looking for the better budget hosting option, then I would recommend Hostinger as their initial prices and renewal rates are lower. Also, if website speed is your number one criteria, then I would recommend Hostinger.
If you need more premium WordPress hosting features, then SiteGround is the better choice. Although both of these hosts offer quality WordPress hosting, SiteGround includes more advanced premium WordPress features for staging, on-demand data backups, and expert WordPress support.
Because of their superior customer support, as well as continuing to be recommended by WordPress.org, SiteGround is the winner in this very close matchup. See our SiteGround Review Ratings below: