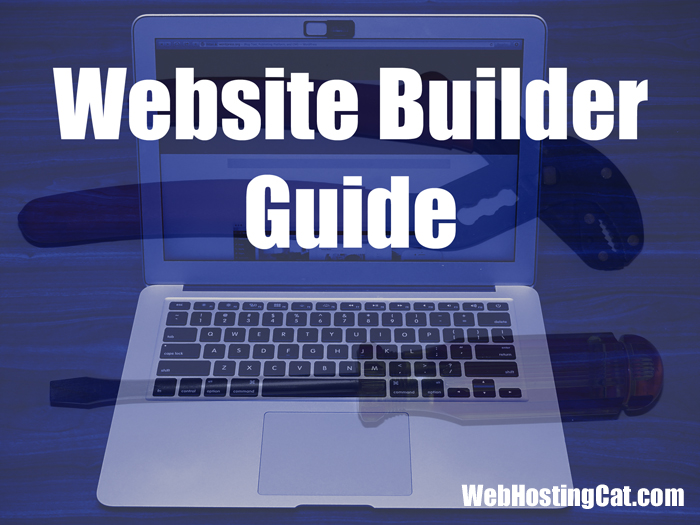 Okay, this is 2023 and for many people that want an online presence, it's not about wanting web hosting, it's about wanting a website! And while traditional web hosting is still the right choice for bloggers and some other site owners, using a website builder is the ideal way to create a website for an ever growing number of people.
In fact, because so many customers want easy to create websites, even the traditional web hosting companies are including website builders with their hosting plans. I've included some of them along with the popular favorites in this Website Builder Guide. But first, let's examine the benefits as well as the potential disadvantages of using website builders.
Advantages of Using a Website Builder
The biggest advantages of using a website builder are that you can create your websites much quicker and the process is much easier where you don't need a lot of training. Many website builders have specific designs for a lot of popular industries that make the website creation process even easier.
What Types of Websites Can You Create with a Website Builder?
Another advantage with website builders is that you can create just about any type of website you need. Now, that doesn't mean a website builder is the best choice for every site. But, they can create highly effective websites for most businesses or personal sites. Some of the best kinds of sites you can create with a website builder are:
Online Advertising Websites
Customer Acquisition Websites
eCommerce Websites
Photo Galleries
Membership Websites
Website builders can be highly effective for creating sites in industries such as:
Photography
Real Estate
Restaurants
Travel
Musicians
Fitness
Fashion
Sports
Pets
Books and Publishers
Health and Wellness
Consulting and Coaching Services
Other Online Stores
Disadvantages of Using a Website Builder
So, are there any cons to using a website builder? Maybe—it depends on your website situation. As I mentioned, a website builder isn't always the best choice. For example, if you want to create a blog, then you really should consider using WordPress instead. It's one of the most popular web platforms and it's particularly geared for blogs.
But the biggest possible disadvantage with using a website builder is that you're trading flexibility and control for the easiness and quickness of creating your websites. For many website owners this isn't a problem. Just keep in mind that if you anticipate having a large website that has lots of frequently updated content, then you might want to consider using a content management system for your website platform such as WordPress, Joomla, or Drupal.
How Much Does a Website Builder Cost?
While the cost of some website builder plans has increased recently, the price range still varies widely from free to over $100. For a comprehensive look at how much each website builder costs, see our Website Builder Pricing Guide.
Website Builder Recommendations
Here is a look at some of the top website builder options—both from specialized website building companies as well as traditional web hosting companies.
A2 Hosting Website Builder


A2 Hosting is an outstanding web hosting company. And one of the reasons for that is their continued release of new tools and services. One of their latest efforts is their A2 Website Builder, which is available with their Shared Hosting services.
The A2 Hosting Website Builder is offered in four different plans: 1-Page, Basic (10 Pages), Business (10 Pages), and Enterprise (Unlimited Pages). You can easily access A2's website builder from cPanel. And, it's very easy to use.
Recommended For:
New Website Owners
Websites of 10 Pages or Less
Site Owners that Want Top Performing Web Hosting
BoldGrid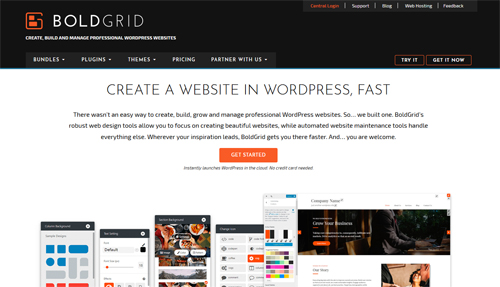 InMotion Hosting was one of the first web hosts to respond to the growing interest in website builders. The result was BoldGrid—a great way to easily and quickly build professional looking websites. Best of all, BoldGrid is built on the WordPress, meaning your websites can take advantage of the most popular website platform on the web.
BoldGrid was initially developed by InMotion Hosting as an alternative to Wix and SquareSpace. It is now a separate company, however InMotion remains a preferred Official BoldGrid Host. BoldGrid is available in both a free and premium version.
Recommended For:
Beginning WordPress Users
Site Owners Wanting a More User-Friendly way to Create WordPress Websites
Larger Websites with More Content
DreamHost Remixer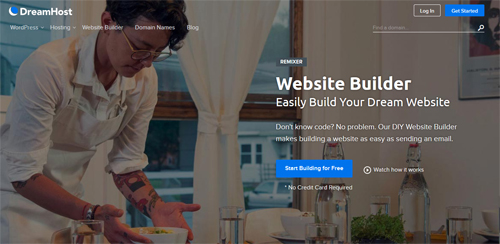 DreamHost has focused on WordPress and Cloud Hosting products for a long time. And now, they also have their own website builder called Remixer to address the growing number of new site owners that want an easier way to get a website online.
Remixer is also one of the easiest website builders I've worked with. DreamHost has done a good job of providing a simple to use site builder that still allows you to add some cool features such as maps and grids. Remixer has some nice website designs, although currently the selection is more limited than other site builders. However, they have now added the ability to export your website to WordPress—which is a great option to have.
Recommended For:
New Website Owners
Site Owners that may want to Move to WordPress in the Future
GoDaddy GoCentral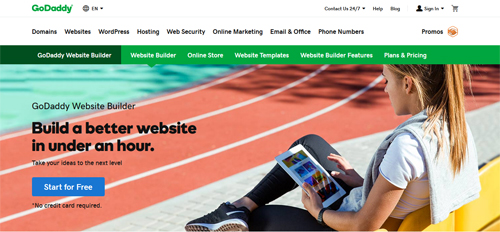 Yes, you really can create your website in less than an hour with GoDaddy's GoCentral website builder. GoCentral is definitely one of the easiest website builders to use. And while you don't get quite as many website designs as with other site builders, you can easily extend your website's functionality by adding GoCentral components called sections.
Another benefit of using GoCentral is that you can also take advantage of GoDaddy's other services such as domain name registration and other website services.
Recommended For:
New Website Owners
Online Brochure and Customer Acquisition Sites
Smaller Scale Websites
Shopify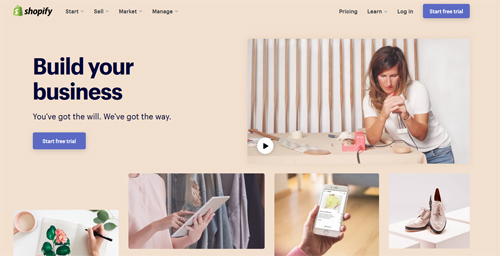 Shopify is all about eCommerce. If you need an online store, then you should consider Shopify. You can use Shopify for selling all kinds of products. It's also a great platform for drop shipping sales. Shopify greatly simplifies the process of creating a fully functioning eCommerce website.
With Shopify, you can choose one of their free or paid website themes and easily add additional functionality with plugins from their app store. Also, you can quickly set up your payment processing, shipping, and taxes within Shopify.
Recommended For:
eCommerce Websites
Website Builder Comparisons
A2 Website Builder vs DreamHost Remixer
In this comparison of the A2 Hosting Website Builder vs DreamHost Remixer, we take a look at the site builders currently offered by two highly regarded traditional web hosting companies…
A2 Website Builder vs Wix
How does the A2 Hosting Website Builder compare with Wix? In this comparison of the A2 Hosting Website Builder vs Wix, we take a detailed look…
BoldGrid vs DreamHost Remixer
In this comparison of BoldGrid vs Remixer, we take a look at two WordPress related website builders to find out which one is better for your websites or blogs…
BoldGrid vs GoDaddy
Each of these website builders has pros and cons. See our head to head comparison data below to help you make your decision on which one to use for your website…
BoldGrid vs Wix
In this comparison of BoldGrid vs Wix, we take a look at two of the best website builder options available. Wix is one of the leaders in the growing category of website creators as opposed to the traditional web hosting providers. BoldGrid, originally developed by InMotion Hosting, allows you to easily create your own professional looking WordPress website…
GoDaddy vs Wix
How does GoDaddy compare with Wix? GoDaddy's GoCentral and Wix are two of the better known and most popular website builders. So, let's take a closer look at which one of these site builders is better suited for your website needs…