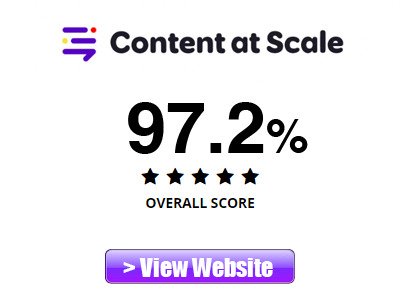 Is Content at Scale really better than ChatGPT? How do these two AI content generators compare? And, most importantly, which one should you use to help make your content creation easier? In this comparison of Content at Scale vs ChatGPT, we take a detailed head to head look at how each performs and which one you should choose for creating your blog articles.
Content at Scale vs ChatGPT: Details

| | | |
| --- | --- | --- |
| Availability | | |
| Features | | |
| Blog Articles | | |
| Content Repurposing | | |
| Speed | | |
| Accuracy | | |
| WordPress Integration | | |
| Shopify Integration | | |
| Price | | |
| Customer Support | | |
Advantages of Using Content at Scale:
Generates Better Quality Articles
SEO Optimized Content
More User-Friendly Interface
Better Availability
Creates Articles from Keywords, URLs, YouTube Videos, Podcasts, and PDF Files
WordPress and Shopify Plugins
Responsive Customer Support
Advantages of Using ChatGPT:
Content at Scale vs ChatGPT: Availability
While ChatGPT has become widely popular and well-known, that notoriety has also led to certain times when you aren't able to access the service. However, that isn't the case with Content at Scale. Content at Scale was always available when needed to generate content.
Content at Scale vs ChatGPT: Features
Currently, both Content at Scale and ChatGPT are both used for text output, and primarily blog articles. Neither tool at this time produces AI images or other media. In fact, Content at Scale is specifically designed as a long-form, website article creation tool. However, because Content at Scale allows you to use keywords, existing web pages, YouTube videos, podcasts, and even PDF documents as input and is able to generate quality long-form content, they get the edge here.
Content at Scale vs ChatGPT: Blog Articles
Blog posts and articles are the main reason to use Content at Sale or ChatGPT. However, in this category Content at Sale is the clear winner. Content at Scale utilizes three AI engines to produce much longer, more accurate, and search engine optimized content. ChatGPT generates less content at a time and is frequently inaccurate (see below).
Comparing the two articles below, Content at Scale created a 2,626 word blog article, while ChatGPT only generated a 659 word article. In order to create a longer form article with ChatGPT, you would have to do several more chat queries and do more post editing.
Content at Scale Blog Post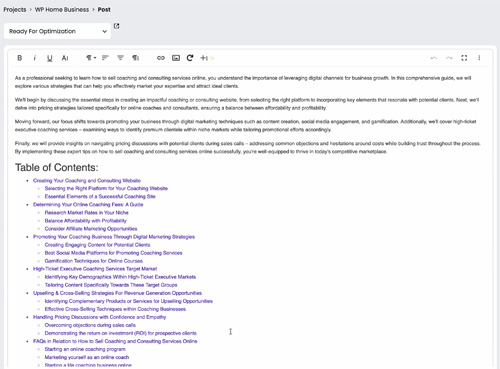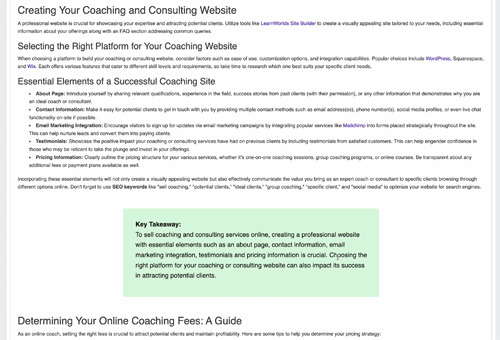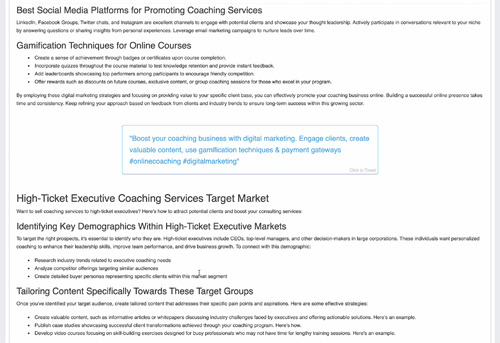 ChatGPT Blog Post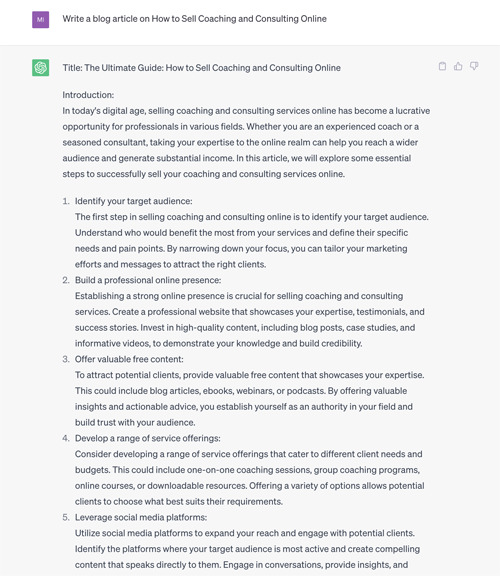 Content at Scale vs ChatGPT: Accuracy
Here's another category where Content at Scale is superior to ChatGPT—certainly that's been my experience. While ChatGPT's output frequently contains errors or inaccurate information, Content at Scale utilizes multiple AI engines with natural language processing and semantic analysis algorithms to produce research backed content. In our testing, Content at Scale was definitely superior here.
Content at Scale vs ChatGPT: Speed
At first glance, it may seem that ChatGPT is faster. Content at Scale usually takes a few minutes to generate your content. However, keep in mind that Content at Scale generates full and complete long-form articles at a time, whereas with ChatGPT, you can't be sure how much text will be generated each time. Also, with ChatGPT you will almost always need to perform multiple queries or content generation runs in order to put together you complete blog post.
So, while you may get to see the content generated with ChatGPT first in a head to head test, overall to create your complete, ready to publish article, Content at Scale will take less time.
Content at Scale vs ChatGPT: SEO
Content at Scale is the big winner in this category. The article generated with Content at Scale are not only search engine optimized, but Google Q&A schema markup and a Table of Contents are also included. And, while Content at Scale doesn't currently generate images, you can upload your own images and it will optimized them for speed and SEO.
With ChatGPT, you will have to add your own SEO to the generated content.
Content at Scale vs ChatGPT: Content Repurposing
Repurposing is another area where Content at Scale is superior to ChatGPT. With Content at Scale, you can enter the URL of a YouTube video, a podcast, a PDF document, or even another blog post, and new fully written article. It's important to note that Content at Scale generates a new blog article. It does not simply rewrite the article or video that you enter.
ChatGPT does not currently offer the above type of content repurposing.
Content at Scale vs ChatGPT: Support
Content at Scale is also the winner when it comes to customer support. They have some excellent tutorial videos to help you get started. Plus, you can contact the support team via the chat message box on your dashboard. You can send a message to the support team M-F during business hours or you can get help from the automated chat support service.
I've received a response from the Content at Scale support team within a few minutes even though the stated response time is within a day. On the other hand, with ChatGPT their stated response time is within a week.
Content at Scale vs ChatGPT: Pricing
When it comes to pricing, Content at Scale does cost significantly more than even the ChatGPT Plus version. So, if you don't have the budget, then should start with either the free version of ChatGPT or the ChatGPT Plus paid version. However, the content quality you get from Content at Scale makes it worth the cost if your business or website needs better content that has a better chance of ranking higher in Google.
Content at Scale vs ChatGPT: Recommendation
If you're looking to get the best quality long-form content for your blog or website, and you have a business or use your website as a prime source of your income, then I would recommend Content at Scale. While it does cost more, the professional quality of the content you get, plus the excellent support Content at Sale provides, makes it the better choice if you have the budget. In the long run, it does have the potential to save you more money.
Overall, in this comparison of Content at Scale vs ChatGPT, Content at Scale is the winner. See our review ratings below.