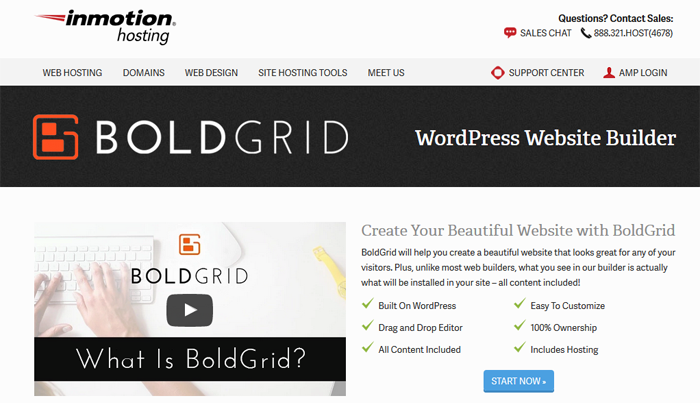 Up until now, perspective website owners had to make a choice between using traditional web hosting with a content management system such as WordPress or going with a website creation company such as SquareSpace or Wix.com. There are benefits to both methods and it can be a difficult decision for some. However, InMotion Hosting has come up with a solution so you can now enjoy the benefits of a traditional web hosting plan, yet still be able to quickly and easily create your own professional WordPress website with their new product called BoldGrid.
What is BoldGrid?
BoldGrid is a special set of plugins developed by InMotion Hosting that allows you to easily create professional looking WordPress websites. BoldGrid streamlines the website creation process via its drag and drop design interface—which allows beginners to create their WordPress sites more quickly and easily. And for advanced WordPress users and developers, BoldGrid allows more website customization—plus, you can set up a separate staging site for development and testing changes before implementing them into your live site.
What are the Advantages of BoldGrid?
BoldGrid simplifies and speeds up the process of creating a more professional looking WordPress website, while still allowing you the benefits of a traditional web hosting plan.
BoldGrid provides a way to quickly customize many areas of your website—similar to the existing WordPress Theme Customizer, but with many more options.
BoldGrid allows you to create a staging site that you can use for migrating an existing website, or for testing out changes before moving them to your live site.
You have full ownership and control of your BoldGrid website. You can keep you site even if you move from InMotion Hosting.
How Does BoldGrid Work?
After signing up with InMotion Hosting for BoldGrid, you install it from your Account Management Panel.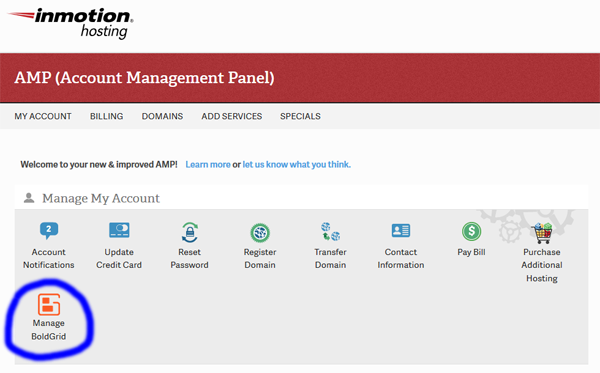 There are three installations options:
1. If you don't have an existing website, you can create a Fresh Install of BoldGrid for a Completely New Site.
2. If you do have an existing WordPress or BoldGrid site, you can setup a testing environment to keep your BoldGrid site completely separate from your current production website.
3. If you already currently have a WordPress site, you can download and install the BoldGrid plugins in your WordPress Admin area.


There are two phases to using BoldGrid:
1. Inspiration
2. Customization
When you login to your BoldGrid WordPress site, you'll see on the dashboard options to view two videos on getting started (one for beginners and one for more advanced users that may also be moving an existing site). I highly recommend that you view one of these before you get started.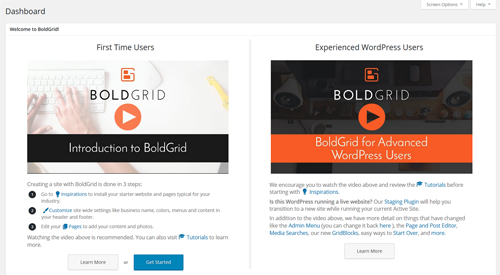 The rest of the dashboard area is similar to a regular WordPress installation.
Inspiration
On the left side menu, you'll see two additional options from a normal WordPress installation: Inspirations and Customize. To create your site in BoldGrid, click the Inspiration menu and select Inspirations. You can choose to create an Active (live site) or Staging site (for development).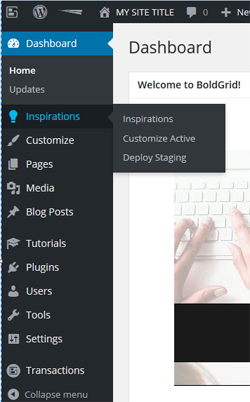 You then select your website Category and your Theme.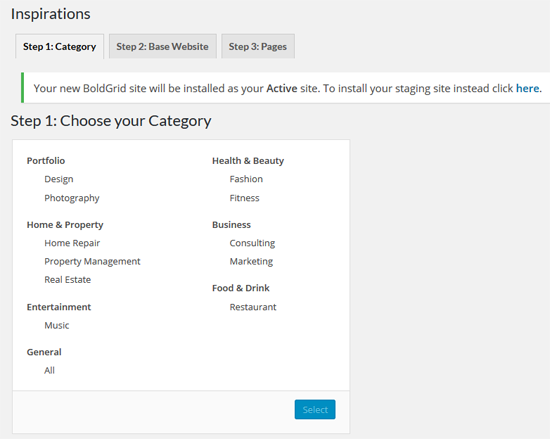 The themes come with their own copyrighted images with watermarks. If you want to use them without the watermarks you must purchase the images via copyright coins. However, you don't have to use these images. And in most cases, I would strongly recommend you use your own photos for your website.


You select your Page Set next. Page Set determines the type of site you'll create. For example, you can create a basic site or what is called a kitchen sink site containing many more bells and whistles. Keep in mind that you can always customize your site no matter what Page Set you start out with.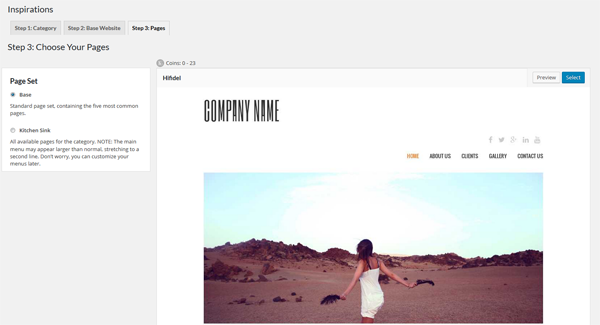 What's great about the site previewer is that you can also see how your website will appear on smartphones and tablet computers.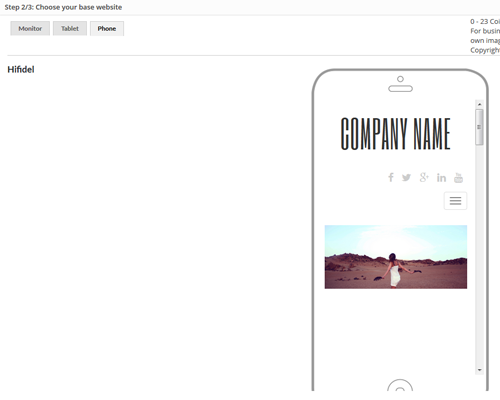 Once you install your Page Set into your theme, you then click on the Install this Website button and your site is now live and active!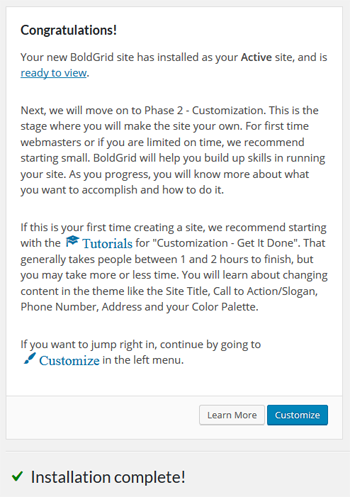 Customization
Customization is the next phase in creating your BoldGrid site. You click on the Customize menu option on the left side of the dashboard to perform tasks such as setting your site's title, adding and removing pages, and other customization.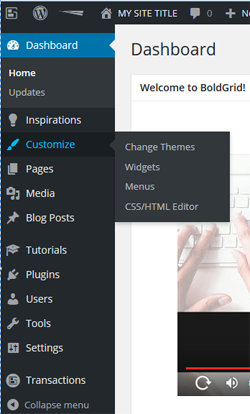 As you make changes via the options on the left menu of the Customizer, you can preview your changes on the right side. The Customizer allows you to change background images, colors, menus, widgets, and more. It works similar to the Themes Customizer in a regular WordPress installation—only here in BoldGrid, you're able to customize to a greater extent.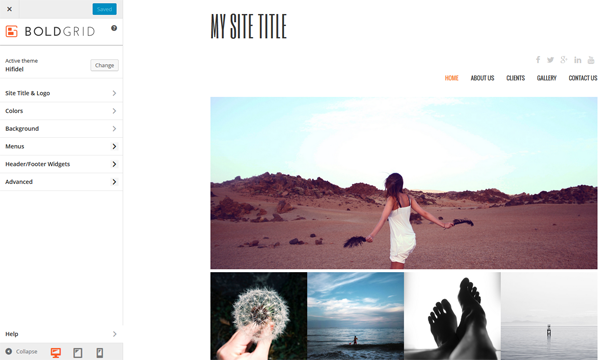 The Page Editor allows you to create, edit, and delete your site's pages. I really like the drag and drop features that allow you to set up your content just the way you want. And again, you can preview your page to see how it will appear on various types of devices.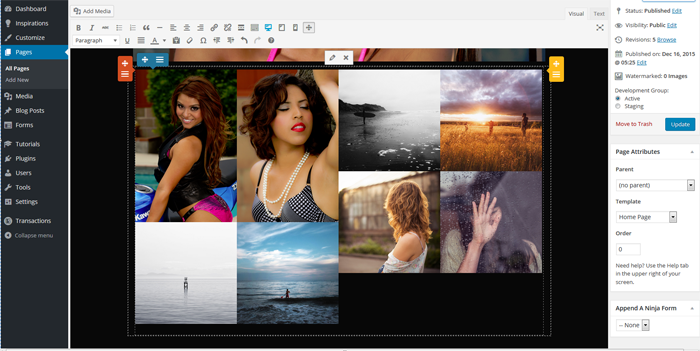 BoldGrid Staging
Perhaps the most intriguing feature of BoldGrid is the ability to set up a staging site where you can develop and test out new changes before pushing them out to your live website. I should point out to those familiar with managed WordPress hosting plans, that the staging in BoldGrid differs somewhat.
First, BoldGrid allows you to copy page elements from your live site to your staging site. Then, after you make your changes and test things out, you can then make your staging site your live site. However, you can't current copy your entire live site over and make that your staging site. So, if you're going to use BoldGrid staging for more than just your initial migration, you need to make sure your staging site is the master copy of your website—making your changes here and then pushing your staging site out to your active live site.
Also, currently BoldGrid only allows you to copy your pages to your staging site—not blog posts. For many types of websites, this isn't a problem. Just keep in mind that if you include a blog with your site, your posts can't be copied over to staging. I've talked with the InMotion group and put in a request for blog post staging functionality, so hopefully it will be included in the future.
My BoldGrid Test Results
After extensively testing out InMotion Hosting's BoldGrid, here are my conclusions.
The video tutorials, which you can access via the Tutorials menu on the dashboard, are extremely helpful in getting started creating your BoldGrid website.
You add and edit pages the same way you normally do in WordPress. However, BoldGrid provides you with a graphical interface to work with your content. I really like it and found it extremely easy to use for moving, modifying, and editing my page content.
The tablet and phone preview features are particularly cool and very useful as mobile computing becomes even more of the norm.
I performed my testing by creating and customizing a photography website. And I must say that I was very pleased with the results. BoldGrid offers some nice photography themes that do a great job in presenting photographic images along with the other necessary functionality you would expect (contact form, etc.)
Customizing images in BoldGrid is very easy. While you can use the stock images that are included with the BoldGrid sites, I would certainly recommend that you use your own photos. Adding your own images and replacing the existing ones in BoldGrid will make your site more unique and allow you to better customize your website for your audience. And, you won't have to purchase those copyright coins in order to remove the watermarks.
Video Demo: Creating a Website with BoldGrid
To demonstrate how easy it really is to create your WordPress website with BoldGrid, I made the video below:

Recommendation
BoldGrid is an ideal solution if you like WordPress but also desire the simplicity of a website creation package such as those from SquareSpace or Wix. BoldGrid is best suited for either beginners looking for a faster, simpler way to create a professional looking WordPress site; or advanced WordPress users and developers who need a more streamlined method of creating websites for their clients or themselves.
My own personal testing of BoldGrid resulted in very positive results as I was able to easily navigate and use the product to create quality websites.