If you're familiar with our website, you know that A2 Hosting is absolutely one of my top recommended web hosting companies. We use A2 to host this website. They provide outstanding features, performance, and support. A2 Hosting is great for WordPress and business website hosting.
And now, A2 has joined the growing number of web hosts that are including their own website builders to speed up and simplify the website creation process. In this A2 Hosting Website Builder Review, I'll show you how can create your site and how A2's site builder compares to the major website builder players.
A2 Hosting Website Builder Plans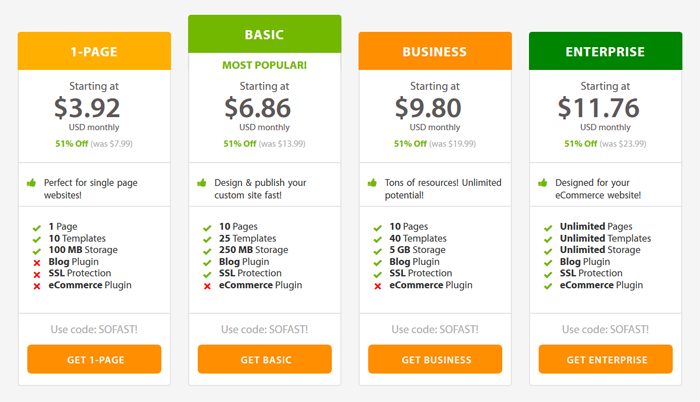 A2 Hosting has separate packages for their website builder plans. Basically, you're getting their web hosting package plus the website builder features here. The A2 site builder is included in their traditional web hosting plans, but you're limited to creating only a one page website. Since you're usually going to want to have multiple pages for your site, I would definitely suggest opting for one of these new website builder plans if you want to create your site with it. You'll also get more website template choices and SSL protection.
A2 Hosting Website Builder Features
Easy Click-to-Edit Website Editor
Easily Preview and Publish Your Website
Quickly Add Photos and Galleries
Add Forms, Videos, and Social Media Links
Image Compression Option
Includes Outstanding A2 Web Hosting
Includes Email, cPanel, and other A2 Hosting Features
Excellent Customer Support
Getting Started with the A2 Website Builder
You activate and setup the A2 Hosting website builder from cPanel. Click on the A2 Website Builder icon and then click the Activate button.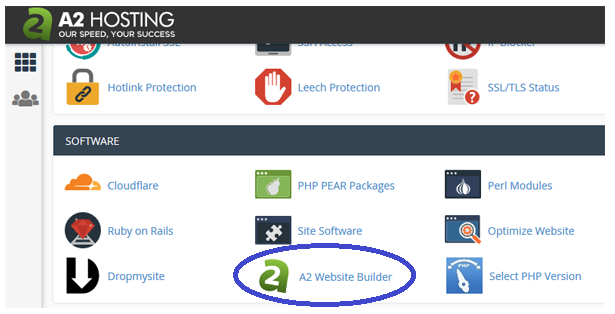 On the My Sites screen, click the Manage button to connect your domain to your website. And, you click the Login button to launch the website editor.


Choosing Your Website Template
First, you can choose your website template. Keep in mind that the higher or more expensive website builder plan you choose, the more template choices you'll have. For example the 1 page plan only includes 10 website templates, where the Business level plan includes 40. The available themes do look nice and you can easily customize them for an even better look. If you want to change templates, just click the second icon on the left side.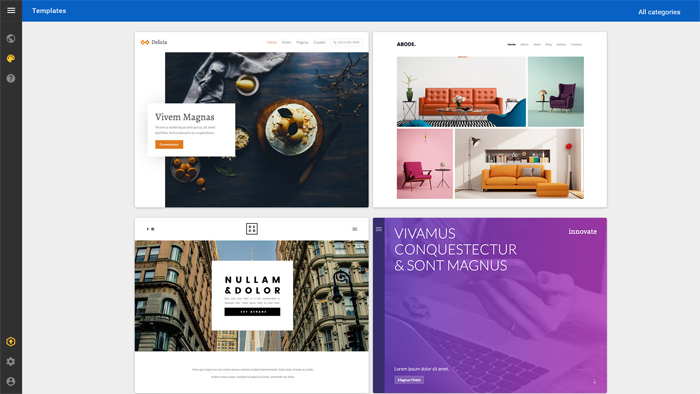 For my testing, I chose the Portfolio website template.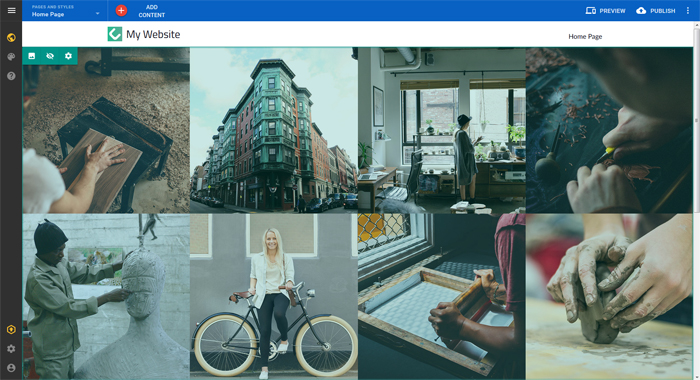 Creating and Editing Your Website Pages
The A2 Website Builder editor is very easy to use and I was able to build my site without any problems. It's a drag and drop interface, and you can pretty much just click and edit what you want on a page. For example to change the page title, you can click on the text and the editor will pop open an input field with editing tab buttons.


You can easily create additional website pages by using the Pages and Styles pull down menu.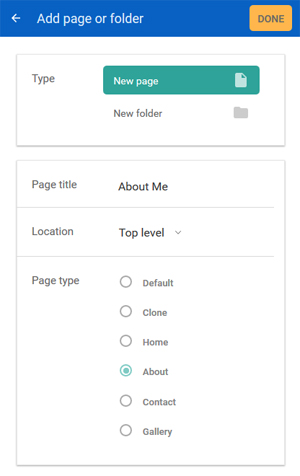 To add content to your website, click on the Add Content button located on the top menu bar. Using the Add Content button, you can quickly and easily add your basic content items as well as some really nice features including forms, social media buttons, and a PayPal buy now button for online stores.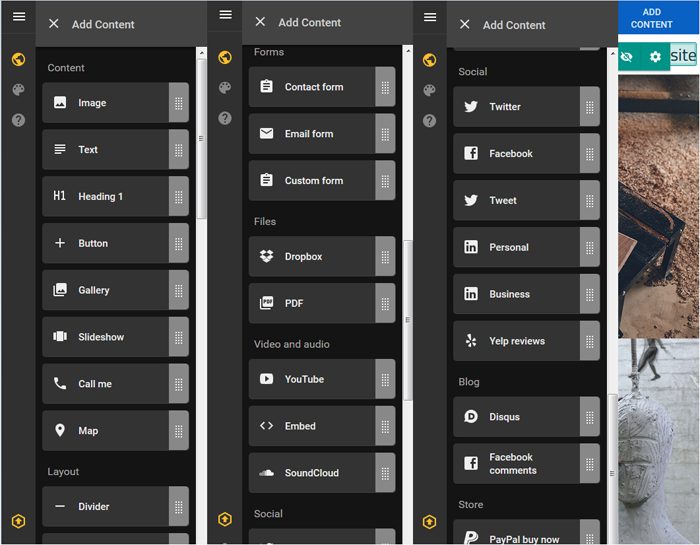 You can also embed YouTube videos and SoundCloud audio.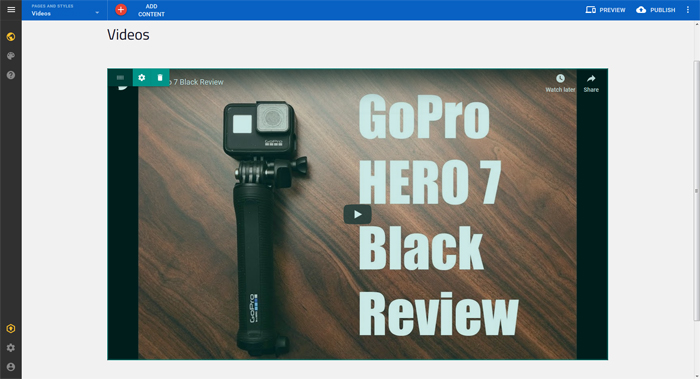 Working with Photos in the A2 Website Builder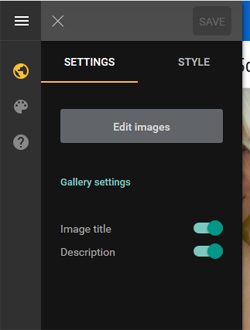 Working with images is also a breeze with the A2 Website Builder. The portfolio theme that I chose already has a gallery on the home page. You can also add a gallery by clicking the Add Content button (see above). To edit an existing gallery such as in the portfolio theme, just click on it to bring up the gallery edit options. Click the Edit Images button to add or edit your photos.
You have the options to upload your new photos, access photos you've already uploaded, as well as use Facebook or Stock images. To add the photos to your website, click the checkboxes in the thumbnail images then click the Add Images button.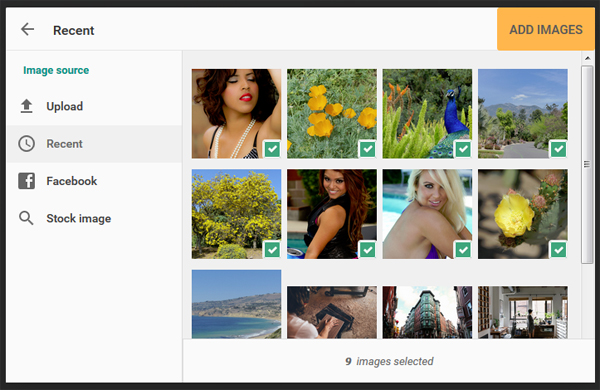 The Edit Images button also allows you to reorder your photos in the gallery. Just click and drag them in the previewer to change the order.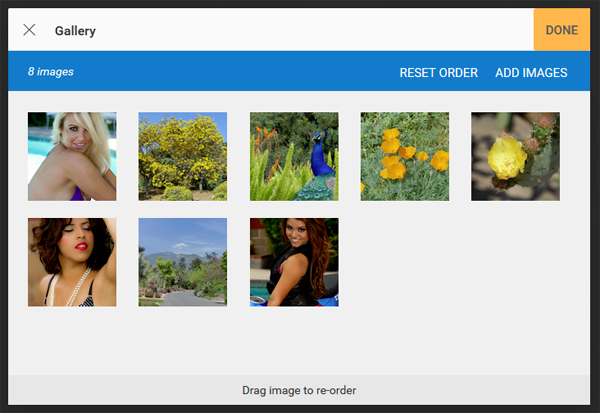 You can add individual images to your website by using the Add Content menu button.
Previewing and Publishing Your Website


The previewing and publishing features in the A2 Website Builder are also very easy to use. A2 has done a good job here.
To preview how your website will look after you've created it or made changes to it, just click the Preview button in the top right corner.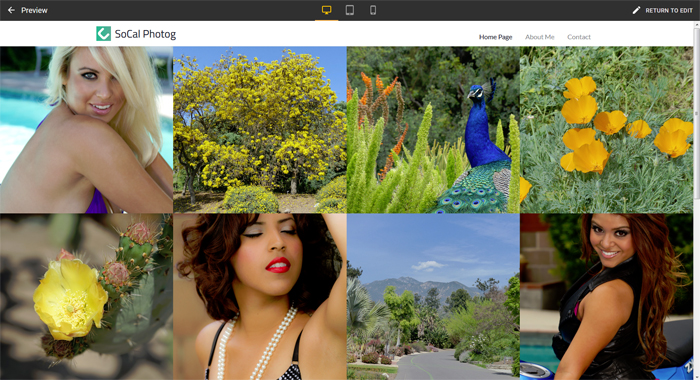 You can then use the icon buttons at the top to view how your website will look on a tablet computer or smartphone as well as a desktop computer.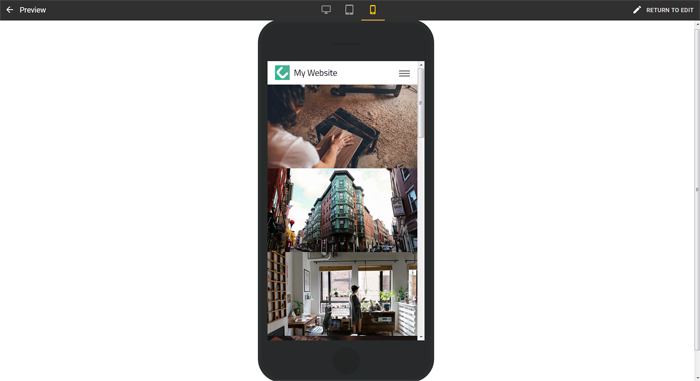 When you're ready to publish your website, just click the Publish button in the top right corner. And that's all there is to creating your new website!
Advantages of the A2 Hosting Website Builder
Very Easy and Intuitive to Use
Easy Activation and Setup
Includes Outstanding A2 Hosting Performance
Nice Drag and Drop Interface
Excellent A2 Hosting Customer Support
Easy Website Preview and Publishing
Disadvantages of the A2 Hosting Website Builder
Currently, Not as Many Website Template Choices as Some Other Website Builders
Alternatives to the A2 Hosting Site Builder
I would put the A2 Website Builder on the same level as the site builders from DreamHost and GoDaddy (Remixer and GoCentral, respectively). You might also want to take a look at them if you're interested in this category of website builder.
Conclusion and Recommendation
The A2 Website Builder is a good option for creating sites that don't need to include a huge amount of content—ideally say, six pages or less. I liked working within the A2 Website Builder interface. Creating, editing, and adding elements to your web pages is very easy. You also benefit from the A2 Website Builder being bundled with A2's excellent web hosting services.
Website builders are best suited for more basic sites such as a customer acquisition vehicle or online sales brochure for your business—as well as a basic online store. For those types of websites, I would recommend the A2 Website Builder.