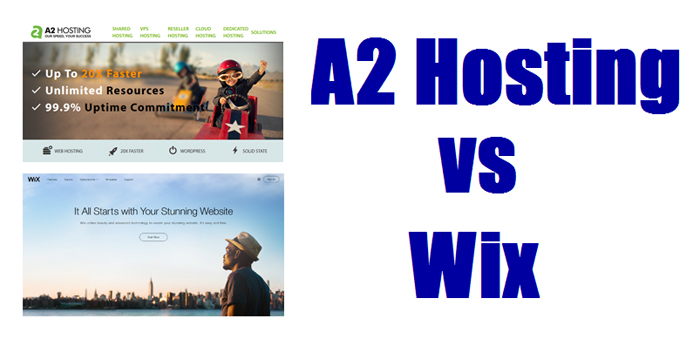 How does A2 Hosting compare with Wix? This comparison between a traditional web hosting plan and a website builder package takes a look at A2 Hosting's Turbo Server Hosting plan versus Wix's website packages.
A2 Hosting vs Wix For Blogs
For bloggers, A2 Hosting's optimized WordPress environments make it one of the best choices. We use the Turbo Server plan from A2 Hosting, and the performance we get is outstanding. The increased website speed and proactive security for WordPress sites make them every bit as good as a managed hosting plan. The automatic updates and data backup you get with A2 are ideal for bloggers of all levels. And, A2 Hosting's Guru Crew support team provides excellent and responsive assistance when you need it.
Wix has a blogging app you can add for free, and it does have some nice site layouts. However, when it comes to blogs and blogging, WordPress is king. And A2 Hosting provides some of the best WordPress hosting available. So in this category, A2 Hosting is definitely the winner.
A2 Hosting vs Wix For Small Business Websites
Both Wix and A2 Hosting provide great website solutions for small business sites. In this category, we're focusing on non-eCommerce websites for businesses. And, the best choice really depends on how extensive you need your site to be.
Wix is perfect for those of you that need an online brochure type of website to promote your business and attract new customers. Wix's website templates include all of the important web pages you need to promote and describe your business. There are some particularly nice templates for restaurants, real estate, health and wellness, and fashion and beauty sites. The Wix App Market contains tons of apps that allow you to add functionality to your website. There are both free and premium apps available.
On the other hand, if your business's website will be more extensive and you anticipate adding new content all the time, then the issue of ownership and transferability come into play. While Wix has many benefits, one of the downsides is the inability to move your website elsewhere should you decide you need to make a change. Again, if your site only contains a few pages, it's probably not a big deal to simply recreate your website if needed. However, if your business site contains hundreds of pages or more, you definitely need more control. In these cases, using a content management system (WordPress, Joomla, or Drupal) or other web platform is a better option. And that's where A2 Hosting shines. Utilizing a traditional web hosting plan from A2 Hosting gives you far more control and customization options.
So, it's a split decision in this category. For small business websites, Wix is the choice for sites with less content. For larger websites, choose A2 Hosting.
A2 Hosting vs Wix For eCommerce Websites
eCommerce websites are often the most difficult to create and maintain. Besides creating your site, you also need to consider issues such as security, payment processing, etc. Both Wix and A2 Hosting allow you to create effective eCommerce sites for you to sell products online.
Wix is by far the easier solution to creating an eCommerce website. As with their other websites, you just need to select your template and add any additional apps for the functionality you want your online store to have.
With the traditional web hosting plan from A2 Hosting, you can create an eCommerce site using a software application such as PrestaShop, OpenCart, Magento, and AbanteCart. And if you have a WordPress website, you could also use WooCommerce for your online store. In these cases, you do have more flexibility and control of your site, however you do have to put in more time creating it.
With eCommerce websites, it again becomes in issue of convenience vs control. But in this category, the simplicity of using Wix gets our vote.
A2 Hosting vs Wix Comparisons
| Features | A2 Hosting | Wix |
| --- | --- | --- |
| Easy Site Creation | | |
| Website Speed | | |
| Resources | | |
| Site Security | | |
| Customer Support | | |
| Transferability | | |
| Value | | |
Advantages and Disadvantages
Recommendation
As one of the best cPanel hosting options available, A2 Hosting is perfect for many types of websites. Their A2 Optimized WordPress environment makes them ideal for that content management system in addition to the other over 400 applications available with your hosting plan there—such as Drupal, Joomla, CubeCart, B2evolution, etc. A2 Hosting offers unlimited resources such as storage, bandwidth, and email. You get great performance and first class support via phone, email, and live chat. In summary, A2 Hosting is just an outstanding web hosting option.
With A2 Hosting, you have a lot more control over not only how you want to build and grow your website, but also over whether you want to move it somewhere else or not. For example, if you create a WordPress or Joomla site, you can easily move it to another host that offers hosting for those applications. With Wix, you're basically locked into their system and can't move your website if you want to.
Wix is a good option if you just are looking for a quick online brochure type of website. However, you're more limited in resources, and you don't have as many customer support options. Therefore, if you need a more complete website solution, they probably aren't the best choice.
For most websites, in this comparison we would recommend A2 Hosting.
See our review ratings for A2 Hosting below: