Which is better for WordPress hosting? In this comparison of Nexcess vs SiteGround, we'll see which web host you should choose for your mission-critical WordPress websites. Let's take a look at how Nexcess and SiteGround match up and what benefits you get with each host.
Nexcess is part of Liquid Web—one of the best premium web hosting providers. While Liquid Web offers Dedicated Servers and VPS Hosting, Nexcess focuses on managed WordPress and WooCommerce hosting solutions.
SiteGround has long been one of the more highly regarded web hosting providers in the WordPress community. Once more of a general cPanel hosting option, SiteGround has continued to move toward being a managed WordPress hosting provider.
Nexcess vs SiteGround: Details
| | |
| --- | --- |
| WordPress Pre-Installed | One-Click WordPress Installs |
| Optimized Speed and Advanced Caching | SuperCacher Technology |
| Built-In CDN | Cloudflare CDN |
| Free Site Migration | Free Site Migration |
| One-Click Staging with All Plans | Staging with Premium Plans Only |
| Automatic Data Backups | Automatic Data Backups |
| 100% Uptime SLA | 99.9% Uptime Guarantee |
| Responsive and Helpful Support | Responsive Support |
Nexcess vs SiteGround: Differences
Advantages of Choosing Nexcess over SiteGround:
More Managed Hosting Features Included
Faster Website Speeds
Automatic Image Compression
Superior WooCommerce Hosting
Includes iThemes Security
Includes Plugin Performance Monitor
Advantages of Choosing SiteGround over Nexcess:
Lower Initial Cost
Includes WordPress Starter
Unlimited Website Hosting with Some Plans
Enhanced Security
Nexcess vs SiteGround: Features
Both Nexcess and SiteGround provide excellent WordPress hosting features. With both of these web hosts you get a great user control panel, automated data backups, website staging, innovative server technology, and responsive customer support.
SiteGround includes their WordPress Starter tool for beginners, while Nexcess includes advanced tools such as iThemes Security and their plugin performance monitor.
It's a close call in this category, but Nexcess gets a slight edge here.
Nexcess vs SiteGround: Speed and Performance
Nexcess and SiteGround both provide excellent website speed and performance. Both of these web hosts offer optimized servers and advanced caching technology for better WordPress hosting. However, both in our direct comparison testing and my own personal experience, we found Nexcess to be consistently faster with better page loading times. Therefore, Nexcess is the winner in this category.
Below are some sample speed test results: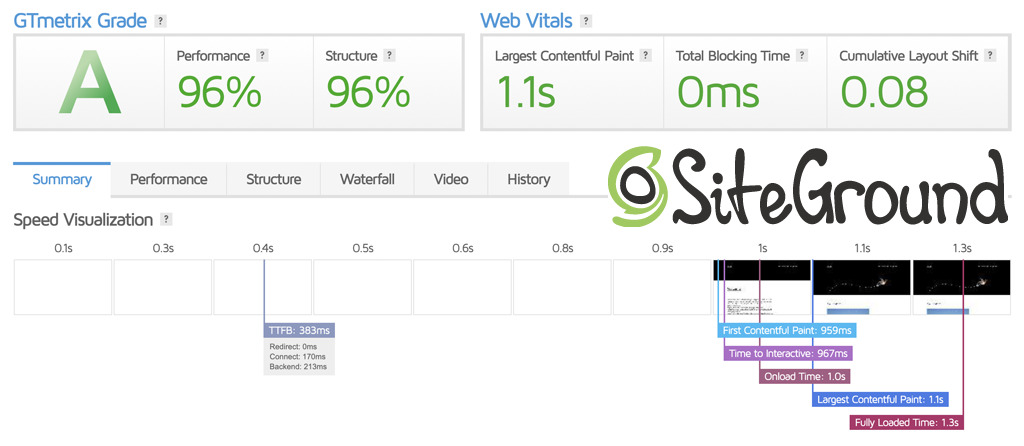 Nexcess vs SiteGround: Customer Support
Customer Support is another area where both Nexcess and SiteGround perform well. Response times, including those from live chat support, are very fast. And, the support teams at both Nexcess and SiteGround are helpful, knowledgeable, and courteous.
Although I would personally call it a tie in this category, lately I have received reports from others of less consistent results from SiteGround. Therefore, Nexcess is the winner in this category also by a slight margin.
How Does Nexcess Compare with Other Web Hosts?
Nexcess vs Bluehost
Should you choose Nexcess or Bluehost for your WordPress hosting? In this comparison of Nexcess vs Bluehost, we'll see which of these hosting companies is the winner when it comes to WordPress hosting features, performance…
Nexcess vs WP Engine
WP Engine and Nexcess are perhaps the two best managed WordPress hosting providers in the industry. In this comparison of WP Engine vs Nexcess, we'll take a look at the benefits each has to offer and…
Nexcess vs WPX Hosting
Nexcess is part of Liquid Web—one of the best premium web hosting providers. WPX Hosting also focuses exclusively on managed WordPress hosting solutions with an emphasis on providing faster servers…
How Does SiteGround Compare with Other Web Hosts?
SiteGround vs Bluehost
SiteGround and Bluehost have many similarities within their web hosting offerings. SiteGround's and Bluehost's hosting plans are also very affordable…
SiteGround vs DreamHost
SiteGround and DreamHost both offer many different types of web hosting plans. This particular comparison will look at each of their Shared Hosting plans…
SiteGround vs GoDaddy
SiteGround and GoDaddy both offer a wide variety of web hosting services. They have hosting plans that are suited for experienced and less experienced webmasters…
SiteGround vs WP Engine
For managed WordPress hosting, these are two of the best choices available. So, let's see which one is better suited for you…
Recommendation
Both Nexcess and SiteGround are quality WordPress hosting providers. Although SiteGround is recommended by WordPress.org, for most WordPress website hosting I would recommend Nexcess.
Because SiteGround has continually increased their prices, they no longer offer as much value as in the past. With Nexcess, you get premium managed WordPress features and excellent website performance. And, they offer a hosting plan for all types of WordPress hosting situations.
Overall, in this comparison Nexcess is the winner.
See our Nexcess Review Ratings below: