In this comparison of Bluehost or GoDaddy, we're specifically taking a detailed look at which one of these web hosts you should choose for creating your first website and getting it online. From getting your domain name, to selecting your website platform, to building your site, to getting assistance from customer support, and everything in between, let's break down what Bluehost and GoDaddy provide and how they perform.
Bluehost or GoDaddy: Comparison Summary
| Features | | |
| --- | --- | --- |
| Affordable | | |
| Free Domain Name (1st Year) | | |
| Easy Onboarding Process | | |
| Includes Website Builder | | |
| Easy WordPress Hosting | | |
| WordPress.org Recommended | | |
| Customized cPanel Interface | | |
| Customized WordPress Dashboard | | |
| Responsive Customer Support | | |
| SSL Included with All Plans | | |
| CDN Included with All Plans | | |
| Courtesy Data Backups | | |
| 24/7 Security Monitoring | | |
Why You Should Choose Bluehost:
Lower Introductory Cost
Website Builder Included
Recommended by WordPress.org
Easier WordPress Website Creation
Customized WordPress Dashboard
Free SSL and CDN Included with All Plans
Resource Protection from Other Websites
Live Chat Support Available 24/7
Why You Should Choose GoDaddy:
Largest Domain Name Registrar
More Web Hosting Options
Global Data Centers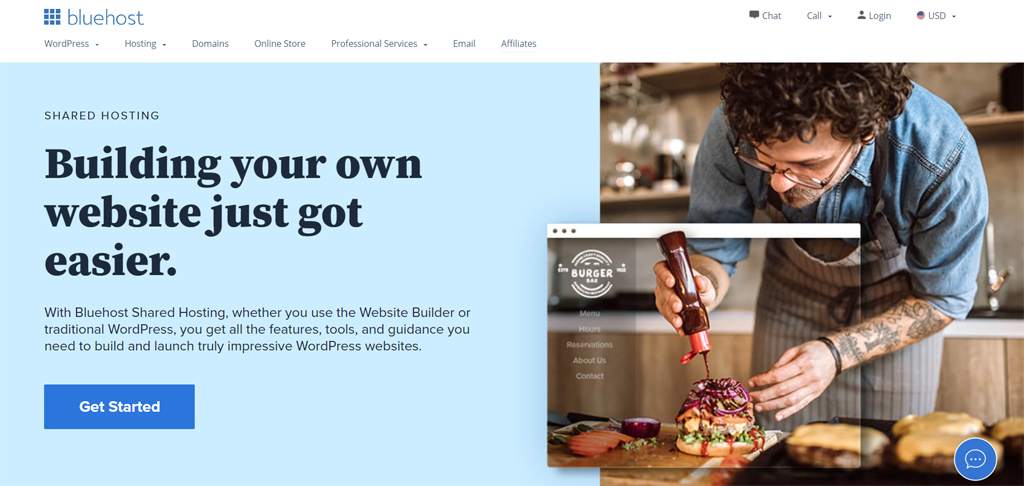 Bluehost, part of Newfold Digital, is one of the most established and well-known web hosts. While they offer a wide range of hosting services, their Shared Hosting plans are ideally suited for new website owners.
Signing up with Bluehost is very easy and I really like the onboarding help you get for creating your first website. Depending on how much assistance you need, you can choose from two different ways to create a new WordPress website through either the website wizard or the website builder.
Bluehost has one of the easiest user interfaces for their customers with their customized cPanel and WordPress dashboards that makes working with your website less difficult. And, Bluehost has also improved their customer support response times, so if you need more help or have questions getting started, you can quickly get a response via their live chat support.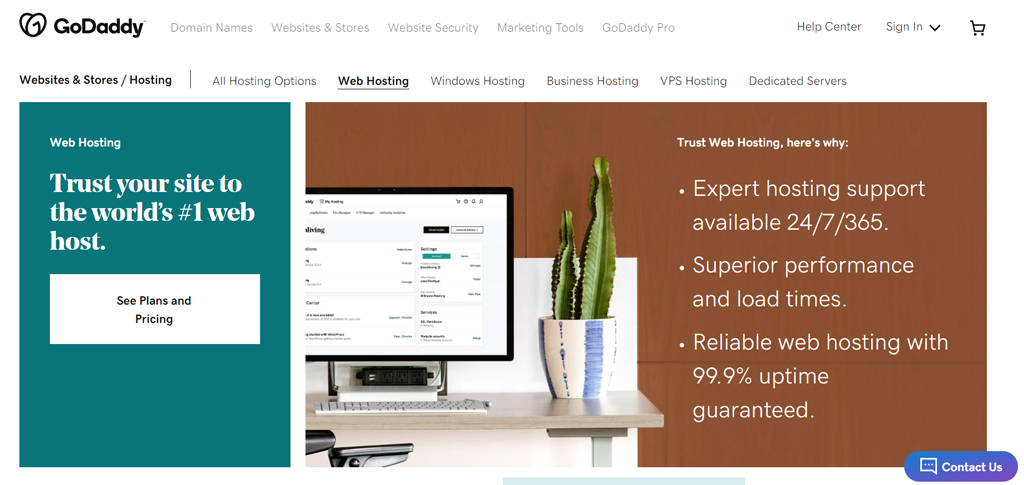 GoDaddy is the largest domain name registrar in the industry, and they offer all types of services from domain name management to every kind of web hosting—including their Shared Hosting plans.
The advantage for new users with GoDaddy is that you can start out by purchasing one of their services and then easily upgrade to something else if you decide you need it. For example, you could first buy your domain name and then add their Shared Hosting. Or, if you prefer a website builder, you can use their free site builder and then buy your hosting. The trade-off is that it can get more expensive. Also, some people would rather get everything they need for their website up front. You can do that with GoDaddy, but you may have to pay more to get all of the features you're looking for.
Bluehost or GoDaddy: Shared Hosting Plan Features
Bluehost and GoDaddy both offer 4 different Shared Hosting Plans that allow you to host a single website all the way up to an unlimited number of websites.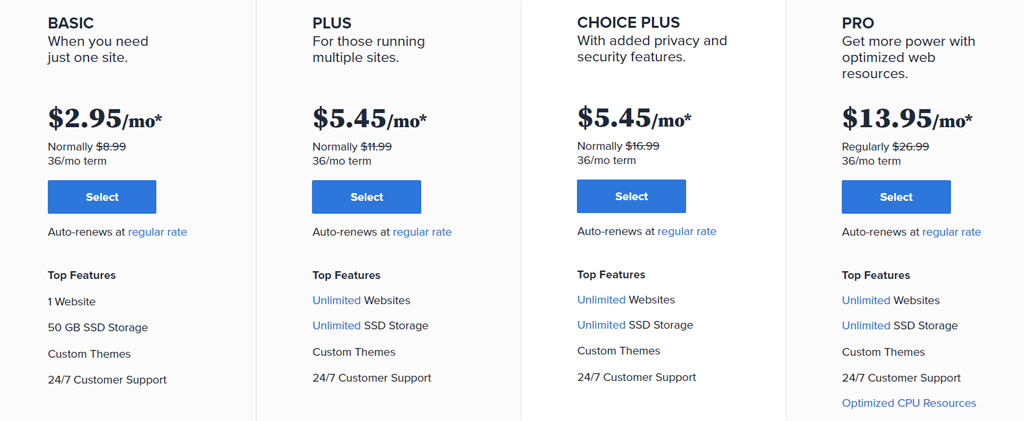 The Bluehost Basic plan is designed for single website owners with a max limit of 50 GB of storage. The Plus, Choice Plus, and Pro plans include unlimited storage and allow you to host unlimited websites.
With Bluehost, you get a free domain for your first year, plus free SSL and a free content delivery network (CDN). WordPress users can take advantage of Bluehost's website builder to create professional looking sites. And, most importantly for shared hosting customers, Bluehost provides resource protection to isolate you from other customers on the same server.

Similarly, GoDaddy's Economy Shared Hosting plan allows you to host a single site, while their other Shared Hosting plans offer unlimited storage hosting and an unlimited number of websites you can host.
GoDaddy also includes a free domain for the first year with all of their Shared Hosting plans. However, you only get free SSL with the higher priced plans. Also, they do not currently offer a free CDN.
Bluehost or GoDaddy: WordPress Hosting
If you want to use WordPress for your website, both Bluehost and GoDaddy include it with their shared hosting plans. I find that Bluehost has one of the easiest and most user-friendly WordPress onboarding features. Not only can you have WordPress pre-installed, but you can choose from two different ways to create your new WordPress website.
And, Bluehost also provides a customized WordPress dashboard that makes working with your website easier.
Also, keep in mind that Bluehost is recommended by WordPress.org.
GoDaddy provides one-click installation of WordPress. It's also a fairly easy process to get started. However, you don't get as much online guidance that you do with Bluehost.
Bluehost or GoDaddy: Using a Website Builder
As I mentioned above, Bluehost includes an excellent website builder for WordPress that's easy to use. GoDaddy's website builder is offered in a separate product, so you use that first and then add your hosting after.
Bluehost's website builder is included with their Shared Hosting plans. It's very easy to use, and allows you to create a professional looking website very easily.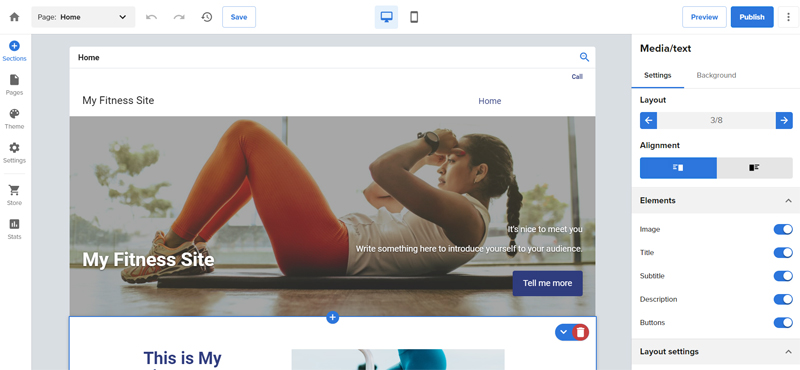 With Bluehost, you get two easy ways to create your new WordPress website. More experienced users can opt for the WordPress wizard interface that guides you through the process. For beginners, the Bluehost website builder gives you an even easier way to create a professional looking WordPress site.
With GoDaddy, you can start off using their website builder for free, but then you'll need to purchase your web hosting plan. The GoDaddy website builder is easy to use, however you'll need to go the extra step of adding your web hosting.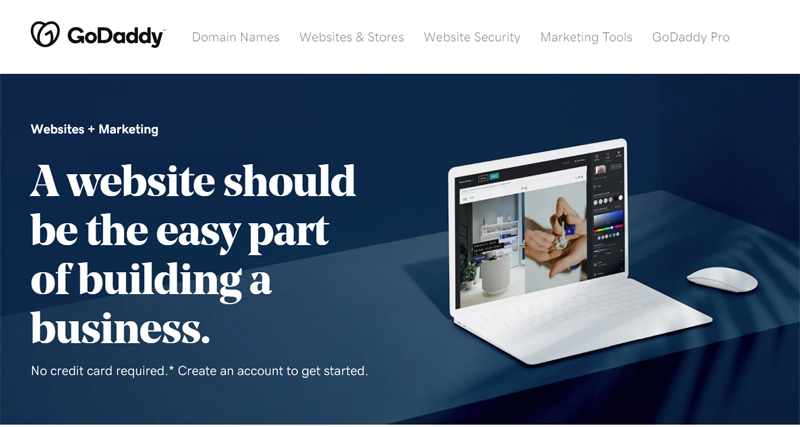 Bluehost or GoDaddy: How Does Your Website Perform?
For testing purposes, I created similar websites with both Bluehost and GoDaddy. After running numerous speed tests, here are my results.
Keep in mind that even when testing identical websites, there are other factors that may cause your results to differ. For example, Bluehost is part of the Endurance International Group which has multiple data centers, and GoDaddy has global data centers, so depending on your location and your web server, speed results can vary.
However, in my own testing results, Bluehost posted faster website speeds than GoDaddy.
Bluehost or GoDaddy: Who Provides Better Customer Support?
Bluehost and GoDaddy both offer 24 x 7 customer support via phone, email, and live chat. However, while Bluehost's live chat support is available 24 hours a day, the live chat at GoDaddy is sometimes unavailable. Also, during our testing as well as with my personal experience, the support at Bluehost is more consistently helpful and responsive.
Recommendation for Creating Your First Website
Bluehost and GoDaddy are two of the most popular options for first time website owners. Overall, while I find that you can effectively use either one for a successful website, in this comparison Bluehost is the winner.
Bluehost provides more helpful features for new site owners, gives you more online guidance when creating your website, and provides more responsive customer support. Bluehost also has lower introductory prices—much better for those just starting out.