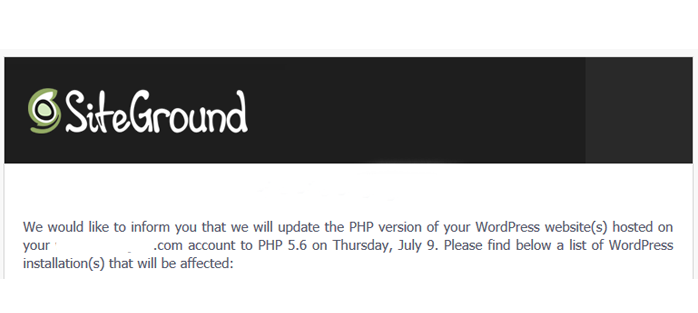 As a follow up to my post last month regarding what versions of PHP various web hosting companies are using, I was recently notified by email that SiteGround is now upgrading their customer's PHP version of their WordPress websites to 5.6.
While PHP 5.6 has been available on SiteGround's servers for some time, many customers were apparently unaware of the existence of this more current version. Also, because some customers may have been reluctant to perform the upgrade themselves, SiteGround has decided to take a proactive approach and perform the service for them.
Updating to the newer version of PHP will provide more security and better performance. SiteGround has performed extensive testing and does not expect any issues with WordPress itself. You might run into an error if you're using a very old plugin—another reason to make sure to keep your plugins current. If you should encounter an error after the PHP update, customers are encouraged to contact SiteGround's support staff for a priority resolution.
And, if you find that you need to switch back to your old version of PHP, you can do so via the PHP Version Manager in cPanel. After logging into your SiteGround account, go to cPanel and locate the 1H Software section. From there, you can launch the PHP Version Manager.


You then navigate to the folder where you want to change the PHP version. You'll then be presented with a list of available PHP versions from which you can select.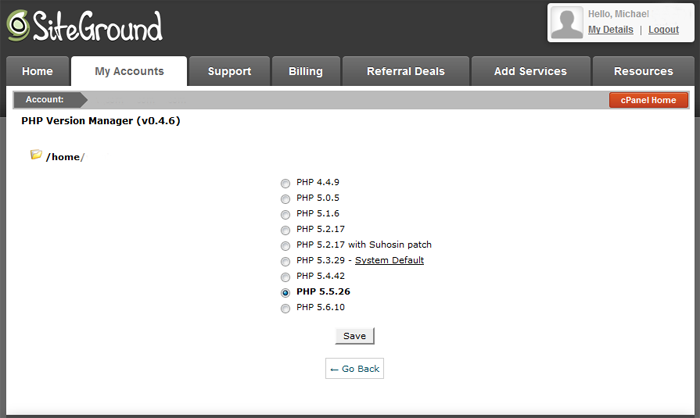 So far, I am not aware of any issues running WordPress with PHP 5.6. Again, the one area where there could be concerns is if you happen to be running older versions of plugins. If you've received the email notification from SiteGround concerning the upcoming update to PHP 5.6 and would prefer to keep an older version of PHP, notify the SiteGround Team as soon as possible.