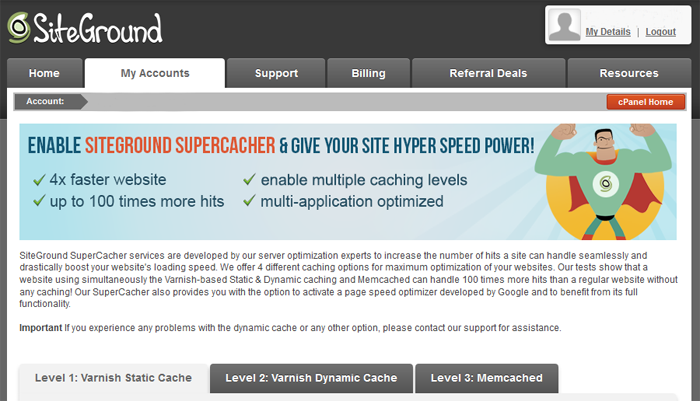 Would you like a faster loading website that is able to handle an increased number of hits? Of course you would. Well, SiteGround has implemented its own technology to accomplish just that. With SiteGround's SuperCacher, you get three levels of options to speed up your website via static cache, dynamic data cache, and database queries results cache.
Earlier this year when we interviewed SiteGround's WordPress and SEO Expert Hristo Pandjarov, he talked about some of the projects they've developed including SuperCacher. Here's a closer look at how SuperCacher operates and how it has worked out for me.
SuperCacher is SiteGround's own in-house built multilayer, multifaceted system that helps to speed up your WordPress, Joomla, and Drupal websites, as well as others. It runs on top of your Apace web server and consists of three levels:
Level 1 Varnish Static Cache
Level 2 Varnish Dynamic Cache
Level 3 Memcached
The Varnish Static Cache works on your images, CSS, JavaScript, etc. Based on the Varnish HTTP accelerator, this type of website content is cached and presented to your site visitors instead of having them access the data directly on the server.
The Varnish Powered Dynamic Cache stores copies of your site's dynamic content into the server RAM for faster access.
Memcached reduces the amount of database queries by storing your data and objects in memory, which helps to speed up database calls and page rendering.
SiteGround also includes the option to use Google's PageSpeed technology instead for your caching. Personally, I prefer to use SuperCacher. Since it was built by SiteGround, they are able to fully support the technology, as opposed to a third party product like PageSpeed.
After you sign up for a SiteGround account, you can access SuperCacher from your cPanel.


To enable the Varnish Static and Dynamic caching, switch the button on the right from Off to On for your website domain.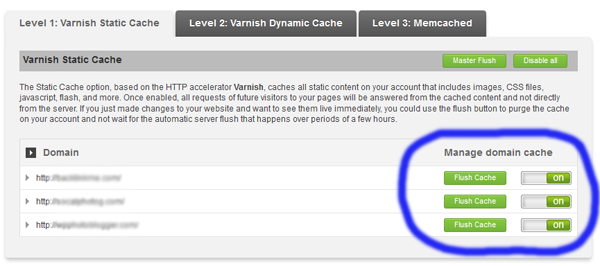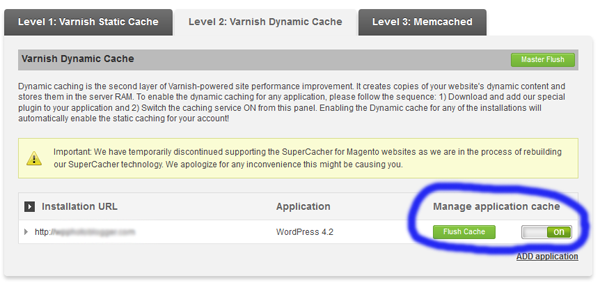 To enable the Level 3 Memcached, again switch the button to On. For Memcached, you also need to set up your application (i.e. WordPress, Joomla, Drupal, etc.). For example, if you use WordPress for your site, you would enable Memcached via the SiteGround SuperCacher plugin for WordPress.


I have been using the SiteGround SuperCacher ever since I've had a hosting plan there, and my webpage loading speed has been excellent. I haven't encountered any issues with the technology, nor have there been any conflicts with my content management system (WordPress).