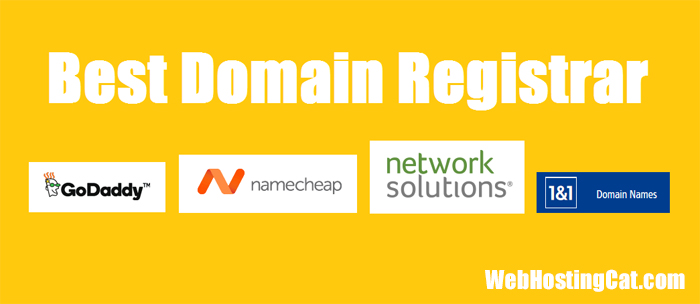 The first step in creating a successful website is choosing the right domain name—and the right domain registrar! In this article, we'll explain how to go about choosing your domain name and what your options are. Then, we'll take a look at the best domain registrars you can use.
Choosing the Right Domain Name
The criteria for choosing your best domain name have changed over the years. At one time, you could cram in many keywords into your domain name to get an advantage in the search engines—that's no longer the case. Ideally, you want something that describes your business or type of website, and something that's easy to remember.
The New TLDs
In the old days, you basically had a choice of three domain name extensions (.com, .net, and .org). Because most businesses and others used the .com top level domain, it has been the most popular. While some people might think there is a search engine advantage to using one of these three extensions, my experience has not provided any evidence of a search engine ranking benefit using a .com, .net, or .org—at least not these days. Furthermore, when I spoke with Gary Illyes, Google's Webmaster Trends Analyst, he confirmed that they do not give priority to the domain extensions. So remember, as far as the search engines go, there is no advantage one way or the other.
That leads us to the new more descriptive TLDs. In the last couple of years, tons of new domain extensions have been released and are available for purchase. Here is a sample of the available TLDs:
.academy
.accountant
.accountants
.actor
.agency
.airforce
.amsterdam
.apartments
.archi
.army
.art
.associates
.attorney
.auction
.audio
.auto
.band
.bar
.barcelona
.bargains
.bayern
.beer
.berlin
.best
.bet
.bid
.bike
.bingo
.bio
.black
.blackfriday
.blog
.blue
.boutique
.build
.builders
.business
.buzz
.cab
.cafe
.camera
.camp
.capital
.car
.cards
.care
.careers
.cars
.casa
.cash
.casino
.catering
.center
.ceo
.chat
.cheap
.christmas
.church
.city
.claims
.cleaning
.click
.clinic
.clothing
.cloud
.club
.coach
.codes
.coffee
.college
.community
.company
.computer
.condos
.construction
.consulting
.contractors
.cooking
.cool
.country
.coupons
.courses
.credit
.creditcard
.cricket
.cruises
.cymru
.dance
.date
.dating
.deals
.degree
.delivery
.democrat
.dental
.dentist
.desi
.design
.diamonds
.diet
.digital
.direct
.directory
.discount
.doctor
.dog
.domains
.download
.earth
.education
.email
.energy
.engineer
.engineering
.enterprises
.equipment
.estate
.events
.exchange
.expert
.exposed
.express
.fail
.faith
.family
.fans
.farm
.fashion
.film
.finance
.financial
.fish
.fishing
.fit
.fitness
.flights
.florist
.flowers
.football
.forsale
.foundation
.fun
.fund
.furniture
.futbol
.fyi
.gallery
.game
.games
.garden
.gift
.gifts
.gives
.glass
.global
.gmbh
.gold
.golf
.graphics
.gratis
.green
.gripe
.group
.guide
.guitars
.guru
.haus
.healthcare
.help
.hiphop
.hiv
.hockey
.holdings
.holiday
.horse
.hospital
.host
.hosting
.house
.immo
.immobilien
.industries
.ink
.institute
.insure
.international
.investments
.irish
.ist
.istanbul
.jetzt
.jewelry
.juegos
.kaufen
.kim
.kitchen
.kiwi
.land
.lawyer
.lease
.legal
.lgbt
.life
.lighting
.limited
.limo
.link
.live
.loan
.loans
.LOL
.london
.love
.ltd
.ltda
.luxury
.maison
.management
.market
.marketing
.mba
.media
.melbourne
.memorial
.men
.menu
.miami
.moda
.moe
.mom
.money
.mortgage
.movie
.nagoya
.navy
.network
.news
.ninja
.nrw
.nyc
.okinawa
.one
.onl
.online
.paris
.partners
.parts
.party
.pet
.photography
.photos
.pics
.pictures
.pink
.pizza
.place
.plumbing
.plus
.poker
.press
.Pro
.productions
.promo
.properties
.property
.Protection
.pub
.pw
.qpon
.quebec
.racing
.recipes
.red
.rehab
.reise
.reisen
.rent
.rentals
.repair
.report
.republican
.rest
.restaurant
.review
.reviews
.rich
.rip
.rocks
.rodeo
.run
.ryukyu
.sale
.salon
.sarl
.school
.schule
.science
.security
.services
.shiksha
.shoes
.shop
.shopping
.show
.singles
.site
.ski
.soccer
.social
.software
.solar
.solutions
.space
.store
.stream
.studio
.study
.style
.supplies
.supply
.support
.surf
.surgery
.sydney
.systems
.tattoo
.tax
.taxi
.team
.tech
.technology
.Tel
.tennis
.theater
.theatre
.tienda
.tips
.tires
.today
.tokyo
.tools
.tours
.town
.toys
.trade
.training
.tube
.university
.uno
.vacations
.vegas
.ventures
.vet
.viajes
.video
.villas
.vin
.vip
.vision
.vodka
.vote
.voting
.voto
.voyage
.wales
.watch
.webcam
.website
.wedding
.wiki
.win
.wine
.work
.works
.world
.wtf
.xyz
.yoga
.yokohama
.zone
The advantages of getting one of the new domain extensions are that you can get a TLD that is very specific to your business, industry, or interest. Also, since most of the three-word or less .com domain names are already taken, you many need to opt for one of the new TLDs if you really want a shorter domain name.
The one disadvantage you should be aware of is that many of the newer domain extensions are much more expensive than a .com or .net. While you can find some that are comparable in price to the older TLDs, be sure you are aware of the renewal rates. Sometimes you can initially purchase a new TLD on a sale; however the renewal price is much higher. So, remember to read the fine print.
Privacy and Auto Renewal Options
When purchasing domain names, there are a couple of features you should be aware of. First is a privacy option. By default, when you purchase a domain name, your contact information is made public for anyone to see. If you'd rather not let everyone see your information, you can opt for domain privacy. For an additional fee, your domain registrar will have their information displayed instead of yours. For example, with GoDaddy domain privacy your Name is listed as "Registration Private", and the Organization is "Domains by Proxy, LLC".
The other option you'll have when purchasing a domain is to auto-renewal it when your term is up. For many people this is a nice convenience feature. Just be aware that auto-renewal may be enabled by default. So, be sure to uncheck this option if you don't want it.
Purchasing Domains with Web Hosting or Separately?
Often, your web hosting plan will include a free domain name—though this is becoming less frequent as web hosts decide that a free domain isn't a big incentive for many of their customers. So the question then is, can't I just use my web host as my domain registrar. The answer is yes, but there may be some good reasons why you should use a separate domain registrar.
If you plan on having multiple websites, it's usually more convenient to manage you domains separately. That way, you can more easily track your domain renewal dates, as well as manage your nameservers and domain name records. More importantly, managing your domain names at a separate domain registrar lets you easily move your websites to a different web host, should you decide to leave your current web hosting company. In the past, it has been more of a hassle to move when I had a domain tied to a specific web host (i.e. that came with my hosting plan). And finally, if you plan on buying many domain names, using a separate domain registrar is usually more cost effective as they often run sales for buying domain names in bulk.
What is the Best Domain Registrar?
Here are what we consider to be the top domain registrars in the industry.
GoDaddy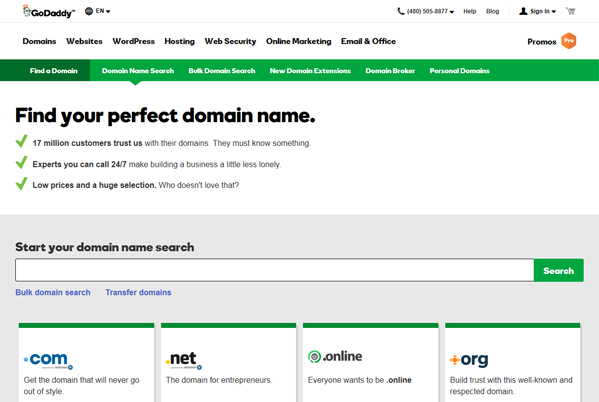 While I'm not always thrilled about GoDaddy's web hosting, when it comes to a domain name registrar, GoDaddy is still my number one choice. As the largest domain name registrar, you can not only purchase domains at GoDaddy but also utilize their services such as domain auctions, domain brokering, and domain investing. Another advantage with GoDaddy being the biggest domain registrar is that it is usually easier to transfer domains to others if you wish. And, GoDaddy runs frequent sales for domain name purchases.
In recent years, GoDaddy has made it a point to streamline their web interface to make things more intuitive and easy to work with. It's very easy to make changes to your domain nameservers or domain records—and the changes usually take effect quickly.
Although GoDaddy's customer support can sometimes be inconsistent with some of their other products, when it comes to domain names, I've never had any problems.
GoDaddy Pricing
.com – $11.99 Yr.
.net – $11.99 Yr.
.org – $7.99 Yr.
GoDaddy vs InMotion Hosting
GoDaddy vs A2 Hosting
GoDaddy Website Builder
Namecheap

Besides GoDaddy, the other domain name registrar I use most often is Namecheap. They have proven to be a viable alternative to GoDaddy. Besides having a great selection of domain name available, they also feature their Marketplace where you can buy and sell domains. In addition to their competitive pricing, another advantage with Namecheap is that with most domains one year free of WhoIsGuard (domain privacy) is included.
Namecheap Pricing
.com – $10.69 Yr.
.net – $12.88 Yr.
.org – $12.48 Yr.
1&1 Internet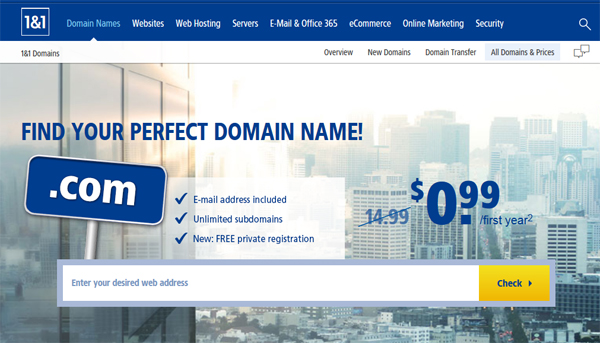 Other than GoDaddy, 1&1 Internet is probably the web host that promotes and features their domain name registrar services the most. 1&1 also has a wide selection of domain names available in addition to the main three. They do have some nice deals for your first year, however the renewal rates are higher than those at GoDaddy and Namecheap.
1&1 Domain Pricing
.com – $0.99 First Yr., Then $14.99 Yr.
.net – $8.99 First Yr., Then $19.99 Yr.
.org – $0.99 First Yr., Then $19.99 Yr.
Network Solutions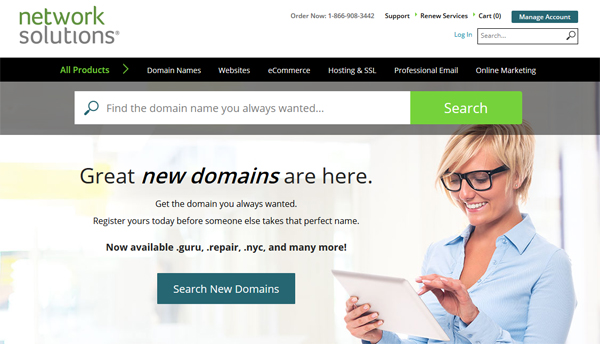 Network Solutions, which is now part of Web.com, has been one of the most established domain name registrars in the industry. Currently, the domain registrar side of the business isn't emphasized as much as the other products and services offered by Web.com. One of the things I don't like about Network Solutions is that domain prices are not listed. When you do a search, your domain is automatically added to a shopping cart. In order to access the shopping cart, you have to create a new account or have an existing one—or else you still can't view the cost of the domain. Likewise, when you do your domain search a number of alternatives are presented if the domain you searched for is not available. However, these suggested domains don't have the prices listed either!
Domain Registrar
Prices
GoDaddy
.com – $11.99 Yr.
.net – $11.99 Yr.
.org – $7.99 Yr.
Namecheap
.com – $10.69 Yr.
.net – $12.88 Yr.
.org – $12.48 Yr.
1&1 Internet
.com – $0.99 First Yr., Then $14.99 Yr.
.net – $8.99 First Yr., Then $19.99 Yr.
.org – $0.99 First Yr., Then $19.99 Yr.
Network Solutions
Must add to cart to see prices.