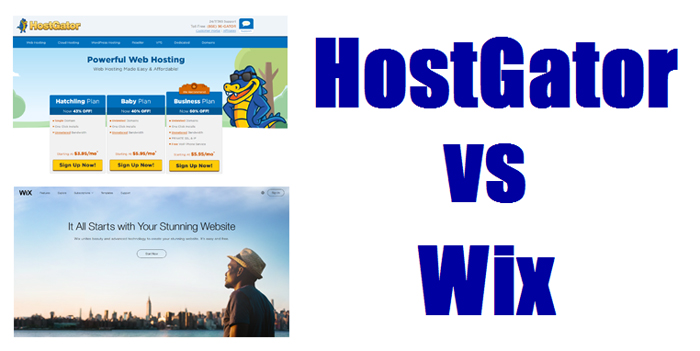 How does HostGator compare with Wix? This comparison between traditional web hosting and a website builder takes a look at HostGator's hosting plans versus Wix's website builder packages.
HostGator vs Wix For Small Business Websites
When comparing a complete web hosting plan, such as from HostGator, against a website builder such as Wix, it's usually an issue of control/flexibility versus quickness/convenience. That's the case here with this comparison—especially for small business websites.
With HostGator, you get a full cPanel hosting package that gives you access to content management systems (WordPress, Joomla, and Drupal) as well as all of the other applications available with cPanel. Features such as email are included with your plan. You definitely have more options and control over how your website is developed. However, it does take more effort on your part—and the site creation process usually takes longer.
With Wix, you can choose your website package along with your website template and have your website up and running quickly. While you don't have the flexibility or control of a traditional web hosting plan, Wix is ideal for small business websites that need a basic set of web pages to promote your business.
In this category, Wix is the winner.
HostGator vs Wix For eCommerce Websites
If you want to build an eCommerce website, the same considerations for small business websites apply. However, because eCommerce sites require more work than other types of sites, the tradeoff of flexibility versus convenience is magnified.
If your eCommerce site is going to be a huge online store, you're probably better off going with HostGator's traditional web hosting plan.
For most eCommerce websites though, we would recommend Wix in this comparison.
HostGator vs Wix For Blogs
It's a little different story when it comes to blogs. Here, a web host that offers WordPress hosting like HostGator is usually a much better choice. While you can add a blog to your Wix website, you'll get more value from a HostGator plan—and you can use WordPress (the best blogging platform) for your blog. Unless you absolutely need the easy site creation from Wix, we would recommend HostGator for bloggers.
HostGator vs Wix Comparisons
| Features | HostGator | Wix |
| --- | --- | --- |
| Easy Site Creation | | |
| Website Speed | | |
| Resources | | |
| Site Security | | |
| Customer Support | | |
| Transferability | | |
| Value | | |
Advantages and Disadvantages
Recommendation
If you need a quick way to create a simple or online brochure type of website, then Wix is the better choice here. Also, setting up and running an eCommerce website with Wix is much easier than with a traditional web host such as HostGator. Wix is really ideal for website owners that need a quick way to build a professional looking website. If you need to promote your small business online, then choosing a website package from Wix is one of the fastest and easiest methods.
HostGator is one of the most established web hosting companies around. With their complete hosting package, you aren't limited in storage or bandwidth the way you are with Wix. HostGator provides many more options to grow your website. And, you definitely have more control. We also like how HostGator includes a free dedicated IP and free SSL with their hosting plans.
The bottom line in this comparison of HostGator and Wix is that as long as your website isn't going to have tons of content pages, Wix is the better website solution. So for most websites, we would recommend Wix over HostGator. See our review ratings for Wix below.