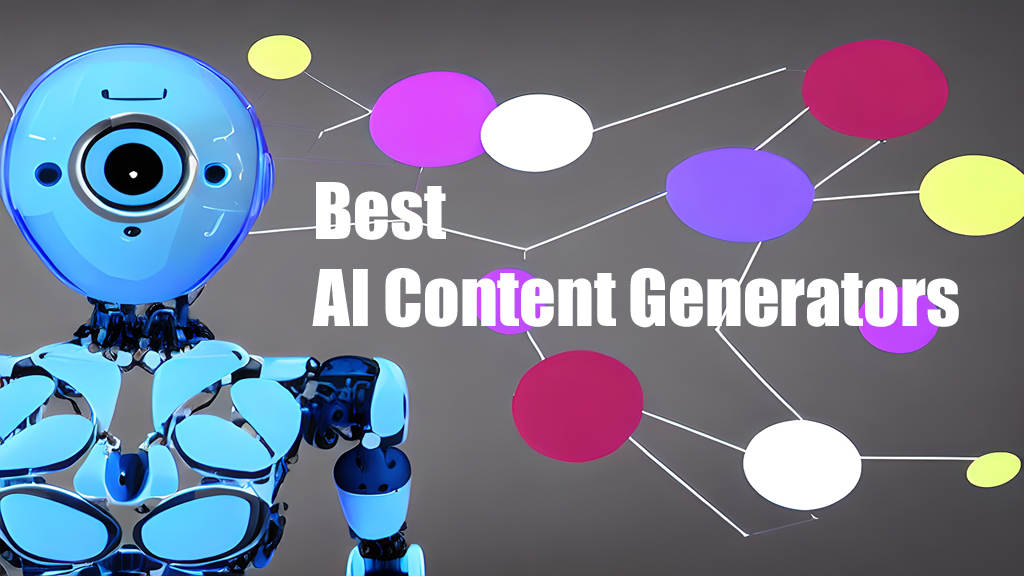 You can get to page 1 of Google and save time creating your website content! That's what the new wave of content generators promises to do. But, do they really work? And, which tool should you use? In this article, we'll take a look at the Best AI Content Generators.
I'll also cover when you should use a content generator, how they work, how you can really benefit from using them, and the pros and cons of using these AI content generators. Then, I'll give you my picks for the Top 5 AI Content Generators. But, if you're in a hurry, here is a summary below.
Top AI Content Generators Summary
If you're in a hurry, here is our list of recommended AI Content Generation tools.
Why Use a Content Generator?
With AI technology, content generators have come a long way since the days of article spinners. The current crop of AI content generation tools produces very impressive results in no time at all. And, the technology and products are improving seemingly everyday—with new tools and new types of content being constantly added.
While it's always a good idea to add your own input and viewpoints to your generated content, using an AI content generator can save you a ton of time and money. You don't have to hire outside expert help to get professional content, and you can spend less time creating all of the content for your websites and social media.
How Does an AI Content Generator Work?
Another great benefit about the current crop of AI content generation tools is that they are extremely easy to get started with and use. Basically, you just type in your topic, then click a button and watch your content being created instantly.
Pros and Cons of Using AI Content Generator
I've gone over the two biggest advantages of using content generators: Being able to churn out quality content in far less time, while saving you money by not having to outsource tasks. The only real disadvantages of using AI content generators are that since the technology is still at a relatively early stage, there may be times when the content you get isn't quite on target and you have to work with your content generator a bit more to get more exact results.
Also, because Google is frowning on AI content generation, you really shouldn't just take your results and paste them into your site. You could, but it's always safer to add some of your own input. That way, you can satisfy both the search engines and provides more authority and trust to your audience.
Differences Between ChatGPT and AI Content Generators
ChatGPT has gotten most of the headlines lately for AI technology. How do the content generators below compare to ChatGPT? Should you use ChatGPT or one of these other AI tools? To answer those questions, let's go over exactly what ChatGPT is and the differences between ChatGPT and these other AI content generator such as GoCharlie, Jasper, etc.
ChatGPT is basically a text based conversational tool. With the AI content generators, you get a one-click interface. ChatGPT is generally a more broad or big picture tool, while the AI content generators are usually better suited for specific niches. Obviously, things are evolving rapidly, so changes and updates are always happening.
Currently, for website owners I would recommend looking into AI content generators such as those below. I'm more impressed with the results and performance—especially for niche websites. I've also seen instances where ChatGPT has been unavailable for some reason:
That hasn't been the case with these AI Content Generators.
Best AI Content Generators
Here are my current favorite AI content generators that I've thoroughly tested.
Content at Scale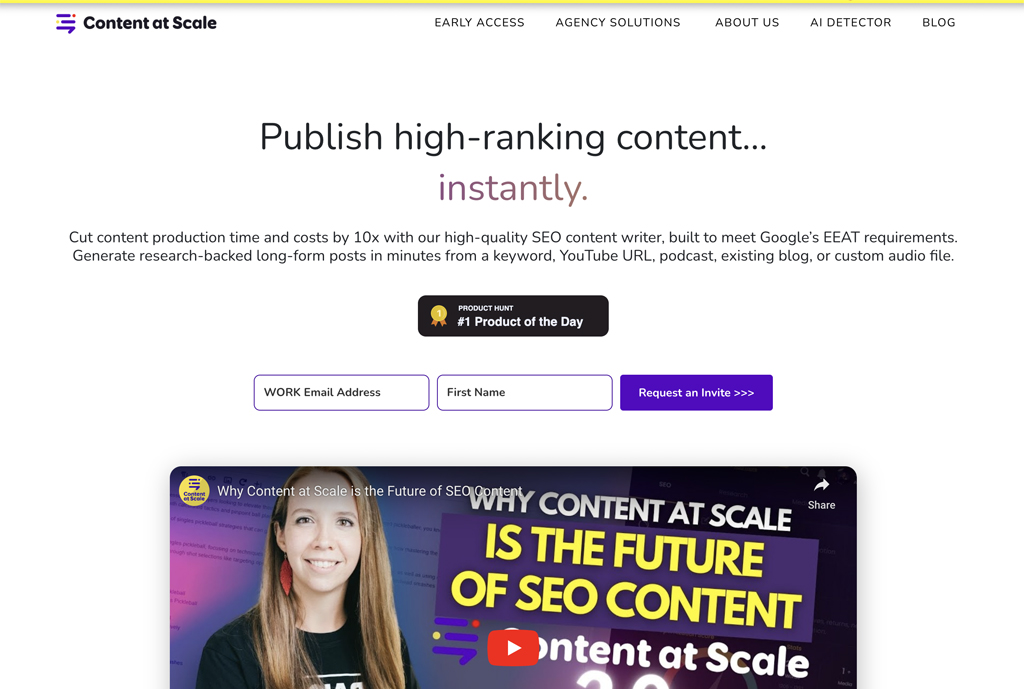 If you have a website for your business or you want the absolute best quality blog articles from an AI content generator, then you need to try Content at Scale. Content at Scale combines 3 AI engines with their proprietary content automation system to produce the best SEO optimized, long-form content that bypasses AI detection. This is true long-from content (averaging 2,667 words)—way more than you get from ChatGPT or even other AI content generators.
Content at Scale produces the most impressive and complete blog articles that I've seen from an AI content generator. However, this type of premium AI content does cost more than the typical AI content tool—and certainly more than using ChatGPT. That's why I recommend Content at Scale for businesses and website owners that make their primary income from their websites.
Content at Scale Pros and Cons
Pros:
Professional Quality Blog Articles
Long-Form Content Averaging 2600+ Words
Undetectable AI Writing
Researched Backed Content
Search Engine Optimized Content
3 AI Engines
Create Blog Posts from YouTube Videos
Create Blog Posts from Podcasts
Create Blog Posts from URLs
WordPress and Shopify Plugins
Automatic Linking (Internal & External)
Google Q&A Schema Markup
GoCharlie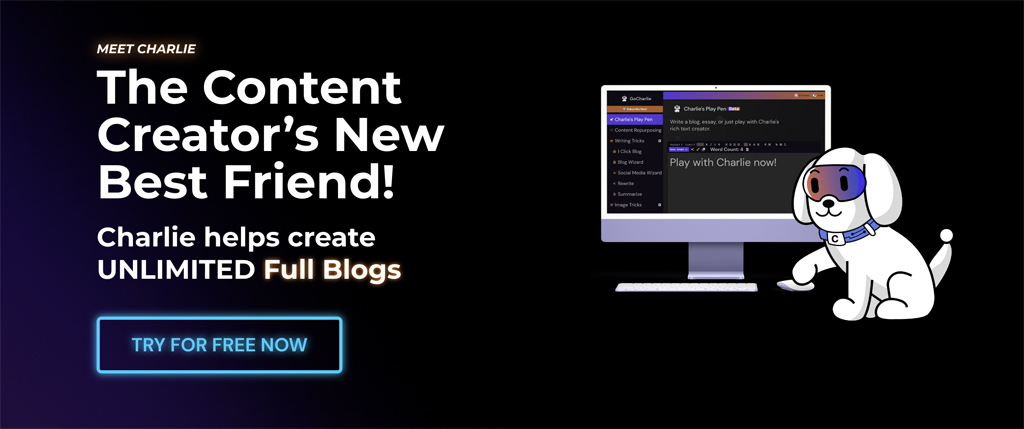 GoCharlie is currently my favorite and definitely one of the best AI content generators on the market today. GoCharlie is not only super-easy to use, but it has the best long form content generation of any of the tools I've used so far. If your primary purpose in using a content generator is for creating blog forms and website articles, then GoCharlie should be at the top of your list.
What Can You Create with GoCharlie?
If you need an AI content generator for long-form blog or website articles, then GoCharlie should be your choice. GoCharlie produced the best content in the quickest way of all the AI content tools I've used. The one-click blog article generator is especially impressive.
You can also create high resolution images with GoCharlie as well as social media posts and other copywriting material. And, GoCharlie can also be used to repurpose your existing content.
GoCharlie Pros and Cons
Pros:
Very Easy to Use
Generates Content Quickly
Great for Long-Form Blog Posts
Good Quality Output
Ability to Create Photos and Art
Responsive Email Support
Lower Price and Better Value than Others
Start with Free Plan
Cons:
No Live Chat Support
Doesn't Accept PayPal
Copymatic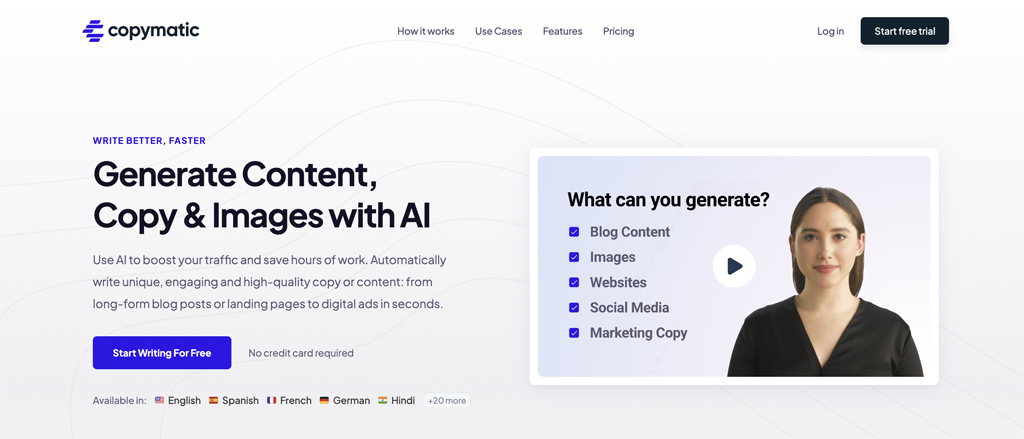 Copymatic is a very impressive AI content generator. The long-form blog article content is noteworthy and easy to export. Copymatic also has their own WordPress plugin making it even easier to integrate with the most popular website platform.
And, you also get a lot of options for generating images with Copymatic. Plus, you can have Copymatic generate social media content for Twitter, Instagram, and Facebook.
The one area where there could be improvement is customer support response. You can send support questions via the dashboard chat box and you're supposed to get a response within a few hours. However, that wasn't always the case for me.
What Can You Create with Copymatic?
With Copymatic, you can easily generate blog posts, blog ideas, blog outlines, social media posts, as well as images. In terms of content quality, Copymatic is definitely one of the better AI tools. I found the content on point with minimal errors.
Copymatic Pros and Cons
Pros:
Great Variety of Features
Quality Blog Content
Can Generate Images
Great Selection of Image Generation Options
WordPress Plugin Available
Free Trial
Cons:
Blog Output Needs Formatting
Slower Support Response Times
Jasper

Jasper continues to evolve and go through changes and improvements—including it's name. Previously, it was called Jarvis and other names in the past. In terms of content quality, Jasper does a fine job. And, there are many features you can use to generate not only website articles, but also social media posts as well as art and images.
On the other hand, most of Jasper's output is in the short-form content, so creating a full blog post will take you a bit longer. Also, it isn't the cheapest AI content tool, and you have to pay an additional fee if you want the ability to generate art and images.
What Can You Create with Jasper?
Jasper contains a great selection of content generation features. Jasper is particularly suited for creating more short form content. While you can create full articles, you really have to focus on creating one section at a time in order to have a complete blog post. Likewise, with their social media functionality, you get smaller bits of content at a time. However, I found the quality to be fine.
Jasper Pros and Cons
Pros:
Generates Content Quickly
Great for Short-Form Content
Includes More Content Features
Free 5 Day Trial
Cons:
Slightly More of a Learning Curve
Extra Fee for Creating Images
Can't Bulk Export
Doesn't Accept PayPal
WordHero
WordHero has probably the best and most unique selection of content generation tools that I've seen—many that aren't found in other AI content generators. However, it's not the easiest tool to use for long-form content as it seems to generate only one paragraph at a time. Also, the social media content generated by WordHero is not as strong as what you can get with other AI tools.
What Can You Create with WordHero?
Like Jasper, with WordHero generates a smaller amount of output at a time. You can create blog posts, social media posts, emails, and many other types of business content.
WordHero Pros and Cons
Pros:
Great Selection of Content Tools
Responsive Customer Support
14-Day Money Back Guarantee
Cons:
Takes More Time to Create Long-Form Content
Text Output Requires Formatting
Writecream

Writecream has the potential to be one of the best AI content generators on the market. It features a great selection of tools, including impressive Voiceover output. Plus, you can even create your own AI tool if you haven't found one that meets your needs. And, Writecream's customer support is very helpful with quick response times.
Currently however, Writecream is a work in progress. Their blog article generation isn't quite up to the levels of the tope content generators on this list. However, you can sign up for a free account to try it out. Hopefully, they will implement some necessary improvements in the near future.
What Can You Create with Writecream?
While Writecream can generate blog articles, social media, product descriptions, images, and ads, I was most impressed with their VoiceOver feature that lets you enter any text, specify language and whether you want a male or female voice, and then quickly produces a quality audio file.
Writecream Pros and Cons
Pros:
Easy to Use
Nice Selection of Features
Generates Output Quickly
Can Create Images
Can Generate Voiceovers
Responsive Chat Support
Start with Free Plan
Cons:
Generated Shorter Articles
Image Quality Could be Improved
AI Content Generator Recommendations

Best for Pros and Agencies
$250 mo.

Best for All Levels
$39 mo.

Best for All Levels
$49 mo.