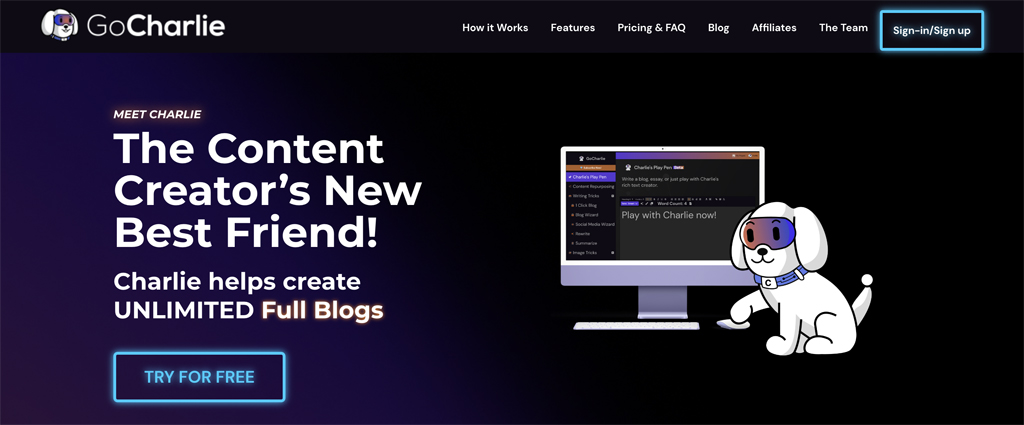 While ChatGPT has gotten most of the headlines lately, there are definitely other AI content generation tools that are just as impressive—and in some cases even better suited for your content generation needs. GoCharlie is among those AI tools that promises to be a game changer when it comes to website content creation.
Just how good is the Charlie AI content generator? Here in my GoCharlie Review, we'll take a look at exactly what GoCharlie can do for you, how it compares with ChatGPT and other AI tools, and whether you should choose GoCharlie for help with your website content generation.
Keep in mind here that Charlie is in its early stages of existence. Their website states: "We're a generative artificial Intelligence company leading the development of a goal-driven and multi-modal engine…". Let's see just how it works and whether Charlie can deliver quality content output for your blog or website.
What Type of Content Can GoCharlie Generate?

As GoCharlie continues to evolve, new features and capabilities are frequently debuting. The main areas where the GoCharlie AI technology can help you out are:
Creating Blog Posts
For the majority of users, the blog post feature will be the biggest time saver and most used. With GoCharlie, you can easily create a 1000+ word blog post with just one click or by using the Charlie wizard. And, if you need more control over your content, you can use the step by step blog wizard.
Creating Social Media Posts
Because social media plays such a big part of online business these days, GoCharlie also includes the ability to quickly create both social media posts as well as Facebook, Instagram, and LinkedIn Ads.
Creating Images and Art
With GoCharlie AI, you also don't have to struggle coming up with images for your content. GoCharlie can turn your text into 4K images you can use with your web content. You can also have Charlie create variations of your existing images. And, you can actually have GoCharlie modify your existing image. For example, it can remove an item in your photo that you specify and replace it with something else.
While the current AI image generation and manipulation processes aren't perfect, you can get some very interesting images through GoCharlie.
Copywriting Help
The Copywriting functionality in GoCharlie contains the most features. You can generate everything from company bios, press releases, brand missions, company visions, growth and viral ideas, and even startup elevator pitches. And, there are even more types of copywriting content you can create.
Creating Ads
GoCharlie includes the ability for you to generate ads for Google, Facebook, LinkedIn, and SMS.
Ecommerce
For E-commerce website owners, you can use GoCharlie to generate product reviews, product benefits, product descriptions, and even product pros and cons.
Creating Email
Another useful function for GoCharlie users is email creation. With GoCharlie, you can get help creating your sales emails, investor pitches, welcome and thank you emails, promotional emails, special offer emails, and new product alerts.
SEO
The SEO functionality with GoCharlie can be found within their Website section. While it is basic stuff (SEO isn't the primary reason for using GoCharlie), it can be useful if you need help with meta descriptions and keywords.
Content Repurposing
GoCharlie also makes repurposing your content easier by turning your videos into an SEO friendly blog.
GoCharlie Dashboard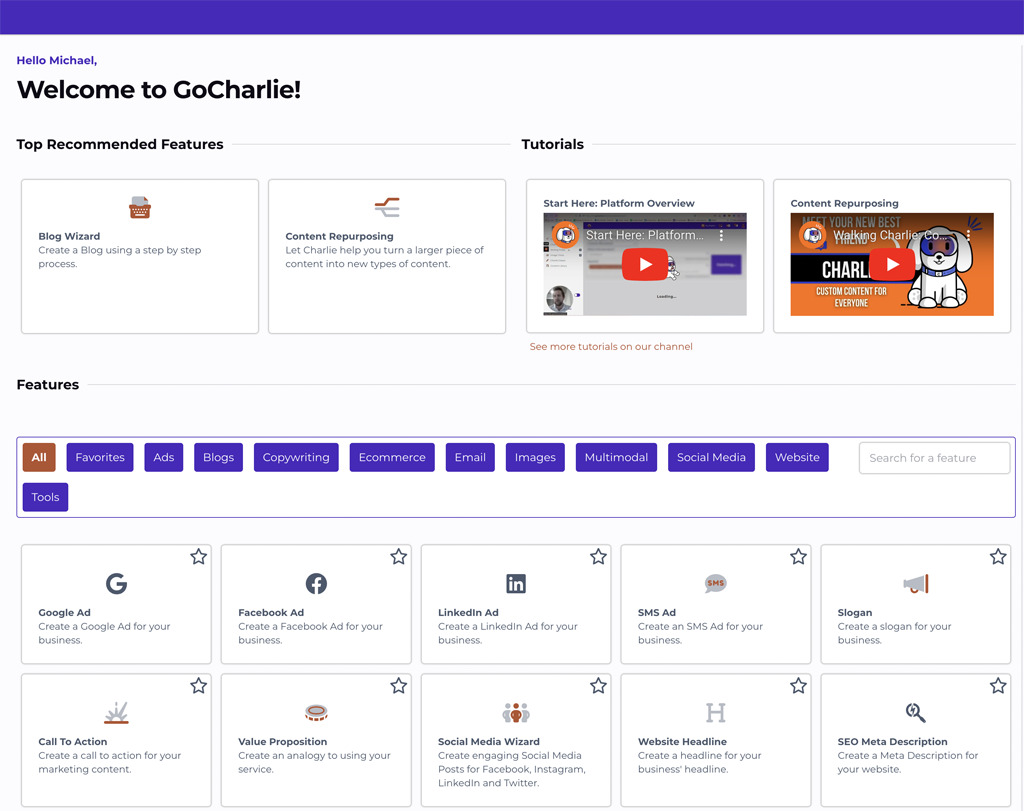 When you login to GoCharlie, you'll find the dashboard very intuitive and easy to use. I like that you can access all of the functions both by clicking the icons on the screen. You can also quickly access your account information by clicking on the Profile menu link.
How to Create Your Content with GoCharlie
Creating a Blog Post with GoCharlie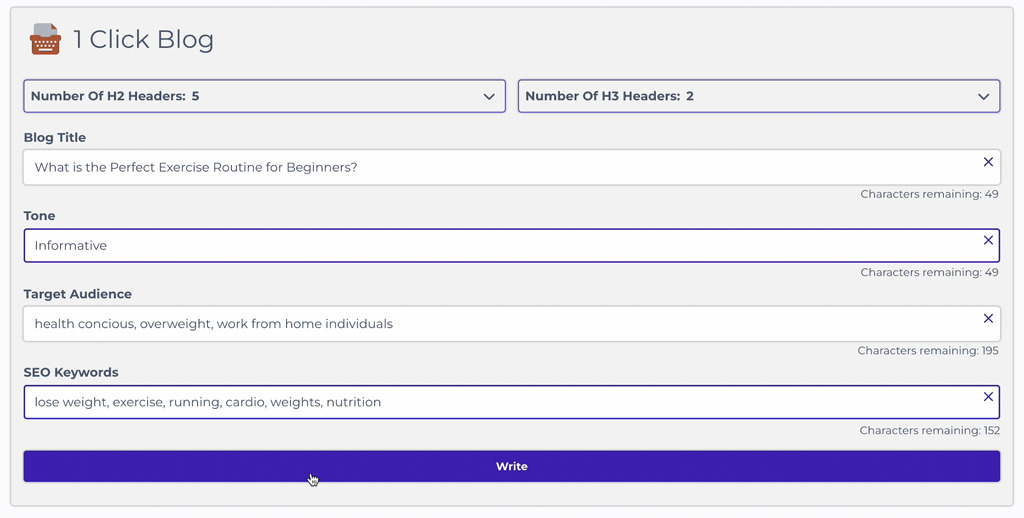 GoCharlie includes 2 ways to create blog posts. You can use the one-click blog creation method for the easiest way to create your post, or you can use the blog wizard to more specifically tailor and fine-tune the output more to your liking when creating your content. In terms of the type and quality of content, both methods produce similar results.
All you need to do to create a blog post with GoCharlie is specify the number of major and minor title headers (H2 and H3) you want in your article, enter your blog post title, specify the tone and target audience, and list the important keywords you want in your blog post. Then, just click the button and your article is generated for you.
I was definitely impressed with GoCharlie's blog post creation. It only takes about two minutes (maybe less) to generate your content. Your blog post is nicely formatted, and actual content is well-written and clearly understandable. I was also very impressed by the quantity of content. The blog posts I generated were anywhere from 1700+ words to 2300+ words. And, what's also great is that you can copy and paste the results into WordPress and the formatting remains intact.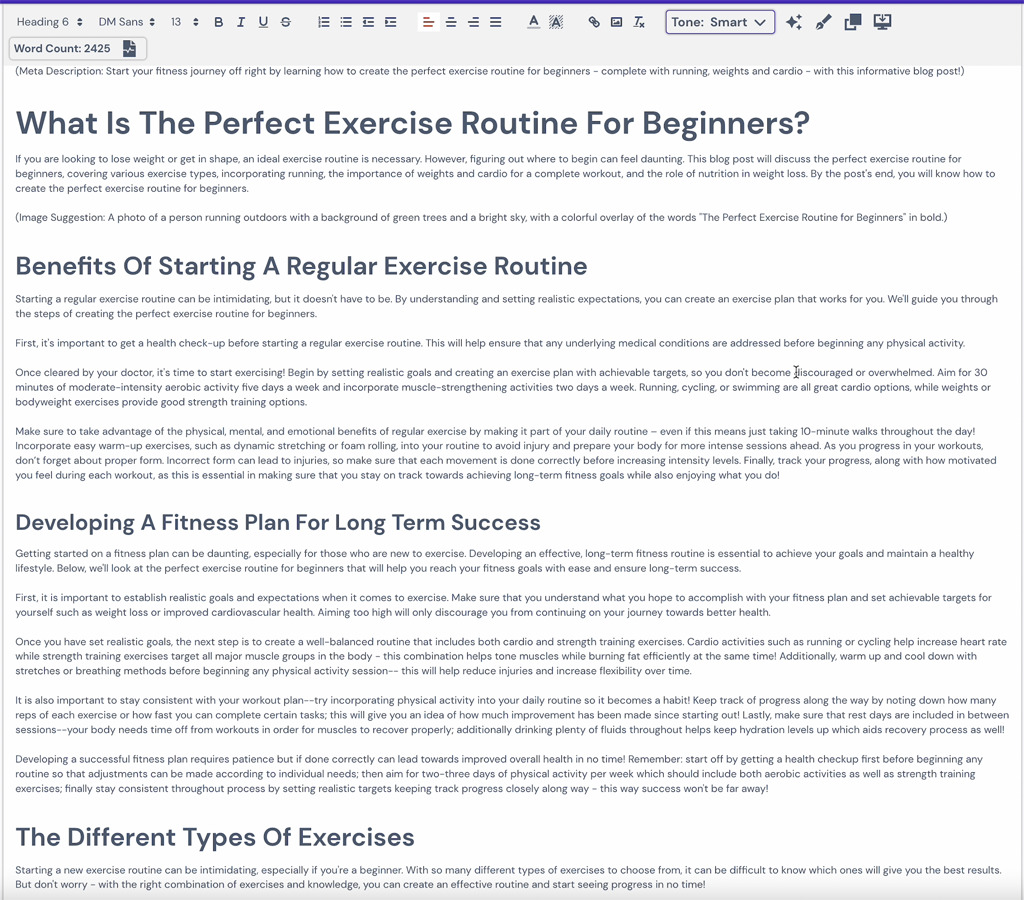 While you can theoretically just paste your results straight out of GoCharlie, I would suggest that you try to add some additional thoughts of your own. It'll make the content even more original, let your audience get to know you better, and you can include any specifics that Charlie may have left out. Also, although I found GoCharlie to do a great job most of the time, I definitely suggest you proofread your blog posts just to make sure everything is good. In my case, there was only one occasion where I found the start of a sentence fragment at the end of a paragraph. Not a big deal, but a reminder that as great as AI technology is now, it still isn't always perfect. However, for blog post creation, I give GoCharlie a big thumbs up!
Creating Social Media Content with GoCharlie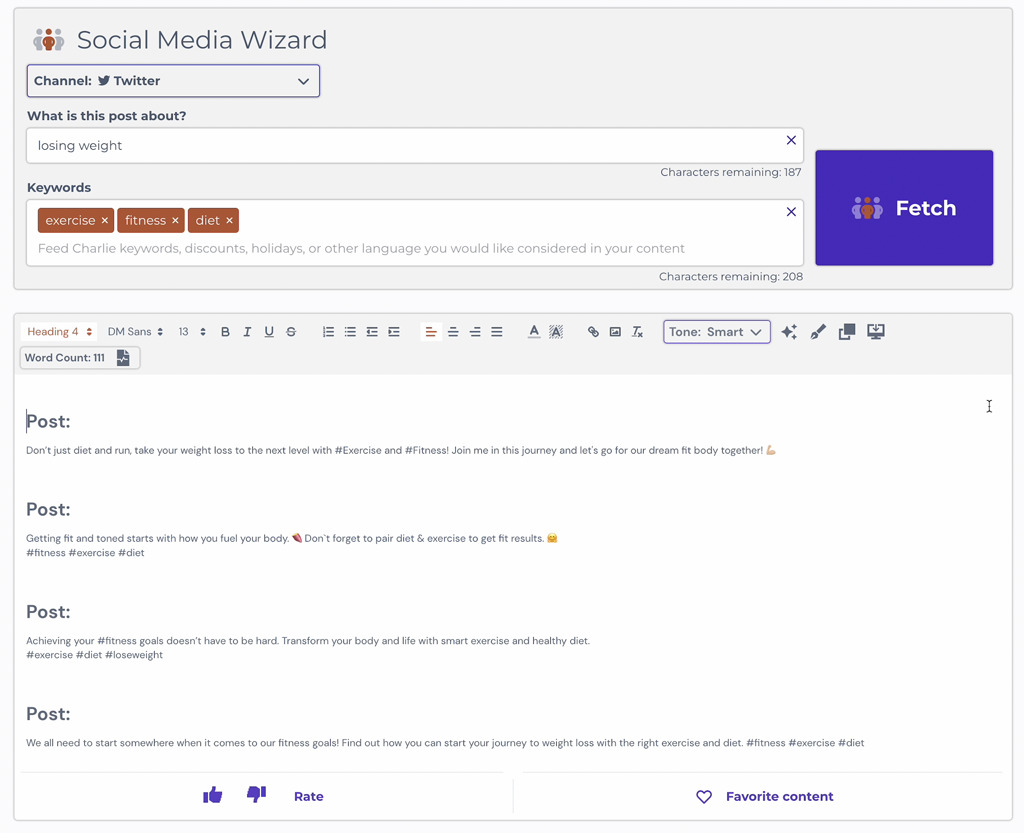 With the Social Media Wizard in GoCharlie, you can generate social media posts for Facebook, Instagram, Twitter, and LinkedIn. It works similar to the blog content generator where you add your topic and some keywords. You're then presented with four different social media posts you can use.
Along with social media posts, Charlie also includes features for generating YouTube Title, YouTube Video Ideas, and TikTok Ideas.
While the social media functions are nice to have, currently I wouldn't list them as top reasons to use GoCharlie. However, if you're relatively new to social media or just want to save some time generating your social media posts, GoCharlie can certainly help out.
Creating Art and Images with GoCharlie
One of the other cool features with GoCharlie is the ability to create royalty free images and art. You just need to enter your specifications, click the button, and wait for your photos or art images to be generated. One tip I would give users is to be as specific as possible when entering your description requirements. If you enter too broad of a topic, you may get something you don't want.
GoCharlie has also expanded its image features to include the ability to alter your images. For example, you can have GoCharlie generate variations of an existing photo you have, or you can even have certain items in your photos replaced with other items you specify to GoCharlie.
While I would always prefer to use my own photos and artwork if possible, GoCharlie does give you a great option of quickly creating photos and art work if you don't have the time or resources. Keep in mind that at this early stage of AI content generation, the images are still a work in progress and not always perfect. However, the images generated by Charlie are certainly useable.
Using GoCharlie for Content Repurposing
Content Repurposing might be the most intriguing feature of GoCharlie. However, it's still currently in beta right now. You can make use of it now, but right now the only option is to convert a YouTube video into a blog post. The feature works, but it's apparent that it's still at the beta stage. Unlike the blog post generator, when using content repurposing, I did notice there were a few more manual corrections I needed to make—nothing major, just a word here or there. Although you can utilize the content repurposing feature, it isn't the main reason to use GoCharlie. But, it's still a nice feature to have and hopefully as it gets refined and improved in the future, it will be even more useful.
How is the Quality of Content You Get from GoCharlie?
Overall, I am very impressed with the quality of content that is generated by GoCharlie. AI technology has certainly come a long way the past few years. The blog posts are formatted nicely and the verbiage just right—very professional looking blog content. That isn't to say that you should just always take the content from GoCharlie and throw it into your website—although you could.
For the best results, I recommend that you check your content output and if possible add some of your own thoughts or ideas. That will make your content even more valuable to your audience.
In terms of syntax errors, I've found GoCharlie to be about 98% to 99% correct. Only once have a found a sentence fragment that for some reason was placed at the end of a paragraph. I also found the content to be topically and factually correct for the most part. However, I'm sure that will vary depending on your subject—at least at this early stage of AI.
Pricing: How Much Does GoCharlie Cost?

GoCharlie is one of the more affordable quality AI content generators available. In fact, you can start out absolutely free with their Fetch Free plan that lets you preview all of Charlie's features. And, there is more good news. Because GoCharlie is new on the market, they are currently offering lifetime plans. The Limited Lifetime Plan cost $99, while the Unlimited Lifetime Plan is available at $435. However, if you prefer to pay on a monthly basis, the cost is only $29 for unlimited usage. That's way lower than most other content generators.
GoCharlie Customer Support
Although GoCharlie does not currently have live chat support, I did find their email support to be responsive. For example, I sent a question very late at night and within a few hours I got a response.
GoCharlie Pros and Cons
Pros:
Very Easy to Use
Quality Blog Content
Good Formatting of Blog Content
Content is Generated Quickly
Easy Creation of Photos and Art
Lower Cost Compared to Other AI Generators
Responsive Email Support
Free Trial
Cons:
Currently No Live Chat Support
Doesn't Accept PayPal
GoCharlie vs ChatGPT
So, the big question many of you probably have is: How does GoCharlie compare with ChatGPT? Here are my thoughts. While ChatGPT is a great and inexpensive way to get introduced to AI content generation technology, our experience has been that GoCharlie produces better quality content, is more versatile in creating more types of content, and includes a more user-friendly dashboard interface.
Also, during peak usage times, you may find that ChatGPT is unavailable. That has happened to me when trying to access OpenAI ChatGPT. It hasn't happened with GoCharlie.

GoCharlie
Graphical More User-Friendly Interface
Article Content More Accurate
Can Create Images and Art
Higher Quality Content
Free Trial – $39 mo.

ChatGPT
Basic Chat Interface
Doesn't Create Visual Content
Content Contains More Errors
Free Basic Access
Availability May be Limited During Peak Times
Recommendation
While there are many AI content generation tools out there now, there aren't many I would recommend over using ChatGPT. However, GoCharlie is definitely one of the AI tools I would use in place of ChatGPT.
Overall, I'm very impressed with GoCharlie and do plan to use Charlie AI for some of my websites. I find it very easy to use, it generates your content quickly, and most of all, GoCharlie creates content that you can definitely include in your blogs and websites.
In addition to creating blog content, I also like the photo and art image generator that makes a nice complement to the blog post creator. And, I also look forward to further development of Charlie's content repurposing functionality.
While I would like to see live chat support added in the future, I find the email support to be responsive and helpful. And, GoCharlie also has a Facebook community you can join to get more assistance.
And finally, what I also like about GoCharlie AI is that is more affordable than some of the other AI content generators. You can try out using Charlie absolutely free. Once you decide that GoCharlie can help with your content creation, you can opt for the monthly plan of $39 mo., or you can purchase a professional plan with advanced features for $99 or their agency plan for $435.
GoCharlie is a very impressive AI content generation tool. See our GoCharlie Review Ratings below.