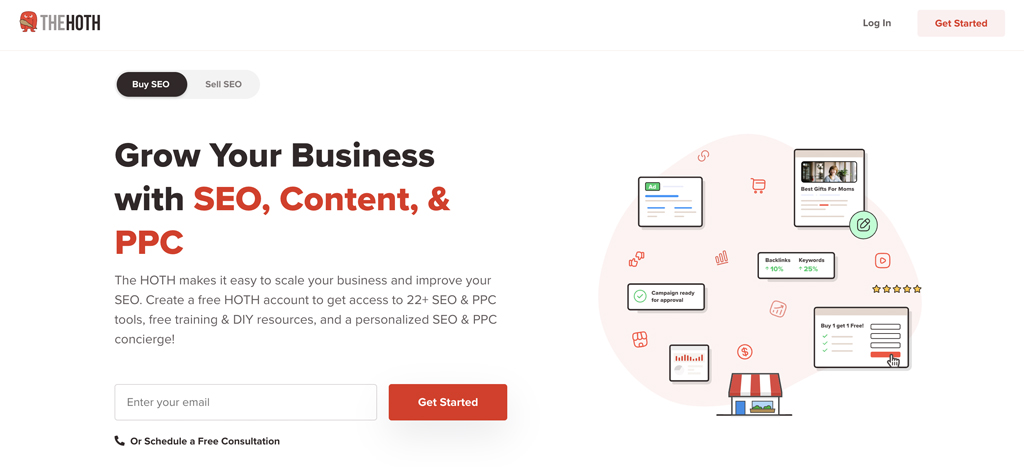 How good is The HOTH for getting higher search engine rankings? What exactly do they offer and why should or shouldn't you use their services? Here in my HOTH SEO Review, I'll go over how you can use The HOTH to improve your SEO and website conversions. And, I'll go over some of the tips I got from Rachel Hernandez, Director of Brand Strategy at The HOTH, to get higher rankings in Google by using quick wins.
What is The HOTH?
If you're not familiar with The HOTH, they're a full SEO service provider. They can run full SEO campaigns for you, or you can purchase individual services (as I have done in the past) including link building, guest posting, content creation, PPC ads, etc. I would categorize The HOTH's prices as reasonable—not cheap, but not the most expensive I've seen.
What Services Does The HOTH Provide?
As I mentioned, The HOTH does provide full service SEO packages where they will work with you on all aspects of search engine optimization to help get better rankings for your websites. However, these services can run on the higher-priced side of things. For most website owners looking for higher SERP, you can focus on the link building and content creation services offered by The HOTH.


For link building, the two main options from The HOTH are HOTH Foundations and Blogger Outreach. HOTH Foundations are just what the name implies—foundational links. These backlinks are beneficial for newer websites or if you want to link to some of your second-tier properties (social media, etc.) for a better layered link approach.

HOTH Link and Blogger Outreach is where you can really boost your website rankings. These backlinks are high DA sites that can give your website more juice to do better in Google. You have the option to choose links from websites with higher domain authority or more site traffic. With Blogger Outreach, The HOTH will create a new article that contains your links that is then published on the high DA or high traffic website.
HOTH Director of Brand Strategy Rachel Hernandez: Key Strategies for Blogging Success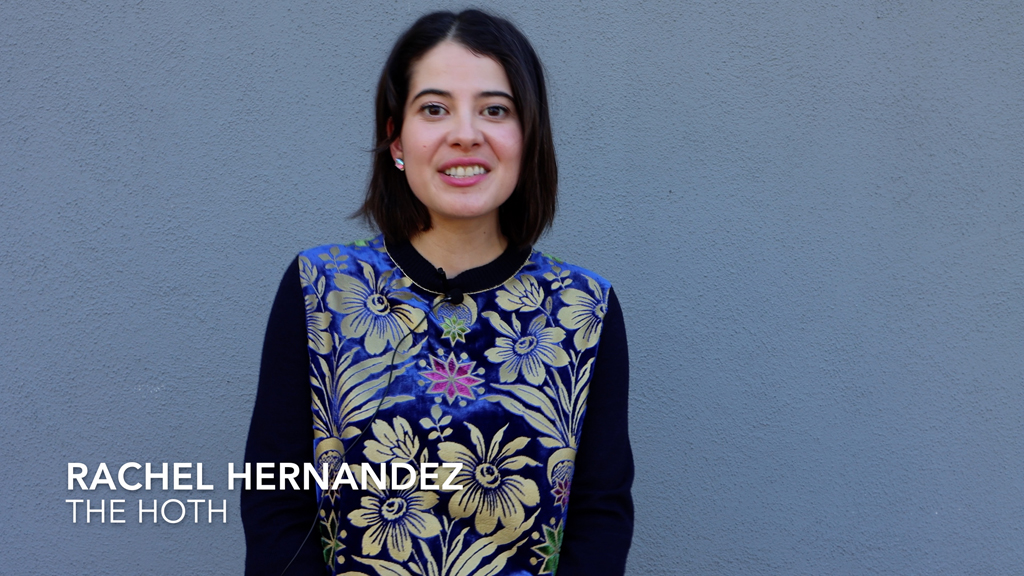 Think blogging isn't important anymore? According to The HOTH, that's definitely not true! Google is still king when it comes to web traffic and website sales. It's still true that when people need information on products and are ready to make a purchase, they go to search Google.
And, the best way to rank high in Google is to make sure your blog is active and in tune with your audience. When you are continually adding new content to your blog and keeping it active, more of your website pages are search indexed by Google, allowing you to get more backlinks and visitors.
Rachel Hernandez of The HOTH recommends generating at least 16 blog posts per month in order to move the needle of your site in Google. It may sound like a lot at first, but she says you can also count posts that you update in your total count per month. Also, with the advent of AI content generators, creating more blog articles is easier and less time consuming. For more information on some of the better AI content generators I've tested out, check out my article on the Best AI Content Generators.
The other important point to consider is content length. While Rachel says that posts need to be at least 2000 words to get ranked, I have to report that I do have articles less than 2000 words that are ranking well. I believe it really depends on your niche and other factors. However, the more information you can include in a blog post, the better chances it has to rank for more keywords. Again, you can use AI technology to help you generate more content—just be sure to verify it for accuracy and add your own insights to make it even more original.
How to Find the Best Blogging Topics to Rank Faster
So, how can you find the best topics to blog about that will help you rank quicker in the search engines? Google is all about authority and trust these days. The best way is to use a tool like SEMrush or Ahrefs to find out which pages on your website are ranking for the most number of keywords. Since these topics are where Google sees you have the most authority, you should start creating articles on these subjects. You can also use SEMrush to see what blog posts your competitors are ranking well with and create your own articles that target those keywords.
How to Keep Your Content Fresh
What's the best way to update your content? First, go back and look at your old blog posts to see if they contain enough content. If they're significantly less than 2000 words, add some fresh material to them. Also, you can update images and videos that you may have included in your old posts. If your old articles are missing appropriate header tags (H1, H2, H3), be sure to add those. And, be sure to update your internal and external links.
One of the best techniques I've used to get great search results is to combine smaller posts that I've previously created into one updated larger blog article containing some updated information. Be sure to republish your updated posts with the current date so they'll get re-crawled.
My HOTH Experience
In the past, I've used both HOTH Foundations and their Blogger Outreach for some of my websites. Overall, I have been pleased with the results. The quality of their content creation if fine, and for the most part I have seen improvement in my Google rankings. As is usually the case, I find that I get the best results when I combine The HOTH's link services with backlinks from other sources as well.
Keep in mind that, as with any SEO related services, everyone's experience may be different due to your website niche and Google's changing algorithms. And, while there are no guarantees as to specific Google rankings, you'll be pleased to know that The HOTH's link building services come with a 30 Day 100% satisfaction guarantee. If you aren't satisfied for any reason, contact them within 30 days and they'll work to make it right.

HOTH Customer Support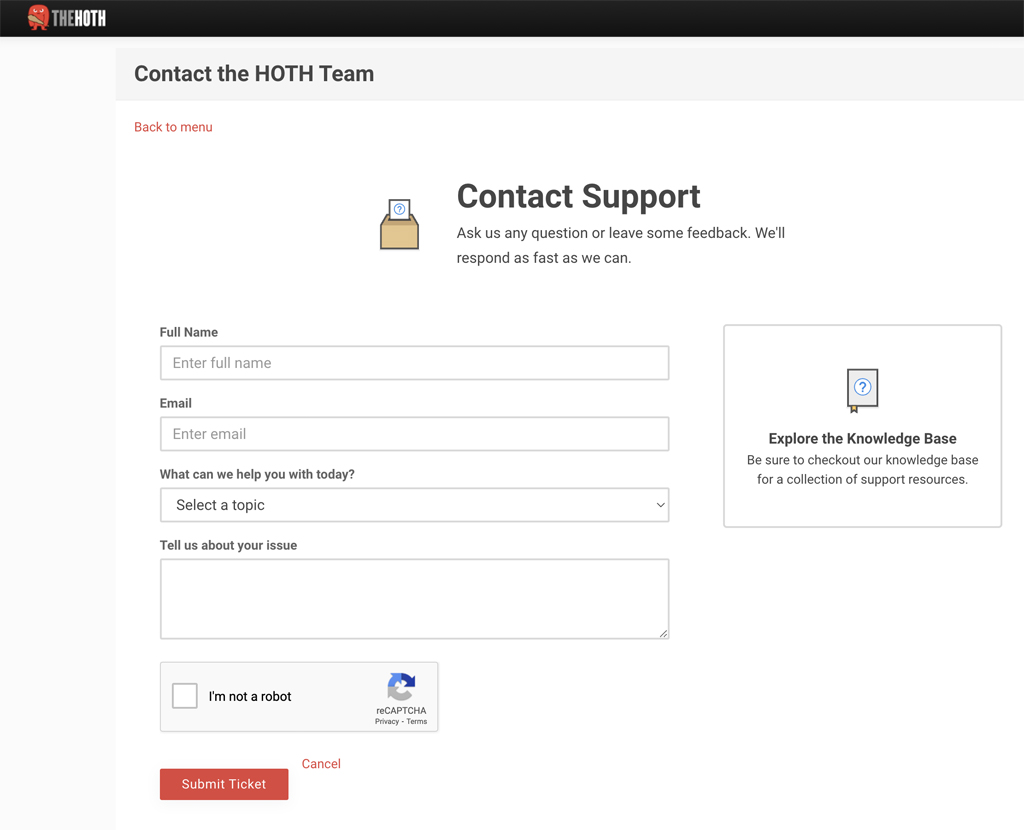 Although they don't currently offer live chat support, I've found the customer support at The HOTH to be very responsive when I've contacted them. If you have an issue or question, they will definitely work with you to resolve it. And, they do have an extensive knowledge base you can search to find answers.
HOTH Pros and Cons
Pros:
Full SEO Services Available
Free SEO Tools
Blogger Outreach with High DA or High Traffic
Full Range of Content Creation Services
Responsive Customer Support
100% Satisfaction Guarantee
Cons:
Currently No Live Chat Support
Managed SEO can be Expensive
Recommendation
The HOTH is an excellent source of help for your website SEO tasks. Whether you're just starting out with your website and need more hand holding or your an experienced site owner that just wants an extra boost to help you get higher search engine rankings, The HOTH does offer a great selection of SEO services.
If you're still unsure about using The HOTH, I would recommend you check out some of their free SEO tools. Click the link below to access their backlink checker, keyword planner, SEO checker, and search engine rankings tools.
Click Below for Free SEO Tools from The HOTH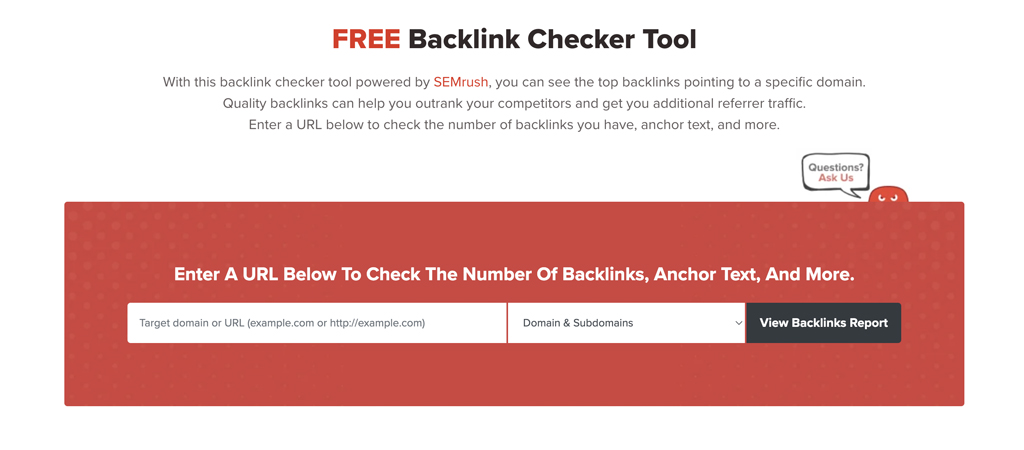 The HOTH Review Ratings
Link Building - 94%
Content Creation - 93%
Customer Support - 95%
Value - 93%
Turnaround Time - 95%