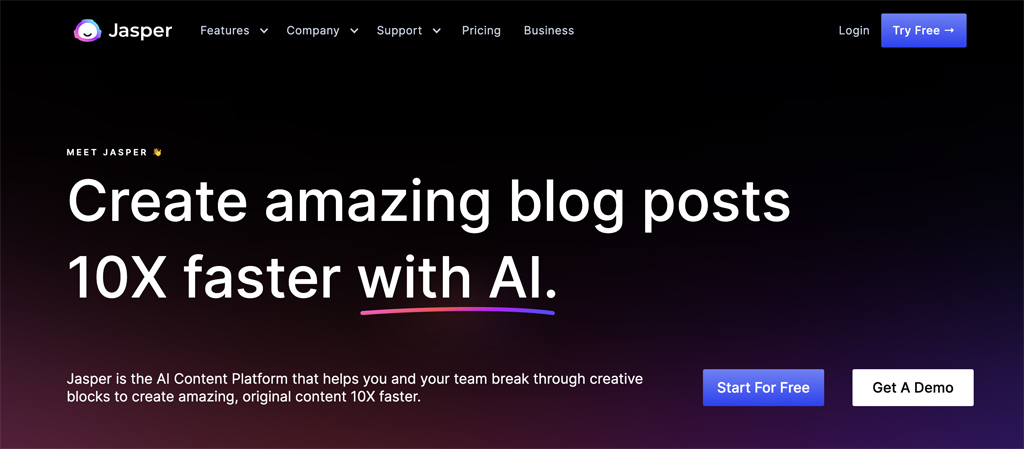 Should you use Jasper for your AI content creation? What exactly does Jasper do and is it a better choice than ChatGPT? Here in my Jasper Review, we'll take a look at how this AI content generator performs, and if it's a good fit for your website and other content needs.
What Type of Content Can Jasper Generate?
One of Jasper's strengths is that it includes many features to generate content for many different platforms and purposes. While blog content is their main attraction, their complete lineup of AI content generation includes the following capabilities:
Blog Posts/Website Documents
Content Summarizer
Amazon Product Description
Amazon Product Feature Bullet Points
Blog Post Ideas
Blog Post Outlines
Blog Post Introductions
Blog Post Conclusions
Company Bios
Email Subject Lines
Facebook Ad Headlines
Facebook Ad Text
FAQ Generator
Google Ads Headline
Google Ads Descriptions
Google My Business
Personalized Cold Emails
LinkedIn Posts
Instagram Photo Captions
Pinterest Titles and Descriptions
Poll Questions
Press Release Titles and Intros
Quora Answers
SEO Titles and Meta Descriptions
TikTok Video Captions
Twitter Tweet Machine
YouTube Video Topic Ideas
YouTube Video Titles
YouTube Video Descriptions
YouTube Video Outlines
YouTube Video Hooks and Intros
Generate Photos and Images
Jasper Dashboard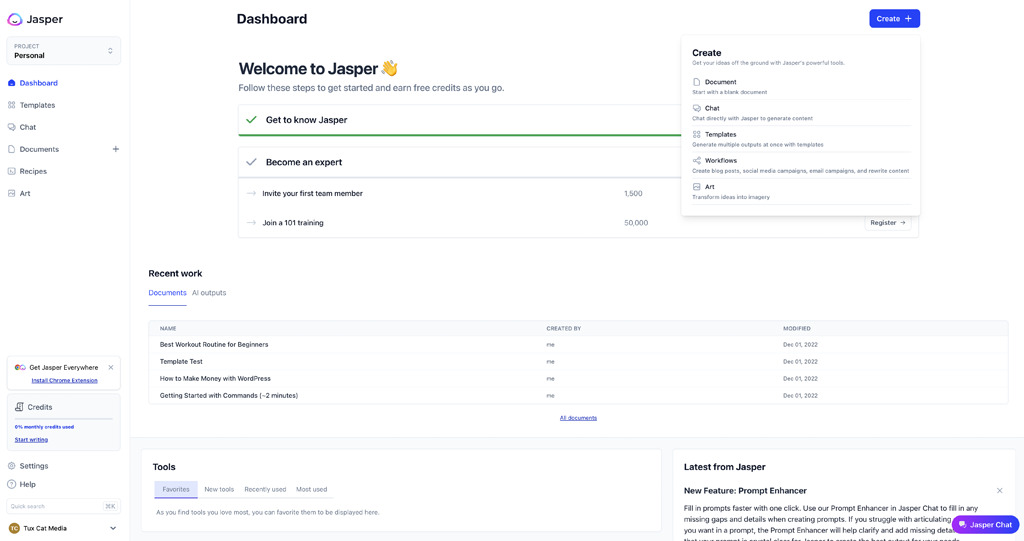 When you log in, you'll go to the Jasper dashboard. The top portion of the screen displays a Bonus Credit checklist of items that will earn you credits when you complete them. Basically, Jasper uses a credit system to determine your monthly usage. You also see a listing of documents you've created in Jasper (if any). You can use the menu links on the left side of the screen to access Jasper's features, or you can use the Create+ button in the upper right corner to more quickly create articles, art, social media, etc.
Jasper has definitely refined and improved their dashboard interface from its inception and I like it.
How to Create Your Content with Jasper
One of Jasper's biggest strengths is that it includes a lot of different features for creating content—more that other AI content generators I've used. On the other hand, that can make things a bit more confusing for new users. So, you basically have the tradeoff of more features but a slightly higher learning curve than other tools.
Creating a Blog Post with Jasper
Let's start with creating a blog post in Jasper. Jasper lets you create articles in a number of different ways. First, you can simply click the Create button in the upper right corner of your dashboard. You then have the option to create an article, document, image, social media post, etc.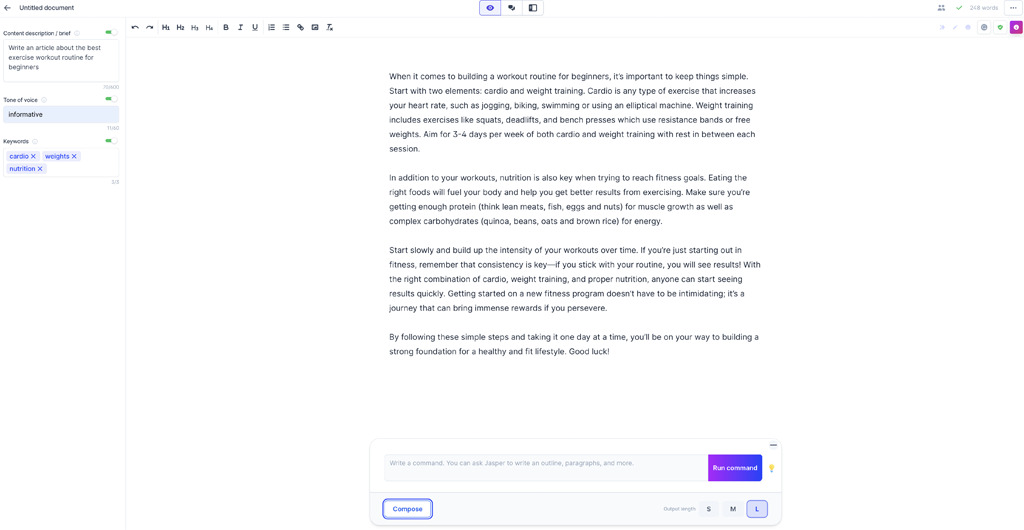 If you choose to create a blog article, you type in your topic or instructions and select the output length (short, medium, long). However, even if you choose the long format option, Jasper tends to generate posts in shorter sections at a time. So, you'll probably have to generate different parts of your article then combine them to create a long form blog post. For example, when I chose to generate long form content, the total amount of words was about 300.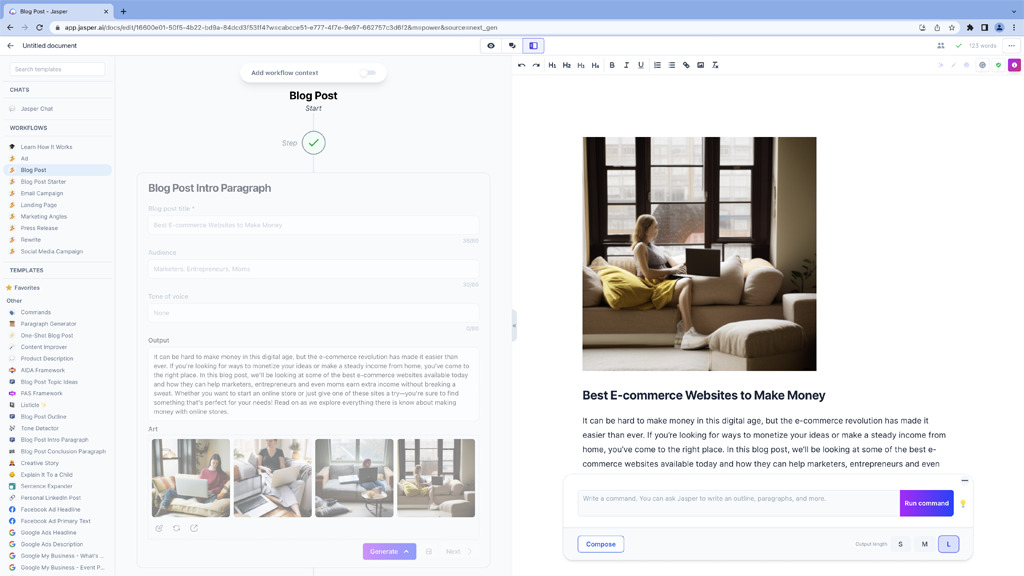 By clicking on the + icon on the Documents menu link, you can use Workflows for a more guided approach to creating your blog articles. While this method takes a bit longer, I actually prefer it as it allows you to create longer pieces of content while providing more control over each section of your article. You first generate an introductory paragraph, followed by your blog post outline. Jasper then takes you through each step of your outline to generate that section of content. Then, your conclusion section is generated along with a call to action. And, at each step, you also have to option to create and add an image to your article. Using this approach, I could easily generate an article with close to 1000 words.
The quality of the content that Jasper generates appears to be fine. As with most AI content generators at this stage of the technology, you may run into an error here or there, but nothing major. Also, note that Jasper does offer plagiarism checker access, but you do have to pay an additional fee.
Creating Art and Images with Jasper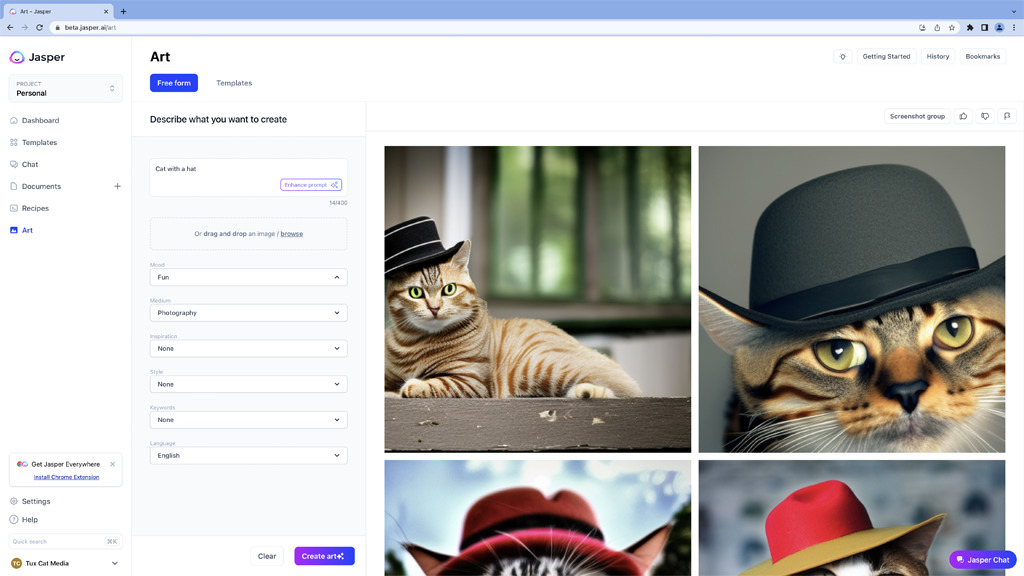 I'm actually very impressed with creating images and art in Jasper. It's not only super easy to generate customized images, but I found the quality to be better than other AI content generators that I've used before.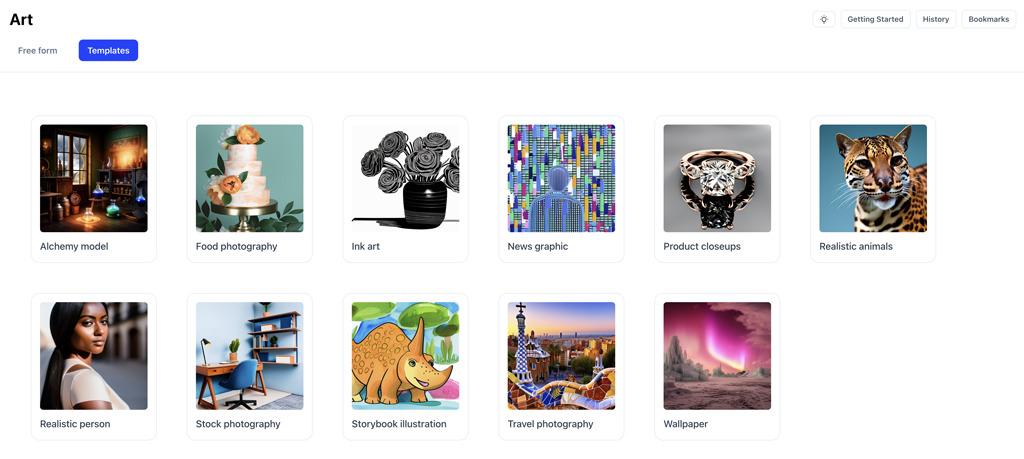 Jasper includes templates to help you get started even faster (for example travel, food, animals, people, etc.). Or, you can simply type in what you want and Jasper will quickly generate several images you can choose from. If you don't like those, you can refine your instructions and or just click the generate button again.
Currently, you can download images in three different resolutions up to 2048 x 2048.
Creating Social Media Content with Jasper

Jasper does contain many content features for Social Media channels including Facebook, Twitter, LInkedIn, TikTok, YouTube, etc. Although they all work, what you really get are quick post ideas, captions, or ads. The one feature I really like is the YouTube script hook and introduction that helps you get started creating your video scrips.
How is the Quality of Content You Get from Jasper?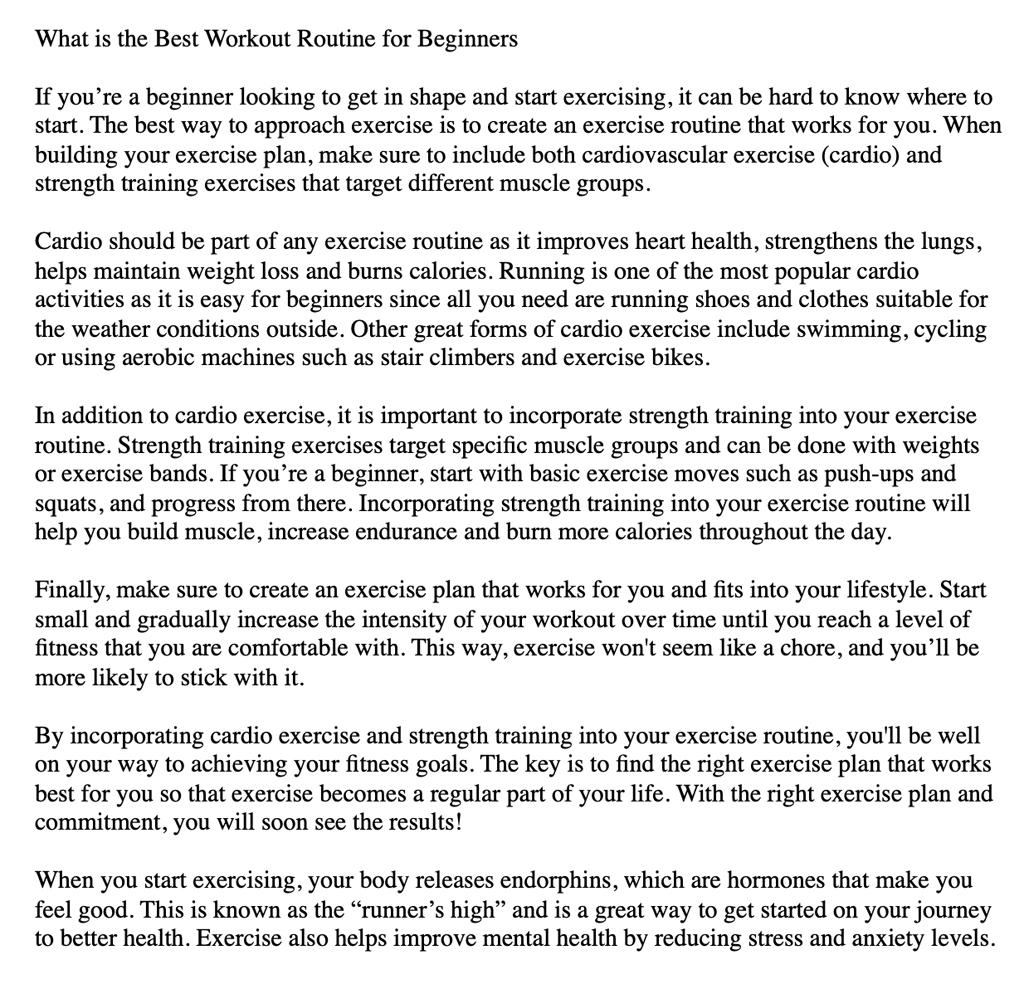 I have no real complaints when it comes to the quality of content you get from Jasper. It looks professionally written. And except for an occasional error here or there (expected with all AI content software at this stage), the content is ready for posting. However, I found the formatting of blog content not always consistent. For example, when you generate blog content one way, the formatting stays intact when you past it somewhere else. However, when you use a different method of generating blog content, you may find there is no formatting (i.e. all of the text is in plain Times font).
Pricing: How Much Does Jasper Cost?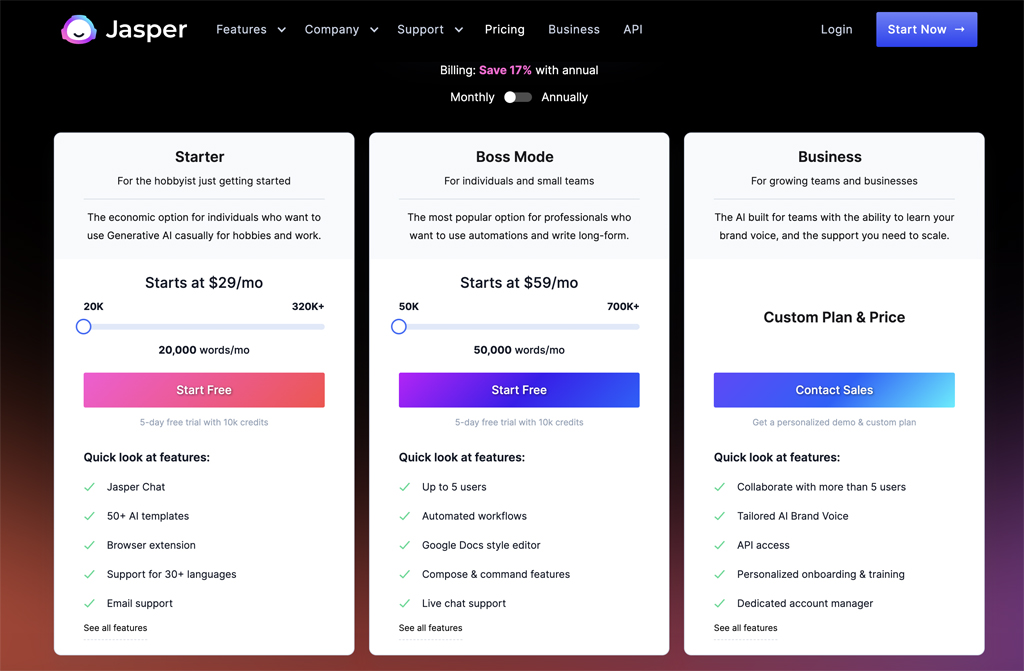 While Jasper is not the cheapest AI option, it is well worth the cost if you really want to boost your content creation. Manually creating all of the types of content you can get from Jasper would take much more time (and money if outsourced). So yes, Jasper can actually save you money in the long run.
However, you do get a 5 day free trial, so you can fully test it out to see how you like it. There are two levels of plans: The Starter Plan and Boss Mode. Although the Starter Plan is less expensive, it is more limited in the number of features, and you have to use the template method for creating blog posts which makes it a bit more tedious to create long form content. Also, you need to get the Boss Mode plan if you want to generate images.
Jasper's Starter Plan starts at $29 mo. ($24 mo. if paid annually). The Boss Mode Plan starts at $59 mo. ($49 if paid annually). The prices go up depending on how many words you generate per month.
If you decide to give Jasper a try, I would definitely start with the free trial of the Boss Mode plan. There are limits to the amount of content you can generate while you're in trial mode, but you'll at least be able to try out the full length content features.
Jasper Customer Support

Jasper has definitely improved their customer support since its inception. You can open a support ticket via the chat box option. The listed response time during normal business hours (9 a.m. to 5 p.m. Monday – Friday) is under one hour. However, I've sent support request after hours and have received a response within minutes, so your results may vary.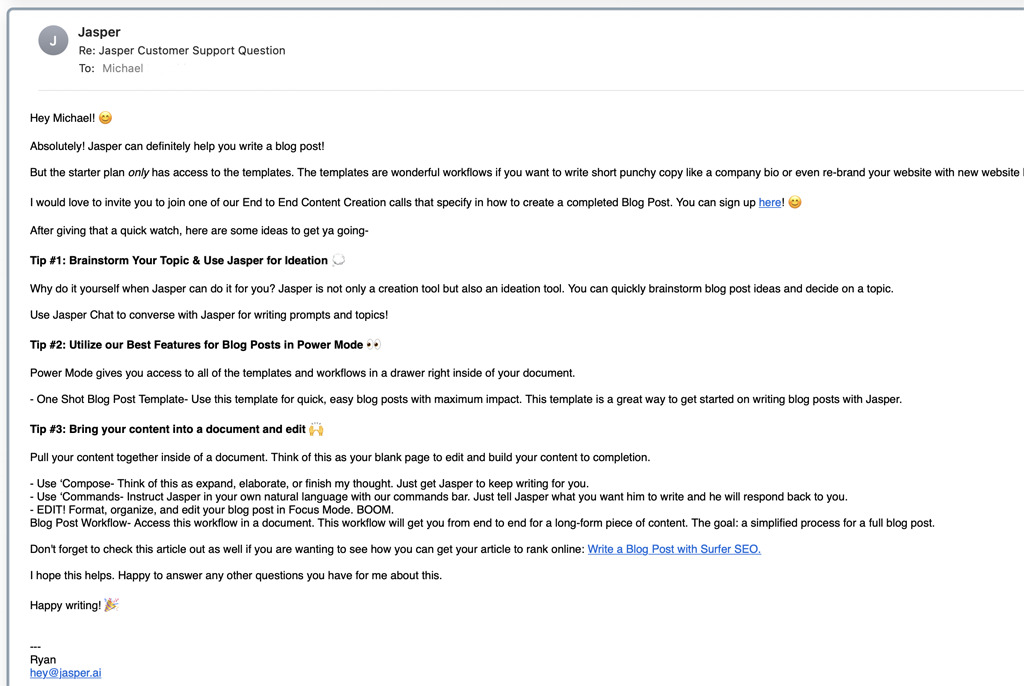 Jasper Pros and Cons
Pros:
Free 5 Day Trial
Generates Content Quickly
Saves You a Lot of Time and Effort
100% Plagiarism-Free Original Content
Creates Website Articles and Blog Posts
Creates Social Media Content
Creates Product Copy
Creates Email Content
Creates Art and Images
Creates Ad Copy
Responsive Customer Support
Cons:
Tools Could be Streamlined More
Most of the Output is Short-Form Oriented
Boss Mode Required to Generate Images
Can't Bulk Export Content
Doesn't Accept PayPal
Recommendation
Jasper is one of the better AI content generators currently on the market. Keep in mind though that is isn't perfect and is still new and constantly being improved. On the plus side, Jasper includes a lot of features that let you create a wide range of content. Jasper is very easy to use and does a good job in creating blog articles plus art and images. Jasper generates content fast and I found the quality of output to be impressive.
I also found the customer support to be very responsive and better than with most other AI content generator tools. And, you can try out Jasper for free with their 5 day trial.
On the not-so-good or could be improved side of things, Jasper is a bit more expensive than comparable AI content generators. And, generating a long-form article takes longer than some other tools because you need to work on one section at a time. In some cases, this isn't an issue. In fact, it may be preferable if you want more control or need more fine tuning throughout your article. However, if you're looking for one-click generation of a longer blog post, there are other tools that are a better fit.
Overall though, Jasper is an effective AI tool that creates quality content. And, in my opinion, is a better option that ChatGPT if you need a more complete content generation solution.