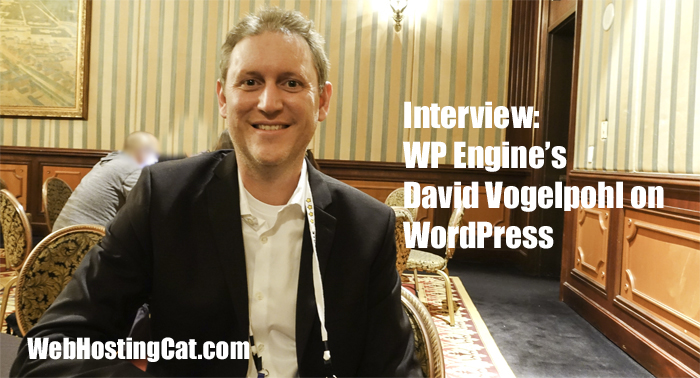 In my exclusive interview with David Vogelpohl, VP of Web Strategy at WP Engine, we discuss the current and future landscapes of WordPress—along with how to build some really cool WordPress applications, how WordPress compares with Wix.com, and what you need to keep in mind for enterprise-wide WordPress solutions. Here are some excerpts from the interview.
Web Hosting Cat: WordPress 4.7.1 was just recently released. What are your thoughts on the current state of WordPress and its future?
David Vogelpohl: I've been very excited about the last few releases. I've seen WordPress start to evolve more towards a true content management system. I'm really excited about this recent release with the demo content ability. Just generally as releases have come out the last three or four years, the way in which you're able to control your content has increased—and that to me has always been where WordPress needed to focus a lot of their attention.
WHC: You've talked extensively about building big things with WordPress. What are some examples of WordPress applications that some people might not be aware of?
DV: What WordPress fundamentally is is PHP and a MySQL database. We'll guess what? That's the basis for an application. I've built my own bit.ly clone—a URL shortener. And actually it only takes seven minutes! At WP Engine, we've built one using WordPress that integrates in with Hubspot with some custom code we wrote that'll run a speed test on your website.
WHC: Can these more advanced WordPress applications be accomplished with plugins or do they require custom coding?
DV: The DYI example I give are great, and I think there's a lot of ways to leverage plugins to build an application—AppPresser is a way to turn a WordPress site into a mobile application. But fundamentally, if you really want to do it you either need to be a developer or hire a developer. At the end of the day, if you want to do custom stuff you have to have a developer no matter what. But I think there's some really interesting and powerful ways to leverage plugins and themes to build DYI applications that do really useful things.
WHC: Are there any types of applications that you feel WordPress isn't the right choice for at this time?
DV: I'm not a huge fan of using is to store any private information about individuals. I like to store that outside of WordPress. Do not store Social Security numbers in WordPress. But really, there's not a whole lot of applications that can't be done. You might ask yourself if it's the best platform for what you're trying to do.
WHC: One of the current challenges for WordPress is Wix.com and the ready-made website sellers out there. How would you compare the two?
DV: I've actually thought a lot about this. And, I actually recommend Wix to certain people for certain situations. For me, when I'm making the decision about what platform to recommend, it really has to do with how much I feel the person is wanting to evolve their business on the web. Wix and platforms like that evolve with the speed of their engineering department. A platform like WordPress, which is open source and has tens of thousands of developers contributing to it, it evolves with the speed of the web. That's the difference.
WHC: WP Engine offers a wide range of managed hosting plans—everything from a Personal Website Plan to custom solutions. What are some of the considerations for Enterprise WordPress applications?
DV: I've dealt with this a lot. Our services start out with our $29 Personal Plan—one website—all the way up to huge enterprise deployments with multiple servers and multiple data centers. When a big organization deals with this, a lot of the time the engineering group will come in and say, "No. No. No. This is our cluster. These are our servers. We have a data center. We're going to manage this." And my point back to them always is, "First off, do you know WordPress?" And the answer most of the time is, "No." So, how do they optimize the caching layer? How do they optimize the traffic routing? How do they do security? How do they do patches? What is the best technology stack? They have to go figure all of that out. Do you really want those headaches? And when you put it that way, I've actually had a ton of success with folks saying, "Okay. No, I don't really want that extra headache." …
Be sure to listen to the complete interview with David on the Web Hosting Cat Podcast.