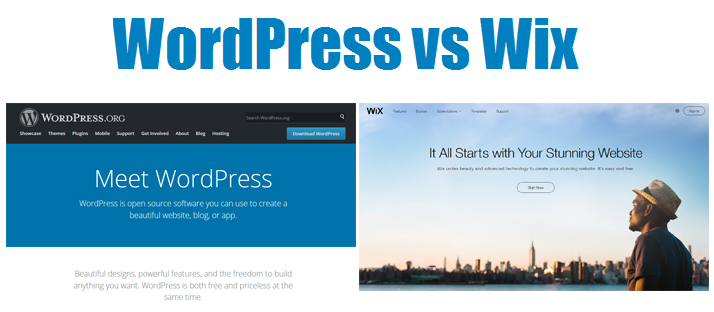 Is WordPress or Wix.com the better option for creating your business's website? We've previously tackled this question from a more general perspective—see Traditional Web Hosting vs Website Creation. And, we've also looked at a particular WordPress website builder in comparison with Wix—see BoldGrid vs Wix. However, I think we need to take a closer look at how WordPress itself compares with using Wix.com for your website.
Why WordPress is Better than Wix
Lower Costs
Built in Blogging Platform
Gives You More Control
More Options Included (with Hosting Plan)
Evolves with the Speed of the Web
Why Wix.com is Better than WordPress
More User-Friendly Setup
Get Up and Running Faster
WordPress vs Wix Feature Comparison
WordPress Features
Built-In Blogging Platform
Free Website Themes
Fully Expandable with Free Plugins
Many Economical Hosting Options Available
Easy Installation
Wix Features
Hosting Included
Website Templates Included
Drag and Drop Website Builder Interface
Free Domain Included with Premium Plans
SEO and Marketing Tools Included
Both WordPress and Wix have the flexibility to create many different types of websites—everything from a one page site to an eCommerce solution. There are numerous templates and themes for both Wix and WordPress that allow you to design your site as you wish.
The key points to keep in mind are as follows:
With Wix, you can add the functionality you need from within Wix itself. With WordPress, you can add functionality with plugins from other developers.
While the process with Wix is quicker, it does come with an added price as you'll need to pay more for premium plans. WordPress may require some searching for the right plugin or theme you need, however many are free of charge.
Because WordPress is open source, you're likely to find the latest web technology faster than you would with Wix, where the technology is dictated by their engineering department.
And, as we've mentioned before, with WordPress you have more control as you're able to move from web host to web host. Whereas with Wix, you're locked into their ecosystem.
WordPress and Wix Cost Comparison
Wix Options
Wix Combo Plan: $10 mo.
Wix Unlimited Plan: $14 mo.
Wix eCommerce Plan: $17 mo.
Wix VIP Plan: $25 mo.
As you can see from the above data, WordPress is definitely a more economical option than Wix. While there is a bit more of a learning curve with WordPress, you'll have to decide if the user-friendlier interface and quicker provision from Wix is worth the additional cost.
Our Recommendations
For most websites, we would recommend WordPress based on many of the factors mentioned above. With its open source technology, WordPress continues to evolve with the speed of the web and is not dictated by the engineering group of any one company. You website is also not locked into a certain ecosystem as you can easily move your WordPress site to one of many web hosts. WordPress has also proven to be extremely flexible in creating many types of applications—usually at a lower cost than Wix.
On the other hand, Wix is a viable option to those who really only need a basic web presence or online brochure type of website. In terms of speed and ease of creating a basic site, Wix does have an advantage. However, if there is a possibility that you'll need to expand or enhance the functionality of your website, then WordPress's advantages definitely start to kick in.
Click here for more information on Optimized WordPress Hosting at A2 Hosting
Click here for more information on Managed WordPress Hosting from SiteGround