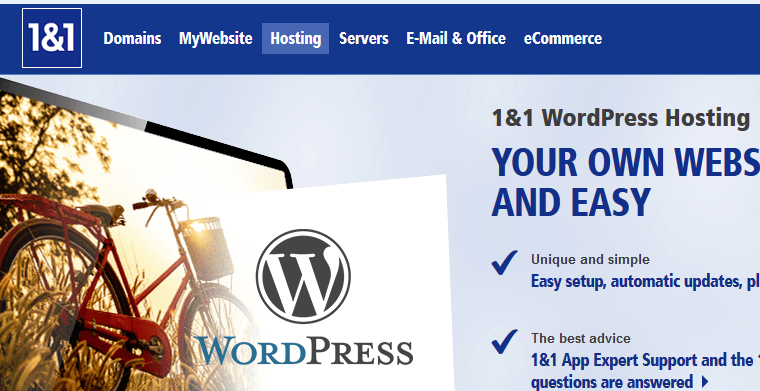 The list of web hosting companies offering specialized WordPress web hosting continues to grow with 1&1 Hosting now also promoting WP hosting plans. I've recently written about iPage Hosting's WP Essential Plan, as well as comparing three premium WordPress Hosting packages from WP Engine, DreamHost, and GoDaddy. So the logical question is: How does 1&1's WordPress hosting compare with the others. Here's a look at the key features from 1&1 along with some thoughts.
1&1 has three different levels of WordPress hosting
WP Basic $0.99 mo. First Year, Then $5.99 mo.
WP Unlimited $5.99 mo. First Year, Then $8.99 mo.
WP Performance $10.99 mo. First Year, Then $14.99 mo.
Upon closer inspection, 1&1's WordPress Hosting lineup is nearly identical to their existing Linux shared hosting plans—with a few exceptions.
WordPress Installation
1&1 says installation can be easily done with the setup wizard. I'm sure this is true, but keep in mind that it's common to find one-click install options with other web hosts. In fact, as I mentioned in my post last week, InMotion Hosting is now offering WordPress pre-installs where you don't have to do anything. However, the real advantage may be in the dual installation modes 1&1 gives you. See below for more information.
Automatic Updates
With 1&1's site manager plugin, WordPress will automatically update in the background so you can keep up to date. Again, while this is helpful, the latest major release of WordPress now includes automatic updates for minor security releases. So, I'm not sure how valuable this 1&1 plugin is.
Expert Support
Like other WordPress hosting plans, 1&1 offers 24/7 support from a team of WP experts.
Safe Mode and Free Mode Installation
For me, this is the most intriguing feature of 1&1's WordPress hosting. With some WP hosting plans, you are restricted from which plugins and themes you can use. Other plans let you decide what themes and plugins you install. There are potential advantages and disadvantages to either method. With a more controlled environment, you're less likely to run into problems with security or incompatible software. However, there may be a specific plugin or theme you need to use for your website. And in those cases, you need more freedom.
1&1 Hosting gives you the option of installing WordPress in Safe or Free Mode. If you use Safe Mode, you get the latest version of WordPress along with a selected group of plugins that are automatically updated. With Free Mode, you can install any plugins and themes that you want.
Other Features
Among the notable features you get that are similar to those you receive with 1&1 Hosting's "regular" shared hosting plans are:
The 1&1 Content Delivery Network for faster site loading times
SiteLock Basic for added website security
Who Benefits the Most with 1&1 WordPress Hosting?
While the expansion in the number of WordPress hosting plans gives customers more choices, it does lead to a dilemma. It's nice to have more options to choose from the various web hosting companies; however it can be difficult to determine how each hosting plan fits in with your website requirements. And that's my feeling on the new WordPress hosting offerings from 1&1.
There is no doubt that 1&1's WordPress hosting plans contain some impressive features. However, they aren't a managed hosting solution like you can get with WP Engine and DreamHost's DreamPress packages. Nor are they the most economical or value packed options for WordPress site owners (e.g. iPage, GoDaddy). In fact, as I've written about before, there are a number of web hosting plans that are also ideally suited for WordPress sites though they aren't specifically marketed as WP Hosting (such as those from InMotion Hosting and Web Hosting Hub).
Personally, I think 1&1's WordPress hosting is best suited for current customers of 1&1 hosting that are interested in switching to a WordPress platform. If you're currently satisfied with 1&1, it should be an easy transition for you to become a WordPress hosting customer.
If you're not currently with 1&1 and are looking for a WordPress hosting solution, I'd recommend checking out the following first: