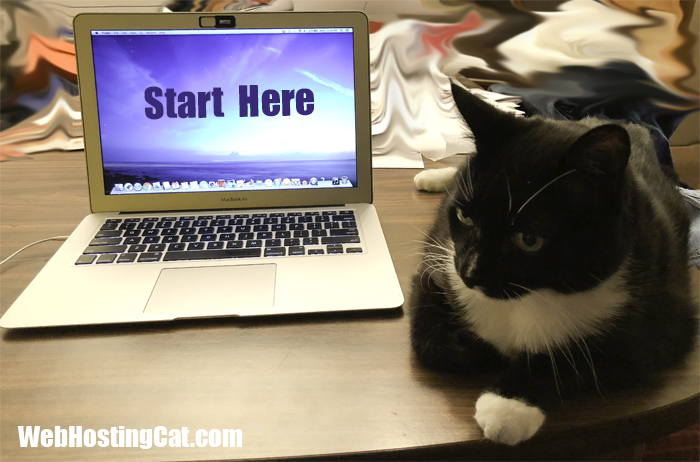 If you want to create your own website, here is our simple but important formula for building and maintaining a successful online presence.
Choose Your Domain Name
The first step is to choose your domain name. Most people still elect to go with a .com domain extension. But these days there are many more choices available than just the standard .com, .net, or .org. There are very specific domain extensions such as .photography, .store, and .clothing, among tons of other choices.
Currently, there is no advantage or disadvantage in the search engines when choosing one of the new more descriptive domain extensions or TLDs as they're known. One of the benefits of choosing a new extension is that many domain names are already taken when it comes to the traditional .com or .net extensions. So, you can get a shorter or more memorable name if you go with a newer extension. On the other hand, many of the new TLDs cost more money, and since most people are used to .com domain names, you may want to go the traditional route.
While you could purchase a domain name with your web hosting (in fact some web hosts include a free domain with their hosting plans), I always prefer to keep my domains separate from my hosting. I find it easier to manage my domains separately, and more importantly, it offers more flexibility should you want to move your website to a different host later on.
Anyway, you first need to find out if the name you want is available. For that, you can go to any domain name registrar's website to do a search. Personally, I like to use GoDaddy since that's where I buy my domain names. You can click here to go to their domain search page.
Namecheap is another excellent domain name registrar that sells domains at reasonable prices. In fact, you can use the search box from Namecheap below to find your domain name.
Find a domain starting at $0.88
Choose Web Hosting or Website Builder
Now that you've got your domain name, you have to decide what type of website you want, what platform you want to use, and how you want to build it. In other words, you need to determine whether you want to use a traditional web hosting plan or go with one of the newer website builders.
Web Hosting Recommendations

With traditional web hosting, you purchase your hosting plan then install and utilize one of the web applications included with your hosting (such as WordPress, Drupal, Joomla, or cPanel applications). A traditional hosting plan is suitable for all types of websites and usually includes email accounts and other services such as data backup.
If you want to create a blog, then using WordPress with a traditional web host is definitely the way to go. Likewise, if you prefer to use a content management system (Joomla, Drupal, WordPress) than using a traditional web hosting plan is what you want to do.
You can probably tell from our website name (WebHostingCat.com), that we're now in very familiar territory. Web hosting reviews and recommendations have been our top priority since our site debuted back in 2013. So, there is definitely a plethora of material for web hosting shoppers here. For starters, I'll refer you to my Web Hosting Recommendations article.
Website Builders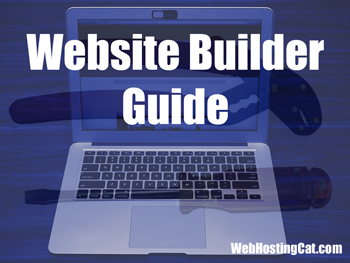 Because many people want a fast and easy way to get a website these days, website builder services have become extremely popular. The big advantage to using a website builder is that you can more quickly and easily create your website using templates and drag and drop editors. The other advantage is that your hosting is included with your website so you don't have to worry about that side of things.
However, on the downside, with website builder plans many features cost extra (email, eCommerce features, etc.) so you wind up paying more money—sometimes significantly more. Also, if you later want to more your website elsewhere, you may be stuck as there usually isn't an easy way to transfer a site from one place to another.
Despite some potential drawbacks, website builders can be effectively used to produce a successful website. If you need a basic online brochure type of website for your business or personal use; or if you really prefer to use a ready-made template with features already built in, then using a website builder plan is the better route.
To get started on selecting the right website builder, check out my article on Website Builders.
Build Your Email Marketing List
If you have a business website or you plan to monetize your site now or in the future, one of the first things you want to include in your website is a way to capture your visitor's email addresses. Email marketing remains one of the most lucrative ways to sell products and services. So, you'll want to start building your email marketing list by incorporating an email list service such as AWeber, Constant Contact, or MailChimp.
I personally use AWeber for my email marketing. It's very easy to setup your email lists and add an opt in form to your website. And, you can actually try it out for free for a month to see how it works for you.
Here's a brief look at creating an email list and capturing email addresses on your website with AWeber:

Try AWeber free for 30 days! – AWeber Communications

AWeber also offers a number of free assets to help you with your email marketing strategy. For example, you can click below to download their PDF guide on What to Write in Your Emails. It's a great look at how you can structure your email campaign. It even includes email templates you can use that make things even easier!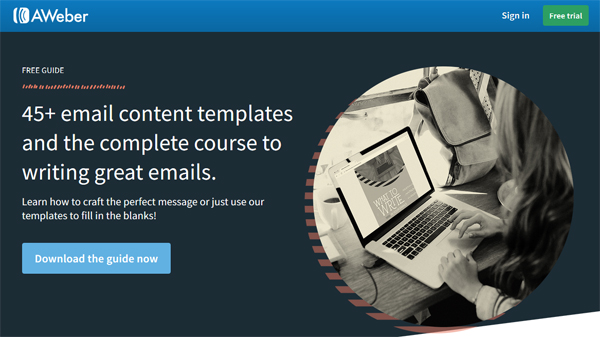 Start Creating Valuable Content
Here's the area where you'll be spending most of your time—or at least you should be. To be successful, your website must contain useful and valuable content. That could mean helping to solve your visitor's problems, providing useful information to help them make decisions, or in the case of an eCommerce website, providing them with access to products they want and need.
You also want to make sure that your website is continually updated with fresh new content. While there is no set rule for how often you should add new material, most of the experts agree that the key is consistency. Whether you choose to add new content weekly, twice a week, daily, etc. you should stick to whichever schedule you decide on. Delivering consistent material to your readers helps build trust and also lets the search engines know that your site should be continually crawled and indexed.
Drive Traffic to Your Website with SEO Tools
Once you get your website up and running, you'll want to drive as much traffic to your site as possible. Creating great valuable content is the first step. But, these days that's not enough. For a truly successful website, you need to target the right keywords, optimize your SEO efforts, and keep an eye on your competition. The best way to do that is with an SEO toolset.
There are a number of excellent choices for SEO reporting tools. The three I would recommend are SEMrush, Ahrefs, and Majestic SEO.

For example, using SEMrush can help you improve your website's performance in these ways.
With the Competitors and Positions Reports you can measure your performance with your top competitors. And with the Keyword Gap reports, you can see what keywords your competition is targeting.
With the Backlinks Competitors and Gap reports, you can find link building opportunities based on what your competition is doing. Finally, with the Traffic Analytics reports you can measure and analyze your competitor's traffic sources.
The Keyword Research reports allow you to find the right keywords to target based on traffic, competition, and CPC. You can also use the Keyword Magic Tool to provide you with tons of suggestions on keywords to target with your strategy.
You can take a look at SEMrush and see how it works by visiting their website.
Increase Your Website Authority
Finally, and most importantly, you must continue to build your website's domain authority if you really want your site to be successful. These days, Google is all about topical authority. If you want to rank high in the search engines, your website needs to be seen as the authority in whichever niche you're in.
The above steps are a great start. But, if you really want your domain authority to soar, I would recommend you check out the free training below. You can learn how to find the profitable keywords to target, how to create the right kind of content, how to get high quality links, and other ways to increase your site's authority.
On Your Way to a Successful Website
If you follow the above roadmap, you should be well on your way to a successful website. It may take some time and work, but the rewards can be great!
For more help, be sure to visit our website often for additional website tips.