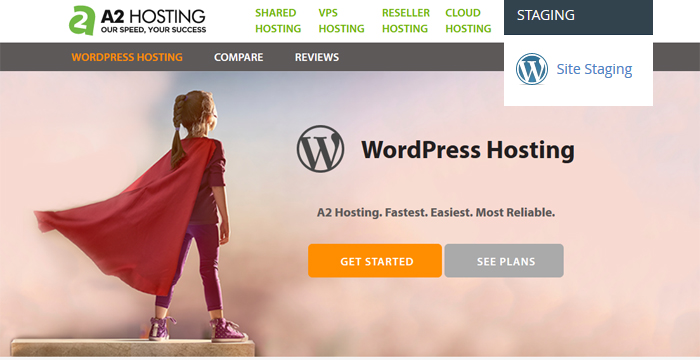 Here's another reason why you should consider A2 Hosting if you're looking for a WordPress website host. Last year, we switched over to A2 Hosting's Turbo Server plan and immediately benefited from superior website speed and performance. I encourage you to read my in-depth review of A2 Hosting. A2 Hosting is definitely one of the top affordable WordPress hosting providers. And now, in addition to their optimized speed and security for WordPress, they are including staging functionality.
What is Website Staging?
If you're not familiar with staging, it's a way to test out changes to your website on a separate copy of your site without affecting your production website. When you are confident that your website modifications are okay, you can then move the changes to your live production WordPress site. Staging is normally only available with more expensive managed WordPress hosting plans. Now that it is available at A2 Hosting along with the rest of their optimized WordPress features, A2 is a serious alternative for those that may not want to spend the money on a managed hosting plan.
How Does A2 Hosting Website Staging Work?
Website staging at A2 Hosting is available from their cPanel interface. And, you can actually perform staging for both WordPress and Joomla websites. Currently, the website staging is officially still in beta. However, it is available for use from your cPanel. I tested out the staging on a WordPress site. The basic process of creating a staging site and pushing changes out to your live site was working okay. Changes to WordPress themes, posts, and pages were implemented correctly. I was also able to push out new plugins to my live site. The only issue was plugin deletions. If I deleted plugins in my staging site, those plugins still remained in my live site. Not a huge deal, since you can just delete the plugins in the live site directly after pushing out your other changes, but hopefully it will be addressed during the beta phase.
How to Use Website Staging with A2 Hosting
To access website staging, go to your A2 Hosting cPanel interface and click the WordPress Site Staging icon under the Staging section.


On the Site Staging screen, your current production websites will be listed. To create a staging copy, you just click the corresponding button on the right column under Actions.

You'll then be prompted to enter a directory where your staging copy will be located.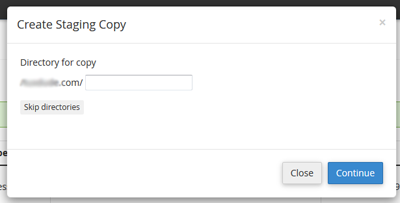 Next, you can choose to password protect the staging copy of your website.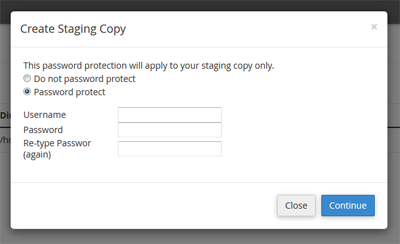 Once your staging copy is created, you can access the site by entering the URL https://yourwebsite.com/stagingdirectory/wp-admin in your browser.
Substitute your domain for "yourwebsite.com" and include the name of the directory you created in place of "stagingdirectory" above.
When you're ready to move your changes over to production, click on the Manage Copies button on the Site Staging screen.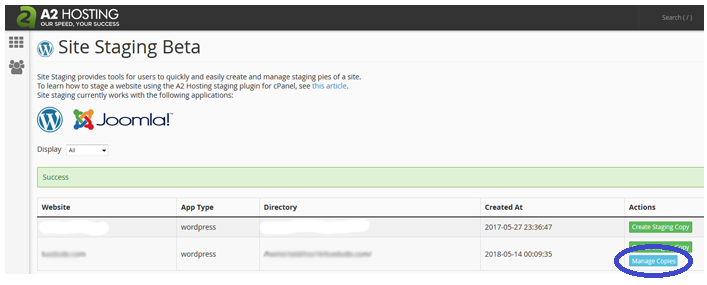 To copy your changes to your live production website, click the Push To Live button.



You can delete your staging website by clicking the Destroy button.
A2 Hosting Website Staging Review
I've actually been in contact with the support team at A2 Hosting for some time now during the beta phase as they've been communicating with the vendor of the cPanel staging application trying to get the process working correctly. At this point, besides the plugin item I mentioned above, the feature appears to be functioning as it should.
Website staging is just the latest of many premium features that A2 Hosting includes with their web hosting plans. And, it's also an example of A2's continued commitment to provide the best WordPress hosting possible. You can get more information on A2 Hosting by visiting their website here.