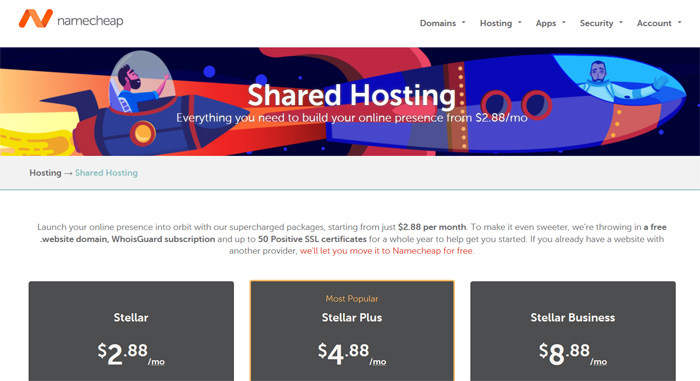 Namecheap has long been one of the best choices for those looking for the best value in a web hosting plan. And now, they have gone the extra step by revamping their Shared Hosting line. The new web hosting lineup features three packages labeled Stellar, Stellar Plus, and Stellar Business.
The key benefits of the new hosting plans according to Namecheap are as follows:
Web Hosting starting at only $2.88 mo.
With a name like Namecheap, you expect lower hosting prices—and indeed they have consistently offered some of the lowest priced web hosting packages. Also, Namecheap has very reasonable renewal rates.
Redundant Tier 1Network Provides High Performance
Namecheap provides a 100% Uptime SLA.
Easily Upgrade or Downgrade Your Hosting Plan
If you need more resources, you can easily upgrade to the Stellar Plus and Stellar Business plans.
Secure Servers
Namecheap utilizes the latest Dell Server technology.
Each Hosting Plan Includes Free .website domain, Free WhoisGuard for Privacy, and up to 50 Positive SSL Certificates for 1 year
Keep in mind that the free domain features are only for your first year.
While these new features from Namecheap's revamped hosting are certainly impressive, we would have liked to see free SSL included for more than a year—such as Let's Encrypt SSL certificates. Also, we're disappointed that Namecheap still isn't including Webalizer with their cPanel implementation. But despite these two issues, Namecheap is still one of the more viable alternatives when looking for lower cost web hosting.
For more details, see our Namecheap Review.