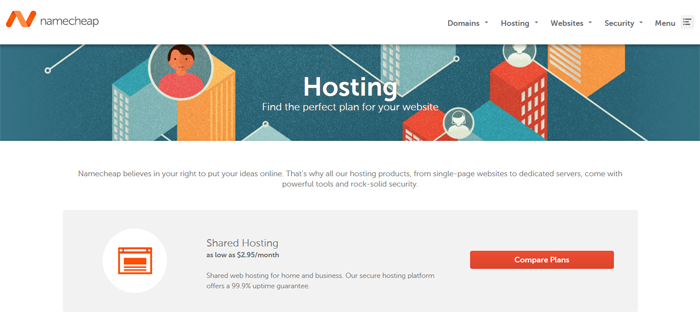 What is Namecheap? Some of you may be aware that Namecheap is a viable alternative to Go Daddy when it comes to domain name management. However, they also offer a full array of services including web hosting. Since I'm always interested in personally testing out web hosting companies, I recently decided to open an account at Namecheap and try out their Value Hosting Plan. Here is a preliminary review of my experience with Namecheap.
The sign-up process is very easy at Namecheap. You can get a free domain name with your hosting plan. However, since I already had one for my website there, I elected to use that domain instead. Namecheap offers several levels of shared hosting plans. The Value plan is the cheapest and allows you to host up to 5 websites. When you sign up, you specify not only the length of your hosting plan, but also your desired location of datacenter (US or UK).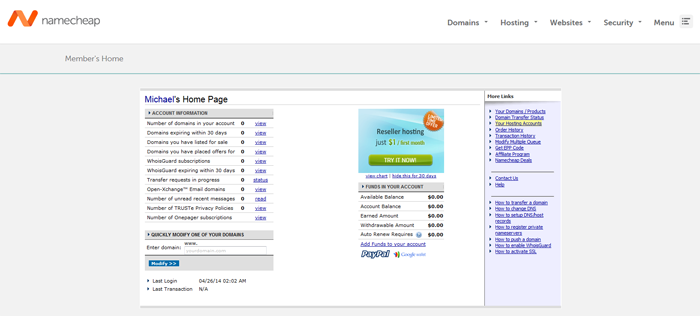 Immediately after signing up, you are directed to your Namecheap Member's Home page which contains your account information. You also receive your welcome email that includes important information such as your server and IP addresses, cPanel username, nameservers, cPanel URL, cPanel password, and FTP information. Also, as a nice touch, you receive a welcome email from Namecheap CEO Richard Kirkendall.

I do like that the hosting at Namecheap comes with cPanel—which is presented in a standard format without a bunch of customization. With cPanel, you get the Softaculous script installer which gives you one-click installation of software such as WordPress, Joomla, Drupal, and more directly from your cPanel interface.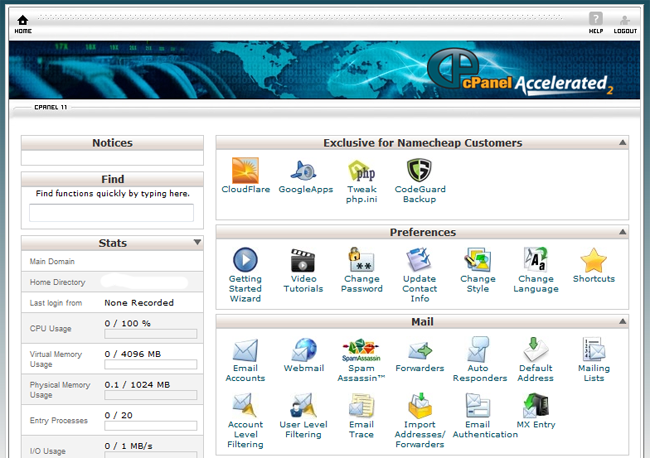 One of the best features you receive with Namecheap's web hosting is the inclusion of free SEO and Marketing Tools for your website. You also access these tools from Attracta via cPanel. They will allow you to submit your website to search engines, check to make sure your site isn't blacklisted by Google, and build links. In addition to these free introductory SEO Tools, you also have the option to purchase more advanced services if you want.

Namecheap lets you access your website statistics via AWStats. Unfortunately, they don't offer Webalizer (which I prefer). When I contacted customer support to find out the reasoning for not offering both, I was merely informed that they feel AWStats is better.
So far, performance and website speed have been fine. The wait time for live chat support is sometimes a bit longer than I'd like. But overall, Namecheap has proven to be a solid choice for web hosting. As to what group of website owners would be the best fit for Namecheap's hosting services, I would say bloggers who have some experience with websites (i.e. if you currently have a blog and are considering switching web hosting companies). Total beginners would probably be better off going with a host such as iPage or 1&1 Hosting. Also, if you're a blogger or marketer that needs to create many sites, it would probably be more economically feasible to go with a company like Web Hosting Hub.
Namecheap
Reviewed by
Michael James
on
.

Rating:
4