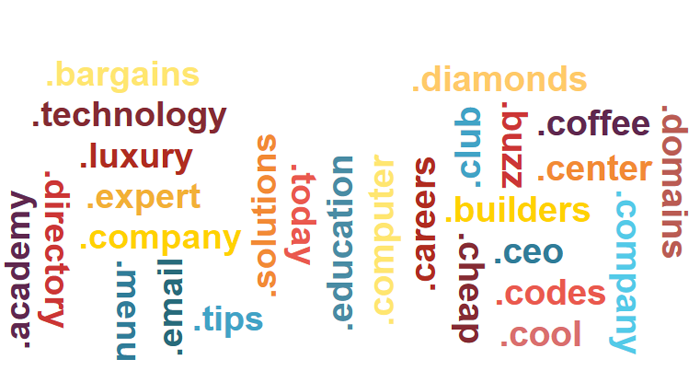 It's now been several months since ICANN started rolling out the new TLD extensions for domain names. When I wrote my previous post in February about the new TLDs, the domain registrars like GoDaddy, Namecheap, and 1&1 were just starting to offer a small amount of new domains. Today, there are a greater number of new TLDs available—with many more on the way.
The new TLD extension domains are still priced higher than the familiar .com, .net, .org type extensions. So, you can still expect to pay a premium if you want one of these. The question still remains what effect (if any) these new domain extensions will have on search engine results. Not surprisingly, there hasn't been any short term change on SERP rankings. While I didn't expect any changes right away, it is a little surprising with all the hype that I haven't seen any new TLD extension sites pop up in Google.
If you have an established website with a .com extension, it certainly doesn't make sense to scrap it in favor of a site with a new TLD. However, I've said before that it might be a good idea to pick one up if there is a solid match for your niche and you can afford it—so you'll have that option in the future. The bigger question might be what to do if you're creating a new website. Should you start off with one of the new TLDs or just stick to the tried and true .com or .net?
Keep in mind if you plan on selecting your domain name with your new web hosting plan, those free domain name offers still only include the .com, .net type extensions. So, if you want one of the newer more descriptive ones, you'll have to pay more.
In either case (first time website owners and those with established sites), if you're interested in the new TLDs, here are the latest ones currently available from GoDaddy and Namecheap—two companies that I use myself. As you can see, Namecheap is offering a much bigger selection.
GoDaddy:
.club
.company
.directory
.email
.expert
.luxury
.menu
.solutions
.technology
.tips
.today
.uno
.works
Namecheap:
.academy
.agency
.bargains
.blue
.boutique
.build
.builders
.buzz
.cab
.camp
.careers
.ceo
.center
.cheap
.club
.codes
.coffee
.company
.computer
.cool
.cruises
.diamonds
.domains
.education
.email
.enterprises
.expert
.farm
.flights
.florist
.gift
.glass
.guitars
.holiday
.house
.institute
.international
.kim
.kiwi
.limo
.link
.management
.marketing
.menu
.onl
.photo
.photos
.pics
.pink
.recipes
.red
.rentals
.repair
.shiksha
.shoes
.solar
.solutions
.support
.systems
.tattoo
.tips
.today
.training
.uno
.vacation
.viajes
.villas
.voyage
.watch
.works
.zone
For the latest information on available domain extensions, see the Namecheap and GoDaddy websites.