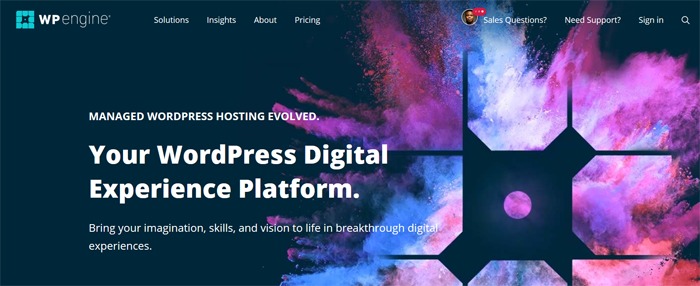 While more and more web hosting companies are rolling out new WordPress hosting packages, WP Engine is considered by many experts as the best choice for managed WordPress hosting. WP Engine focuses exclusively on WordPress website hosting and while their services aren't cheap, you get expert WordPress performance and support. Also, they will handle many of the maintenance tasks associated with your WordPress site, so you don't have to stress out on keeping your website up to date.
Advantages and Disadvantages of WP Engine
Pros:
Managed WordPress Hosting
Expert WordPress Support Staff
EverCache Technology for Faster Page Loading
Hacked Sites Fixed at No Charge
WordPress Updates Automatically Installed
Free Data Backup and Restore
Separate Staging Area for Testing Plugins and Themes
Development, Staging, and Production Environments
Free 60 Day Trial
No Long-Term Commitments Necessary
Excellent Support Response Times
Free Let's Encrypt SSL
Free StudioPress Themes
Free Global CDN
Transferable Installs and Billing Transfer Features for WordPress Consultants and Developers
WP Engine Solution Center
Cons:
More Expensive
Some Plugins and Themes are not allowed
WP Engine is Ideal for:
Premium Managed WordPress Hosting
Enterprise WordPress Applications
WordPress Agencies
Website Speed and Performance
WP Engine is one of the best web hosts for website speed and performance. Among both managed and non-managed WordPress hosts, WP Engine ranks as one of the top hosting providers in our speed testing results. The combination of their EverCache technology, optimized infrastructure, and fully managed CDN allows WP Engine to provide up to 40% faster website speeds.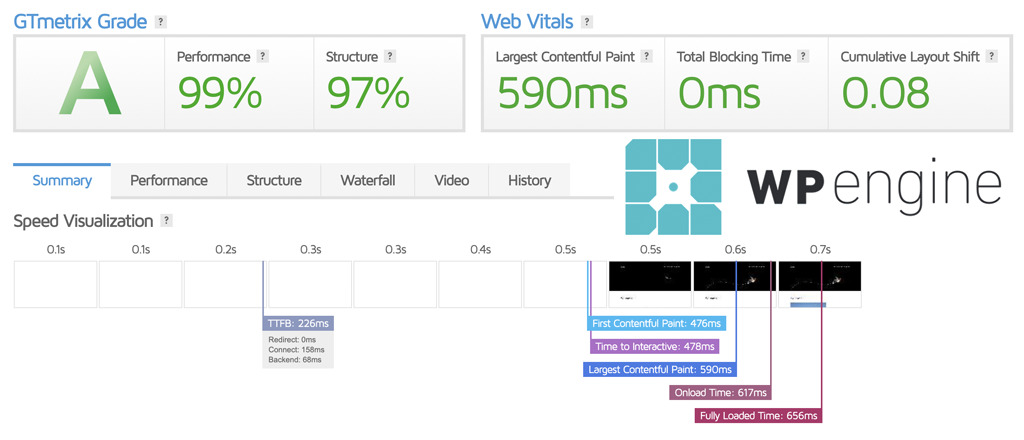 Pros:
Outstanding Website Speed
Outstanding Page Loading Times
Optimized Environment
EverCache Technology
Fully Managed CDN
Why Should You Choose WP Engine?
Your WordPress sites run faster with WP Engine's hosting platform and proprietary technology.
Your website data is automatically backed up.
You can also create a snapshot backup of your websites whenever you choose.
You get free access to StudioPress Genesis themes.
You can use development and staging environments to test changes before moving them to your live production site.
You get expert WordPress support from the WP Engine team.
How Does WP Engine Compare with Other Web Hosts?
WP Engine Company Information:
Business Started: 2013
Data Center Location: U.S., Canada, Europe, Asia, Australia
Price: $35 mo. – $290 mo.
Discount Price Link: $23 mo. – $56 mo.
WP Engine Review: Click Here