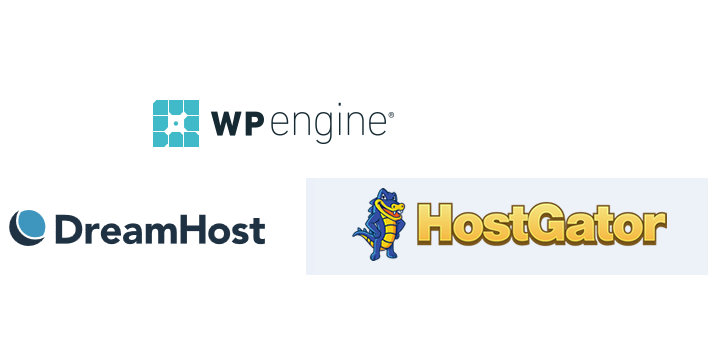 It seems like just about every web hosting company is now coming out with a managed or optimized WordPress hosting plan. DreamHost recently updated their DreamPress WordPress hosting plan, and HostGator is now promoting their optimized WP hosting package. So how do these new WordPress hosting plans compare with an established fully managed WordPress hosting plan from WP Engine?
WP Engine has been the hosting choice for many members of the WordPress community for some time now. Let's see how these new hosting plans stack up against WP Engine's fully managed plan.
Types of Managed WordPress Hosting Plans
Since you're specifically looking for managed WordPress hosting, the first thing to keep in mind is that WP Engine is 100% focused on WordPress. Unlike DreamHost and HostGator which have many different types of web hosting plans, WP Engine only sells hosting specifically for WordPress.
WP Engine offers five levels of hosting plans: Personal, Professional, Business, Premium, and Enterprise. While WP Engine is an excellent choice for mission critical enterprise or large business situations, their Personal plan is very beneficial to bloggers and those needing a personal WP website.
Similarly, HostGator provides multiple levels of managed WordPress hosting: Blog, Business, and Pro. By contrast, DreamHost's DreamPress hosting for WordPress is a one for one package. Each DreamPress plan allows for one WordPress installation.
For enterprise and large scale WordPress environments, WP Engine still looks to be the best choice. It's on the personal or blogger level where the choice becomes interesting. While WP Engine provides key hosting features for WordPress sites, both DreamHost and HostGator also offer useful features at a lower price.
Cost
DreamHost:
DreamPress $24.95 mo.
HostGator:
Blog $12.95 mo.
Business $29.95 mo.
Pro $89.95 mo.
WP Engine:
Personal $29 mo.
Professional $99 mo.
Business $249 mo.
Premium Contact WP Engine
Enterprise Contact WP Engine
Which Managed WordPress Hosting Plan is Best for You?
All three of these hosting plans have certain advantages for different types of websites and website owners. For optimum speed, WP Engine includes their EverCache technology which eliminates the need to use caching plugins and makes a big difference in page loading speed. With DreamPress, you get VPS servers with solid state drives. And, HostGator offers scalable cloud hosting and a global CDN.
WP Engine's features are ideally suited for developers and advanced WordPress users. Their staging area and Backup Points features are great if you anticipate making frequent changes to your WordPress site. And with their Transferable Installs and Billing Transfer features, you can develop websites for your clients and easily transfer them over plus let WP Engine take care of the billing tasks.
With DreamPress and HostGator's Optimized WP hosting plan, you also get email accounts. So if you currently don't have them setup somewhere else, that's something to consider. With DreamPress, there aren't any restrictions on what plugins or themes you can use. You also get a dedicated IP and a higher monthly visitor limit. With Optimized WP from HostGator, you get unlimited storage space as well as a shared SSL certificate.
It's interesting to note where both DreamPress and HostGator Optimized WP fit in the managed WordPress hosting arena when comparing them to WP Engine. DreamHost's DreamPress one site per plan is geared towards competing with WP Engine's Personal hosting plan, while HostGator looks to compete against WP Engine's entire lineup (i.e. one site all the way up to multi-site pro level).
In that regard, I can see how DreamPress would be a viable alternative to WP Engine. On the other hand, it's more difficult to see where HostGator's WP plans really fit in the best. On the higher end, we still believe WP Engine is the more appropriate choice. On the personal site or blog level end, HostGator does cost less. However, if price is your main concern, there are even more cost effective options from web hosts such as SiteGround.
While all three of these managed WordPress hosting plans appear to be solid options, our recommendations would be the following:
WP Engine—Better for developers and experienced WordPress users that are looking to transfer their existing site.
DreamPress—Good for new WordPress sites and bloggers that may need a higher limit of monthly visitors.
Here are the highlights of each managed WordPress hosting plan:
DreamHost DreamPress 2
Virtual Private Servers (VPS)
Solid State Drives
No Restrictions on Plugins and Themes
Dedicated IP Address
Less Expensive
HostGator Optimized WP
Scalable Cloud Hosting
Global Content Delivery Network
Unlimited Email Accounts
Shared SSL Certificate
WP Engine
Totally Focused on Fully Managed WordPress Hosting
Proprietary EverCache Technology
Staging Area
Backup and Restore Points
Expert Support
Transferable Installs and Billing Transfer