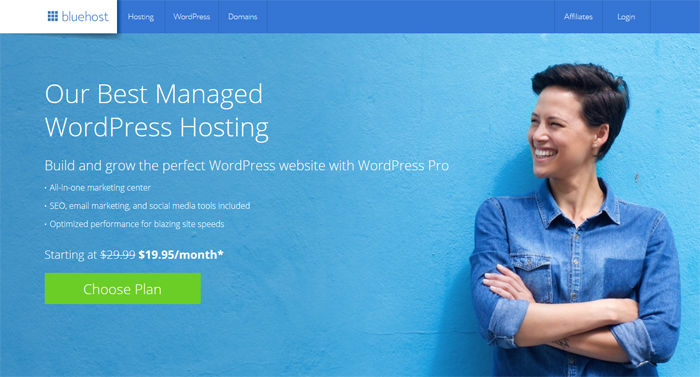 Having had the opportunity to test out Bluehost's new managed hosting product, here is my Bluehost WordPress Pro review.
As one of the three web hosting companies recommended by WordPress.org, Bluehost has continued to be one of the best options for WordPress website owners. Recently, I updated my review of Bluehost's Shared Hosting and was very impressed with what they provide for new WordPress users. Now, with the unveiling of their revamped managed WordPress hosting product line, they are also well positioned to help more advanced WordPress sites and seasoned WordPress professionals. In fact, Bluehost has named their new managed hosting, WordPress Pro.
What Do You Get with Bluehost WordPress Pro?
Unlimited Websites
Unlimited Storage
Website Staging Environment
No Traffic Limits
Instant WordPress Installation
WordPress Auto Updates
Free SSL
Concierge Assistance Call
Content Delivery Network Enabled
Scheduled Daily Backups
Free Premium Themes
Malware Detection and Removal
Domain Privacy
Marketing Center Performance Tool
Jetpack
SEO Tools*
Business Review Tools*
Video Compression*
WordPress Live Support*
PayPal Integration*
Unlimited Backups and Restore*
Elastic Search*
*Available with Advanced Level Plans
Bluehost's WP Pro is definitely jam packed with great features. To begin with, all WordPress Pro plans include all the vital WordPress features you would expect a managed hosting plan to include. However, the advanced level plans (Grow and Scale) provide even more premium features that are perfectly suited for specialty websites such as multimedia and eCommerce stores.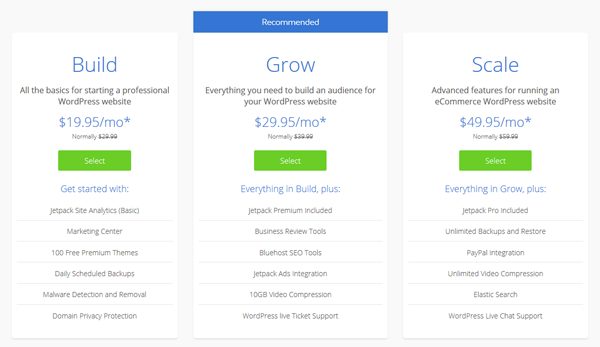 Signing Up and Getting Started with Bluehost WordPress Pro?
As with Bluehost's shared hosting plans, signing up for WP Pro is very easy. And once you sign up, you can immediately start creating your WordPress site.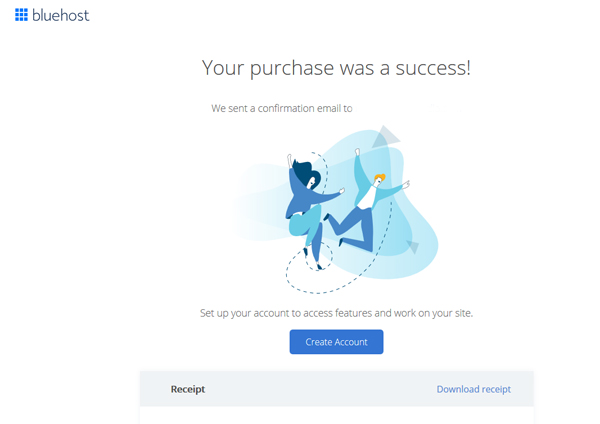 First you select your WordPress theme. Then your site is generated—this process does take a few minutes.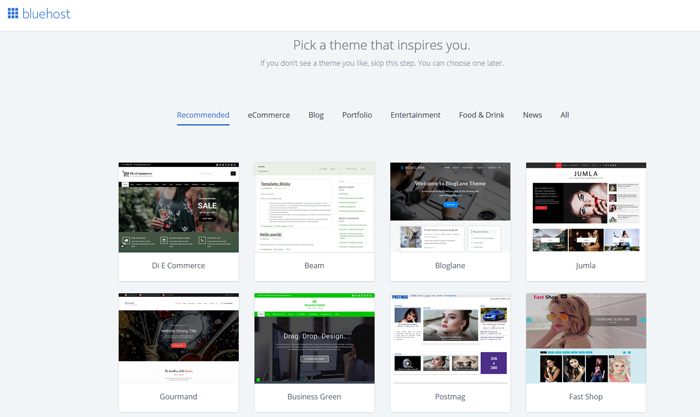 I was a bit surprised that I didn't receive a separate welcome email with instructions on how to proceed. While it's easy enough to navigate through the process of creating your website in WP Pro, beginners may have some difficulty. For that reason, Bluehost's managed WordPress hosting is better suited for experienced WordPress site owners.
WordPress Pro Control Panel Interface
The Bluehost WP Pro dashboard interface is very well designed and easy to use. You also get access to Bluehost's customized cPanel. And, you can quickly and easily get to your WordPress admin dashboard as well.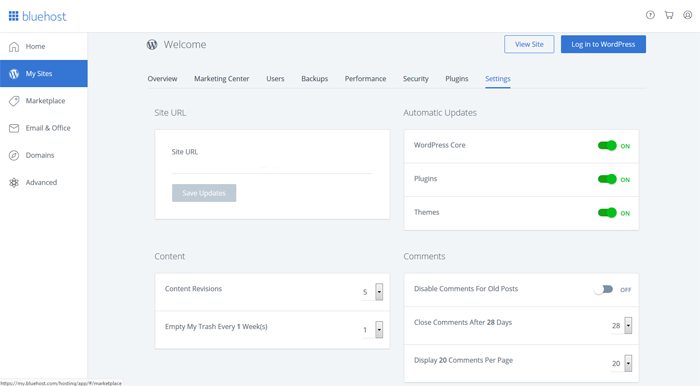 Automatic Data Backups
Bluehost's WP Pro includes automatic daily backups of your websites via CodeGuard. You can easily access your backup data and perform a restore from your Bluehost WP Pro dashboard.


If you want to create on-demand backups from this interface, unfortunately you do need to upgrade to a paid CodeGuard plan. However, you could manually perform your own backups via the File Manager and phpMyAdmin.
Website Security
WP Pro includes some of the best security features in a managed WordPress hosting plan. In addition to free Let's Encrypt SSL, you also get WordPress core file integrity checking, SiteLock malware security, plus Spam Protection and malicious attack blocking from Jetpack.
You can easily access your security tools from the WP Pro dashboard.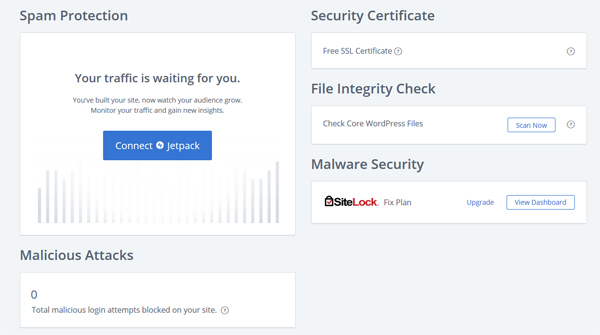 Website Staging
You can access WP Pro's staging functionality from your WordPress dashboard. Unfortunately, I ran into some issues here. When I tried to create a staging site, I received a JSON error message and the process just hung. This issue occurred multiple times before I contacted support. While they offered to manually create a staging site for me, it appears there are still some things that need work here. Technically, the staging feature is still listed as in beta.
WordPress Pro Speed and Performance
Website speed from Bluehost WP Pro was very good in all regions. Below are some sample test results.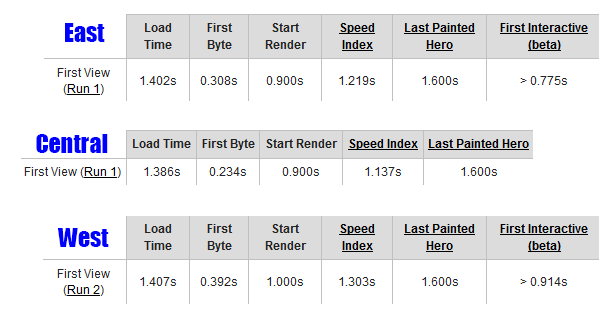 WordPress Pro Support
As with Bluehost's Shared Hosting, I found the customer support you get with WP Pro to be very good. Along with their extensive knowledge base, you have 24/7 phone and live chat support. Support response times are very fast. And, the support agents are very helpful and courteous.
Advantages and Disadvantages of WordPress Pro
While Bluehost's WP Pro definitely provides all of the premium features you would expect to see in a managed WordPress plan, along with good website speed and responsive support, I would probably not recommend it for new WordPress users as there isn't a lot on onboarding help provided. On the other hand, experienced WordPress users should have no problems getting started creating effective WordPress websites.
Pros:
Customized WP Pro and WordPress Dashboard Interfaces
Instant WordPress Installation
Impressive Website Speed and Performance
Free SSL and Full Suite of Security Tools
Responsive Customer Support
Automated Daily Backups
Create Unlimited Number of Websites
No Traffic Limits
Cons:
No Personalized Onboarding
On Demand Backups Require Paid CodeGuard Plan
Conclusion and Recommendation
There are definitely some impressive features that Bluehost's WP Pro offers. However, there appear to be a few features that still need to be refined for WP Pro to reach its ultimate potential. Until then, it's kind of hard to accurately place the niche where WP Pro fits in. For example, for beginners I would instead recommend one of Bluehost's shared hosting plans. It's much easier for newbies to get started with Bluehost's shared WordPress hosting. And, the performance and features currently run more smoothly and efficiently.
On the other hand, if you need robust managed WordPress hosting plan, there are other options that are already proven commodities. I certainly believe that WP Pro will ultimately be among those top managed WordPress hosting plans. For now, be aware that with some features, it might be kind of a work in progress.