Since its initial release some years ago, DreamHost's optimized or managed WordPress hosting—called DreamPress—has undergone several iterations and improvements. With their latest update, it appears that DreamPress is finally ready to compete with the other top managed WordPress hosting options.
In the past, I have lamented about some of the features I would like DreamPress to include. Well, I am pleased to report that DreamHost has addressed all of the concerns I've had before. So, how good is DreamPress these days? Here is my updated DreamHost DreamPress Review.
Account Setup and Control Panel
After signing up for my DreamPress account, you're supposed to get an email notifying you of when your account is provisioned and ready for you to use—stated time is approximately 5 minutes. Unfortunately, the email wound up in my spam folder—though my site was ready to go not long after I signed up.
I'm still not a big fan of the DreamHost control panel. But, it has improved a bit with a better welcome screen.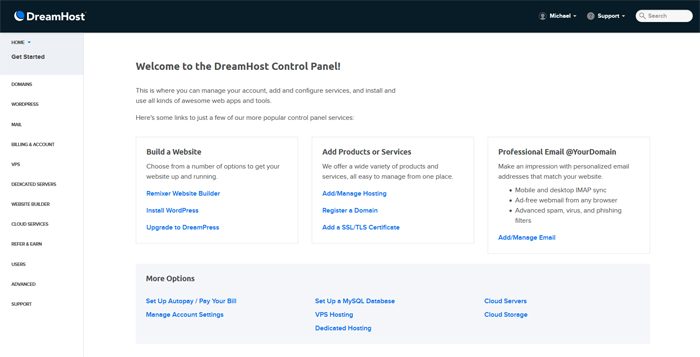 Another issue is using a domain you currently own somewhere else—such as GoDaddy. When signing up, I tried to use the option that says I want to use a domain I already own. However, I tried that several times and just received a cryptic error message. So, I decided to use the option to select a domain later. However, it was a bit of a hassle to find out how to switch my domain later. I had to open a support ticket because live chat wasn't available (see below for more on customer support).
Automatic and On-Demand Data Backups
I'm very pleased to see that DreamHost now includes automatic daily data backups with DreamPress. And, you can also create on-demand backups once per day with the new backup feature. Your data backups are kept for two weeks.
You can access the data backup feature from your DreamPress dashboard.


Website Staging
Another critical feature for managed WordPress hosting that DreamHost now includes with DreamPress is true website staging. Like data backups, you access your website staging functionality from the DreamPress dashboard.


DreamHost has done a great job with the staging functionality added to DreamPress. You can easily creating a staging site with one click. And it's just as easy to publish changes from your staging site to your live production WordPress website, as well as copy your live site to your staging copy.
You're also notified via email when:
Your Staging Site is Created and Ready to Use
Your Live Site is Copied to Your Staging Site
Your Staging Site is Copied to Your Live Website
The staging process worked great for me. I didn't encounter any problems and everything worked smoothly and efficiently. Website Staging is definitely one of DreamPress' best features.
DreamPress Speed and Performance
DreamHost's DreamPress showed mixed results in our testing. In the West, where we're located, speed results were very impressive. However, in other parts of the country, website speed wasn't quite as good—at least for a managed WordPress hosting plan. See sample results below: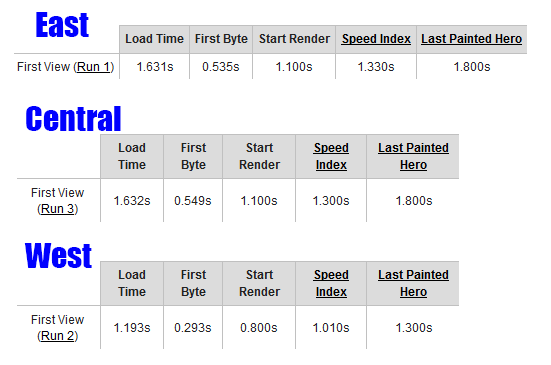 While in general the speed results are certainly acceptable, compared to other managed WordPress hosts we've tested, DreamPress ranked on the slower side overall.
DreamHost Customer Support
In recent times, the customer support at DreamHost had been showing a lot of improvement. However, after I signed up for DreamPress, I found that there was no live chat support available. Apparently, they do not offer 24/7 live chat support access. Also, I didn't receive the email notification I was supposed to get when my account had been provisioned and ready to go until two days later.
I will say that when I did get in contact with customer support, the team members were definitely helpful and very courteous. And when live chat is available, the response times are very good.
DreamPress Pros and Cons
Pros:
Easy to Use Website Staging
Automatic and On-Demand Backups
Free SSL
Cons:
Late Notification of Account Provisioning
Live Chat Not Available 24/7
Recommendation
DreamPress has definitely come a long way since it initially debuted years ago. I am very happy to see that DreamHost has implemented the features that were lacking in order to make DreamPress a legitimate managed WordPress hosting option.
The website staging and automatic backup functionality is excellent. And along with the built in caching, free SSL, and responsive customer support, DreamPress is a good fit for most WordPress websites. Although website speed isn't the fastest among managed WordPress hosts, DreamPress more than holds its own against other well-known hosting companies.
DreamPress Review Ratings
Features - 95%
Speed and Performance - 92%
Customer Support - 94%
Value - 90%