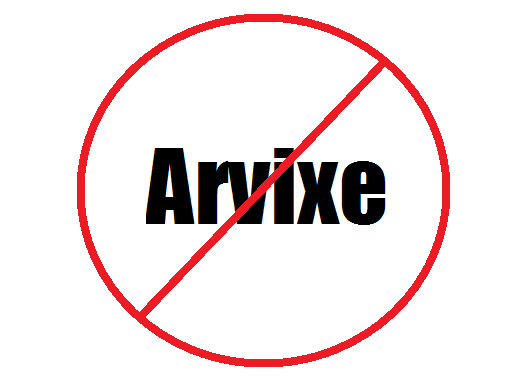 While we frequently make recommendations for web hosting, it's rare that I have to make a serious un-recommendation for a web host. Usually there are enough good things about a web hosting company that I can recommend them to at least some people. However, this is one of those rare situations where I must advise folks to avoid a particular web hosting company—in this case, Arvixe.
At one time, we considered Arvixe as a pretty good choice for hosting. However, they have since removed some of the free extra features they used to include in their hosting plans. More importantly, they now have a Better Business Bureau (BBB) rating of an F. And, I recently experienced some questionable renewal practices with Arvixe.
First off, they automatically renewed my hosting plan, some 15 days before my term actually expired. The money was automatically taken out of my PayPal account. However, I did not intend to renew this particular account. And trying to get my money back has been a complete hassle!
Initially, I sent a reply to the billing email I received. However, that message bounced back—rather, I was informed it was not received. Next, I opened a support ticket about the matter, but I still got no response. Then, I tried contacting their live chat support. I was informed that I needed to go to the customer area of the website and request the cancellation—which I immediately did.
Unfortunately, what they did was specify that my account would be cancelled AFTER the next renewal date (in 2017)! What I wanted was to cancel the premature renewal they did for this year (2016) and be refunded the money I was charged for. So, I again contacted their customer support department. This time I was told that once the account was cancelled, I would receive my refund via PayPal. I asked how long it would take for my account to be cancelled and was told a couple of hours. However, I still hadn't received my refund by the next day.
So, I tried yet a third time to straighten things out with customer support. This time, I was told that a Billing Admin had to be notified to cancel the service and provide a refund. Further, the support agent said I would be updated by email. When I asked exactly when I would receive the email, the chat support agent seemingly disappeared and I was left hanging!
Finally, I decided to escalate the matter with PayPal to get my money back. I had to wait a couple more weeks, but I did eventually get my refund.
We have now updated our review and comparisons involving Arvixe to reflect our current opinions. The bottom line from me: Say No to Arvixe hosting!