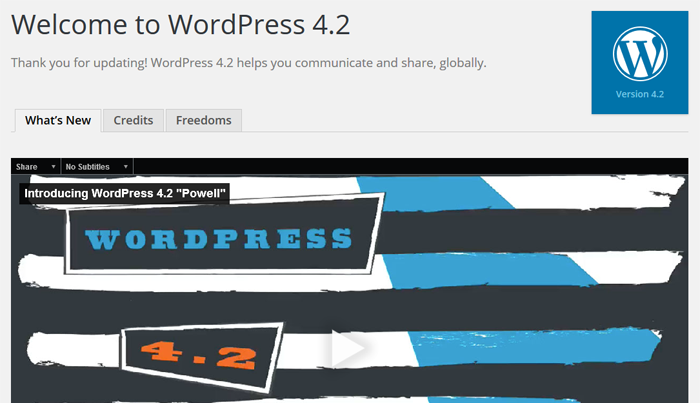 Right on the heels of the latest WordPress security update, they have now released the latest intermediate upgrade, WordPress 4.2. In addition to the under the hood enhancements that are included with these type of updates, there are some noteworthy improvements. Here's a look at the new stuff in 4.2.
Press This for Shared Content
The new "Press This" feature allows you to share content easily. You must first install the Press This feature by going to the Tools->Available Tools menu option in the WordPress dashboard.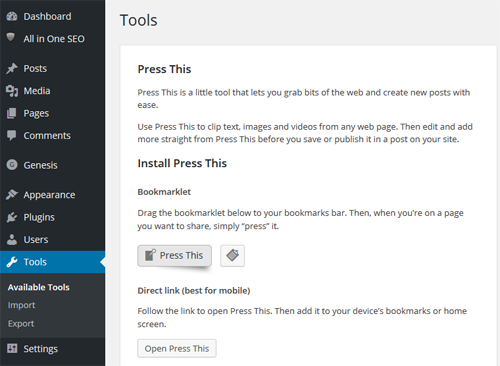 Then, drag the "Press This" button to the button bar of your web browser.

Now, when you're logged in to your WordPress site, you can click the "Press This" button while you're on any web page and a new post will open on your screen. You can then select images to be included in the post. Now, you have the options to save it as a draft, preview, or publish the post on your WP site.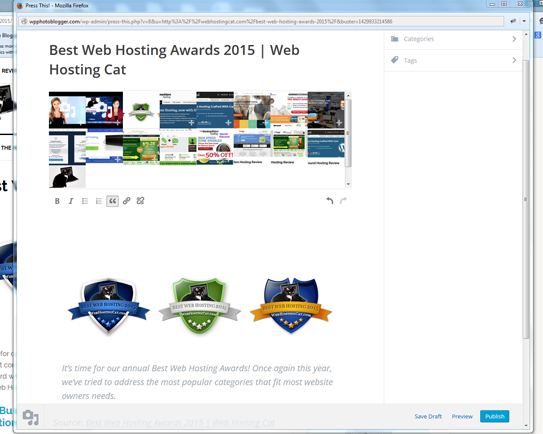 What's really cool about this new feature is that it will work not only on other web pages, but also on videos, Tweets, and photos on Pinterest or Instagram. I've tried posting from a number of sources and everything has been working fine.
New Theme Customizer
This one was a big disappointment for me. The new theme customizer is supposed to let you preview changes between different themes—as opposed to just changes within your currently activated one. Unfortunately, I was unable to preview any themes. Even worse, I got the following error when trying to preview certain themes. Looks like this feature needs more work.


Embedding for Tumblr and Kickstarter
In recent updates, WordPress have added enhanced embedding functions for YouTube videos and audio files. In version 4.2 they have extended this enhanced embedding for Tumblr and Kickstarter items.
Streamlined Plugin Updating
Now, when you update a plugin, you're no longer taken to a separate screen to see the updating process. The plugin updates now take place directly on the installed plugins screen. You'll see the updating and updated notifications after you click on update. Maybe not that big of a deal, but it does seem to make updating plugins a bit faster.



Extended Characters and Emoji
Extended character support now includes Asian language characters as well as emoji. I don't use these, but this enhancement will be nice for those that do.
Under the Hood
And for developers, WordPress 4.2 contains under the hood improvements for supporting complex query ordering, shared term splitting, utf8mb4, and JavaScript accessibility.
Overall, I do like this new release of WordPress—despite the issues with the theme customizer. And although not all of the enhancements are features I plan on using, I'm sure others will find them quite useful. As we always remind everyone, be sure to back up your website data before upgrading to the new version of WordPress.