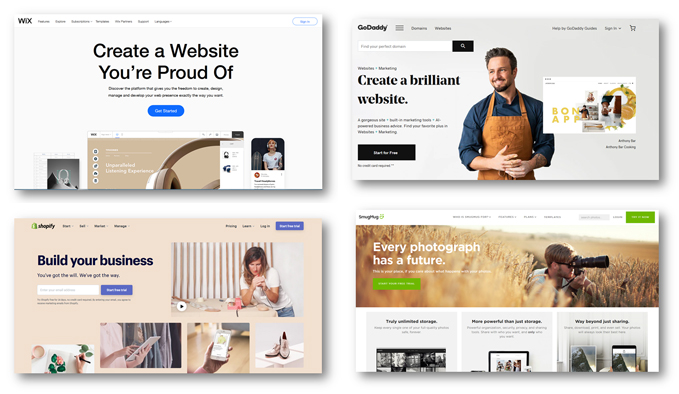 Don't get me wrong! WordPress is a great website platform. In fact, it's my preferred platform for creating my websites. And, I know I'm not alone as WordPress continues to be the most popular website vehicle on the internet. However, there are certain situations where WordPress may not be the way to go for creating your website.
While you can create just about any type of website with WordPress these days, let's take a look at three specific situations where WordPress would not be my recommended way to go.
1. If You Need a Quick Online Brochure Website
It's true that creating a site with WordPress has become more and more easy over the years. However, if all you really want is an online brochure type of website to promote your business or other interests, the quickest and easiest way to get a professional looking site remains going with a website builder such as Wix or GoDaddy.
When you use a website builder to create your site, you're able to get your website online faster without having to spend a lot of time on customization.
2. If You Need a Simple eCommerce Website
For most eCommerce website situations, I like using WooCommerce with WordPress. With WooCommerce, you can get the benefits of WordPress while creating all kinds of online stores. But again, if all you need is a more simple eCommerce site, I recommend taking a look at a platform like Shopify or even GoDaddy's site builder.
3. If You Need a Specialty Website
The third category where you would want to use a platform other than WordPress is if you need a highly specialized site for your business or personal use. For certain business applications, a specialized platform will provide more of the functionality that you need.
The best example I can relate to you is photography. If you want to create a website for your photography business, you could use WordPress. However, it would take a lot more time and effort to include all of the functionality you get with a platform such as SmugMug.
SmugMug is specifically geared towards photographers looking to both promote their work and actually sell their photos online.
Conclusion
WordPress is definitely an awesome platform for creating many types of websites. However, one of the keys to achieving a successful site is to choose the proper tools or platform for your specific type of website. And in some cases, there are better choices than WordPress. Just something you should keep in mind.