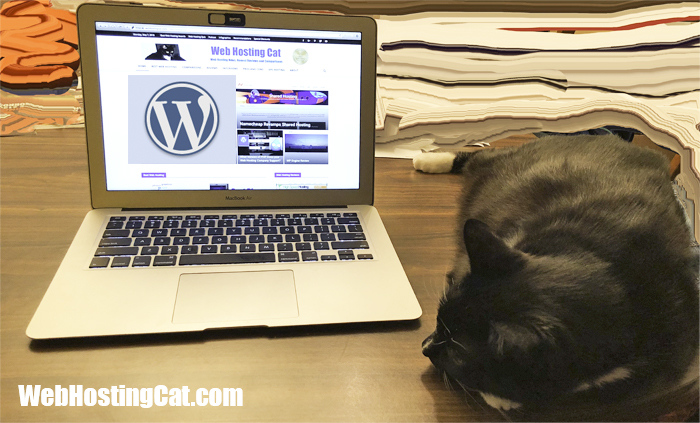 WordPress continues to be not only my favorite website platform, but also the most popular choice for creating websites on the internet. Why? Well, two of the biggest reasons are that you can now create almost any type of website you want with it, and it's easy to use.
It's actually easier to get started with WordPress than you might think. Because WordPress is so popular and important these days, web hosting companies have really stepped up to help their customers get up and running with their WordPress sites right away. But as I've written before, not all WordPress hosting is the same. So, if you want to know how to get an easy WordPress website these days, consider using one of the following web hosts:
Bluehost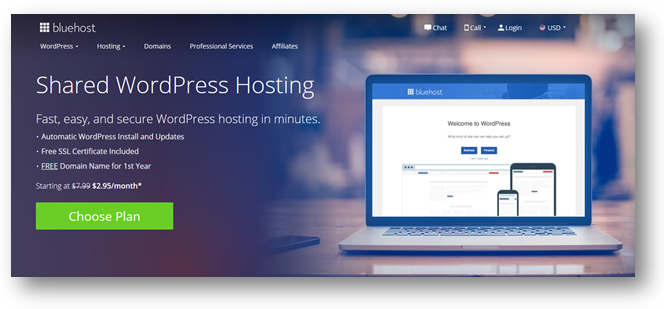 How Bluehost Makes WordPress Easy:
Pre-Installation of WordPress
Online WordPress Guidance
Customized WordPress Dashboard
Bluehost is one of only three web hosting companies recommended by WordPress.org. And, they have really made the process of creating a WordPress site much easier for beginners. When you sign up at Bluehost, WordPress is not only pre-installed, but you are guided through the process of selecting your WordPress theme and choosing the features you want for maintaining your site.
The customized WordPress dashboard you get with Bluehost also makes it much easier for beginners to locate various functions to build and maintain your website. https://www.bluehost.com
A2 Hosting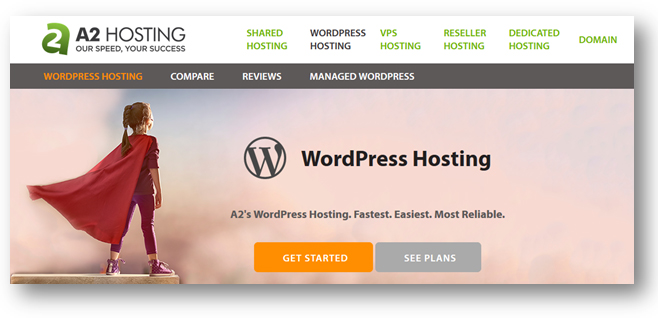 How A2 Hosting Makes WordPress Easy:
Pre-Installation of WordPress
Optimized WordPress Environment
Automatic Updates
Automated Data Backup
Website Staging
A2 Hosting definitely offers one of the best overall packages for WordPress users. The premium features and optimized WordPress environment definitely rivals some managed WordPress hosting plans. But, A2 also makes it incredibly easy to get going with your WordPress site.
A2 Hosting will pre-install WordPress in their WordPress environment that is optimized for speed and security. Then, you can take advantages of features like automated data backup and updates, plus even website staging! https://www.a2hosting.com
HostPapa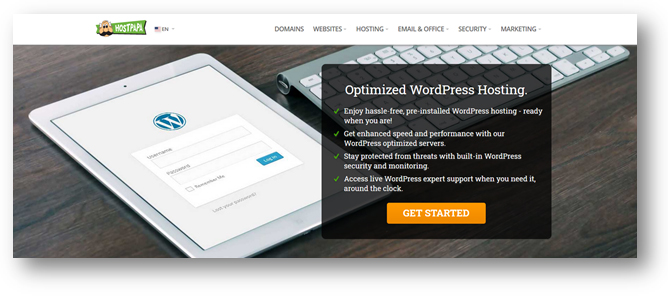 How HostPapa Makes WordPress Easy:
Pre-Installation of WordPress
One-on-One Training Session
HostPapa may not be one of the more well-known WordPress hosting providers, but they definitely have an impressive optimized WordPress hosting plan that not only includes pre-installation of WordPress to get you going with your site quickly, but you also get enhanced WordPress servers and built in security. However, the most impressive feature you get with HostPapa, and one that will make getting started with your website easier, is the free 30 minute one-on-one training session with a HostPapa team member. https://www.hostpapa.com
InMotion Hosting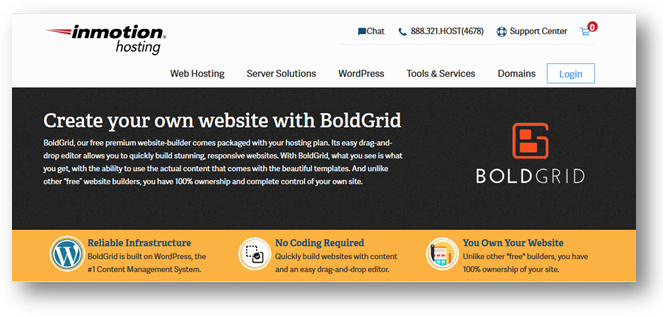 How InMotion Hosting Makes WordPress Easy:
Pre-Installation of WordPress
BoldGrid Website Builder
WordPress has been important to InMotion Hosting for many years. That's why they include features such as pre-installation of WordPress along with the BoldGrid website builder. BoldGrid really simplifies and speeds up the WordPress website creation process. And although WordPress now includes their own "page builder" via Gutenberg, BoldGrid provides a complete platform for WordPress sites. With BoldGrid, you can get features such as automated backups, automatic plugin updates, and website staging. https://www.inmotionhosting.com
SiteGround


How SiteGround Makes WordPress Easy:
Pre-Installation of WordPress
WordPress Starter
Automated Data Backup
Website Staging
SiteGround is another web host recommended by WordPress.org. In the past, I would have recommended SiteGround more for experienced WordPress users and consultants. However, SiteGround has recently also streamlined and improved the WordPress site creation process for beginners.
SiteGround's WordPress Starter functionality guides you through setting up your website. Plus, SiteGround continues to have one of the most helpful customer support staffs in the business. And, with SiteGround you also get more premium features such as automatic updates and data backup as well as website staging that you can utilize as you continue to grow your site. https://www.siteground.com
DreamHost


How DreamHost Makes WordPress Easy:
Pre-Installation of WordPress
WP Website Builder
DreamHost is the other web host that is recommended by WordPress.org. Their commitment to WordPress goes back years. Currently, DreamHost has their easiest WordPress website vehicle for new website owners. Now you not only can get WordPress pre-installed, but DreamHost now features their WP Website Builder that assists you with a site creation wizard, professional templates, and a drag and drop editor. https://www.dreamhost.com
Managed WordPress Hosting Options
Normally, for new WordPress users, a Shared Hosting plan is more than adequate to get started as well as being less expensive than a managed hosting plan. That's why I listed those options above first.
However, managed WordPress hosting does have its advantages, foremost being more premium features and expert WordPress support. Although it may cost you more, a managed WordPress hosting plan can certainly make things easier. Here are my two favorite managed hosting options.
WP Engine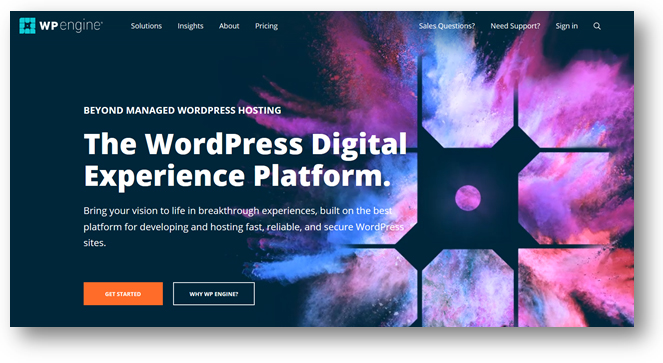 How WP Engine Makes WordPress Easy:
Managed WordPress Services
Pre-Installation of WordPress
Includes Free StudioPress Themes
Expert Dedicated WordPress Support
Development, Staging, and Production Environments
Automatic Data Backups
WP Engine only does WordPress. That means you know you're getting expert support whenever you need it. What's really impressive to me about WP Engine's support is that it's definitely what you would expect from a managed hosting provider. They will not only walk things through with you if you have an issue, but they will also go ahead and resolve the issue themselves. https://wpengine.com
Liquid Web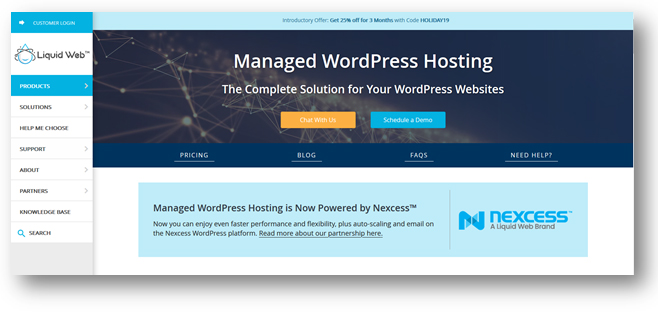 How Liquid Web Makes WordPress Easy:
Managed WordPress Services
Pre-Installation of WordPress
Automatic Plugin Updates
Automatic Data Backups
Automatic Image Compression
Expert WordPress Support
Liquid Web is another high quality managed WordPress hosting provider. Their staff is comprised of top professionals in the WordPress field. If you're looking for a top managed WordPress hosting option, then Liquid Web is a company you should consider. https://liquidweb.com