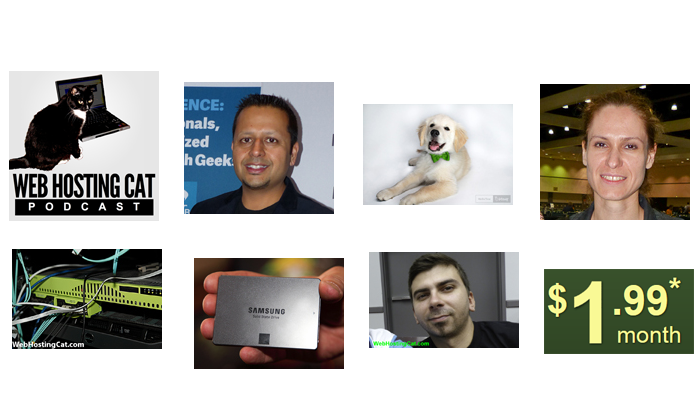 As 2015 comes to a close, it's time to look back on some of the big events that occurred on the web hosting front this year. Here's our annual recap of some noteworthy happenings in 2015.
Price Increases
One of the biggest surprises this year was that some web hosting companies actually raised their prices—most notably HostGator and iPage. The latter is still one of the better budget plans available. But unlike in past years, the sale prices at iPage were not as low. However, their hosting plan is still very affordable. Fortunately, prices remained constant at most hosting companies, and there were some very good sales held throughout the year.
GoDaddy Goes Mainstream
Long known for their provocative Super Bowl ads, GoDaddy really toned it down this year—perhaps due to their IPO? Unfortunately, they still couldn't avoid controversy even with their cute puppy commercial—as pet lovers objected to a dog being sold online. Doggy commercials notwithstanding, GoDaddy has definitely made a major effort to change their image to that of a company clearly focused on helping small business owners succeed.
Website Creation Companies Make Their Push
The other newsworthy event from the Super Bowl was the commercials from website creation companies such as SquareSpace and Wix.com. Promoted as an easier alternative to getting a website online, they are clearly targeting the customer base of traditional web hosting companies. While we still prefer going with those established, traditional web hosts, there definitely seems to be a niche for these newer website creation companies.
Solid State Drives are King
On the hardware front, the one big upgrade that a number of web hosting companies implemented and promoted this year was the inclusion of solid state drives (SSDs) in their servers. SSDs allow for faster performing websites—and we've confirmed this with some of our own testing. Among the web hosting companies upgrading to SSDs were InMotion Hosting, DreamHost, SiteGround, and Arvixe. We certainly expect to see more web hosts moving to solid state drives next year.
Managed WordPress Hosting is Hot
WordPress's popularity continues to soar. And there were even more web hosting companies debuting managed WordPress hosting plans this year. Now, in addition to established WordPress hosting from companies like WP Engine and Media Temple, you can find alternative managed hosting from SiteGround, BlueHost, GoDaddy, HostGator, and others. Again, we expect to see more managed WordPress offerings in the coming year.
Web Hosting Upgrades
In addition to adding the solid state drives that we mentioned above, some web hosting companies also performed upgrades to their data centers and infrastructures. For example, InMotion Hosting continued with the expansion of their data centers, and SiteGround started a major upgrade to their Shared Hosting platform. Web hosting plans were also improved throughout the year—for both webmasters and developers. There were a number of features added to make things easier for site creators—such as pre-installing WordPress or Joomla for you. And, WP Engine added their Transferable Installs feature which lets developers work on their client's sites and then easily transfer control over to them.
Web Hosting Podcast Debuts
Last but certainly not least, this year saw the debut of our web hosting podcast. We had a lot of fun and got the opportunity to interview some great guests. We talked with InMotion Hosting Co-Founder Sunil Saxena, as well as SiteGround's COO Reneta Tsankova. We were also privileged to be able to talk with Google's Webmaster Trends Analyst, Gary Illyes, who provided us with some great advice on search engine optimization.
Final Thoughts for 2015
As we head into the New Year, we expect continued improvements from the established web hosting companies—as competition increases both amongst themselves and the new website creation companies. It will be interesting to see how prices are affected—given the increases at certain hosting companies this past year. It will also be interesting to see if there will be more mobile site options offered by web hosts as the popularity of mobile computing and its audience continues to increase.
As always, we'll do our best to bring you all the latest information on the web hosting events that will have an impact on your websites. We invite you to continue to visit our site in 2016. But for now, let me wish you all the best this Holiday Season!