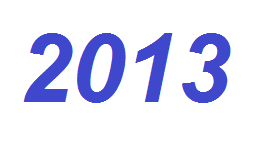 As the year winds down, let's take a look back at some of the significant events from the web hosting landscape in 2013. By far, the two biggest areas web hosting companies focused on were providing new services for customers and improving the customer's experience.
One of Bluehost's New Year's resolutions would be echoed by other web hosting companies throughout the year. And that was to improve their website for its customers. Later in 2013, Bluehost added VPS and Dedicated Hosting to their lineup—also something other web hosts would add.
Over the first few months of the year, iPage switched their customers over to Open-Xchange Webmail. Besides the addition of the calendar/meeting functionality and better organization of email, the similar interface to Outlook was welcomed by those familiar to the Microsoft product.
At the beginning of March, InMotion Hosting completed major upgrades to their data center and network. As an InMotion customer for many years, I always experienced great performance with my sites. But after this upgrade, I did notice an improvement in server load activity. And InMotion now states they have achieved a 99.99% uptime.
With WordPress continuing its phenomenal growth among website content management systems (and website platforms in general), DreamHost debuted its DreamPress services mid-year. For those DreamHost customers using WordPress for their sites, DreamPress boosts site performance and adds key support features that rivals those managed hosting solutions that cost more money.
On the mobile computing front, 1&1 Hosting and Go Daddy both released apps that allow customers to access website information from their tablet computers and smartphones. We were surprised that more web hosts didn't debut their own apps, but perhaps they'll be more in 2014.
As website load times and speed have become more important, some web hosting companies added content delivery networks to their hosting plans. Bluehost, Go Daddy, and 1&1 Hosting were among the web hosts offering the use of CDNs as one of the benefits of their hosting plans.
Speaking of Go Daddy and 1&1 Hosting, the month of September provided major announcements and offerings from both. Go Daddy announced that their website was being streamlined to simplify tasks for its customers. Then Go Daddy CEO Blake Irving sent an email to customers stating that this was only the beginning and more changes would be coming. Meanwhile, 1&1 Hosting unveiled their New Shared Hosting Range which featured a bunch of improved features for shared hosting customers—including guaranteed RAM and the integration of a CDN.
Also in September, iPage added Dedicated and VPS Hosting to their lineup, while InMotion Hosting added Reseller Hosting for those looking to sell web hosting themselves.
There were more changes and surprises in October. First, WP Engine totally revamped their website to better showcase their managed hosting services. Then Web Hosting Hub announced they were moving from one basic type of hosting package to three different levels of plans labeled as Spark, Nitro, and Dynamo. And, we can't leave out Hulk Hogan teaming up with Tech Assets for the creation of Hostamania!
Go Daddy continued rolling out more changes during the fourth quarter of 2013. While they had previously featured their own customer control panel with their hosting plans, you can now get cPanel with Linux and Plesk with Windows hosting.
And, throughout most of the year, one of the biggest news items was the impending release of the new TLDs. With so many new targeted domain name extensions about to be made available, most people are very interested in exactly how SERP will be affected. Opinions vary and no one is quite sure what to expect, but it will certainly take some time before any real effect is seen. However, if you want to get in on these new domain extensions, both Go Daddy and 1&1 Hosting are taking pre-registrations.
2013 was indeed a very eventful year for web hosting. For those website owners that purchased their hosting and got their sites online this year, I hope you enjoyed a great deal of success. And for everyone out there, I wish you all the best in 2014.