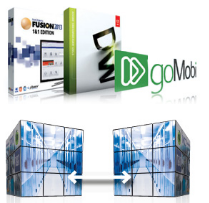 Last month I reported on 1&1 Hosting's new shared hosting range. In an effort to attract more customers, they have updated their web hosting plans to include a number of improved features that can greatly benefit your website. Two of the most significant additions to their hosting are a guarantee of 2 GB of RAM, and the integration of a Content Delivery Network. Here are more details on what you get with the new 1&1 Hosting.
The CDN has PoPs distributed over 23 worldwide locations for optimum performance. And to further speed up data transfer, their data centers have over 300 Gbit/s connectivity.
In addition to the 1&1 Mobile Website Builder that optimizes your site for mobile devices, you also get access to software like Adobe Dreamweaver and NetObjects Fusion.
You'll also get some great marketing tools including their 1&1 Newsletter tool, the 1&1 SEO Spotlight tool for increasing your Google ranking, and the 1&1 Search Engine Marketing tool.
1&1 Hosting definitely appears to have made great improvements to their already impressive web hosting offerings. For complete details on the new web hosting, check out the 1&1 website.