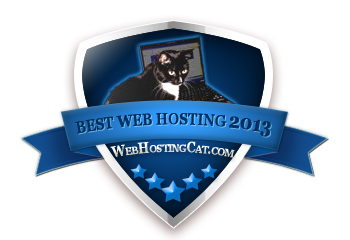 Welcome to the 2013 Best Web Hosting Awards from WebHostingCat.com. 2013 has certainly been another very competitive year for web hosting companies. While there are many quality web hosts out there, the best one for you will undoubtedly depend on your specific situation and requirements. We've tried to give out awards for categories that fit many prospective buyers of web hosting services. So without further delay, here are our Best Web Hosting Awards for 2013.
InMotion's Business Hosting plans provide the key features that business websites need. And, with their data center and network upgrades this year, they remain the best choice for business sites.
iPage continues to offer excellent web hosting at some of the lowest sale prices available.
Entrepreneurs and marketers typically need to create many websites. Web Hosting Hub allows unlimited domain and website hosting at a very affordable price.
1&1 Hosting's MyWebsite package is especially geared towards those that have little or no experience with creating and getting a website online.
WP Engine isn't cheap. But if you want your hosting company to take care of maintenance, security, and other management aspects of your website, most experts agree that WP Engine is well worth the price.
MyHosting.com provides powerful VPS hosting for Linux or Windows.
For more details on these award winners, click on the links above.