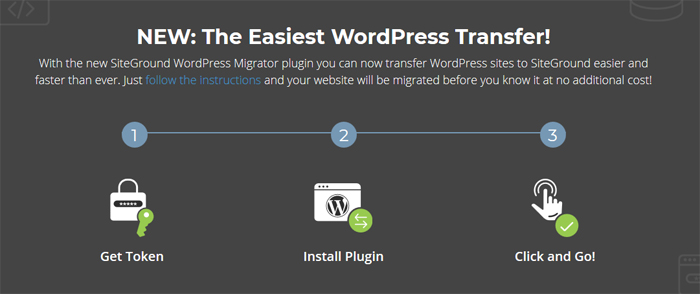 SiteGround has now released a plugin that allows you to easily migrate your WordPress site over to SiteGround. So now, instead of having to pay extra to have someone else move your website over, you can do it yourself! Here's how the SiteGround WordPress Migrator works.
SiteGround's WordPress Migrator allows you to securely move a website hosted elsewhere over to SiteGround. Best of all, you can install and use the migration plugin for free.
Using SiteGround's WordPress Migrator basically involves four steps—assuming you already have your SiteGround hosting account active.
First, you generate a migration token that identifies the account and folder you want to transfer over to SiteGround. You do this by going to your SiteGround cPanel and launching the WordPress Migrator found under the WordPress Tools section.


Specify your domain and optionally a path, then click the Generate button. You'll then receive your migration token string of letters and numbers.
Next, log in to the admin of the WordPress site you want to migrate over and install and activate the SiteGround Migrator plugin found in the repository.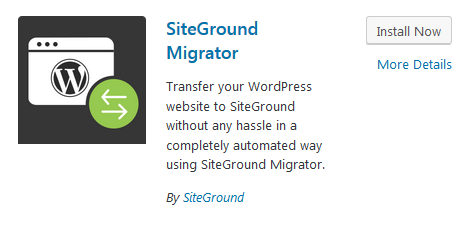 Then, from your WordPress dashboard, select the SG Migrator option from the left side menu. Enter the migration token you generated and click the Initiate Transfer button. You can monitor the progress as your account is moved over to SiteGround.
Finally, all that's left is to update your nameservers to SiteGround's. Note: SiteGround recommends that you don't make any changes to your site for 48 hours to avoid losing any data during propagation.
One caveat to keep in mind is that apparently the migrator doesn't work for multisite installations.
UPDATE: Unfortunately, it looks like the SiteGround WordPress Migrator may not quite be ready for primetime. I tested it out with websites at two different hosting companies and there were issues both times. I first tried using the SiteGround Migrator on a website I had at a managed WordPress host. However, when I tried to activate the plugin, I received an error. So then I tried using it with a WordPress site I had with a Shared Hosting plan at a different web host. While I was able to activate the plugin this time, only certain parts of my website were migrated over, and there seemed to be an issue with the SSL.
I've notified SiteGround about the above issues and received a prompt response (see below).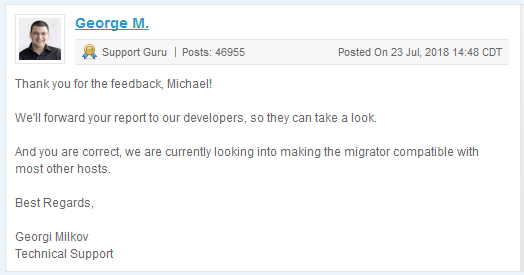 Hopefully they can make the necessary corrections. The SiteGround WordPress Migrator is a great idea, and I'm looking forward to them working out the kinks so that it works with websites at most hosting companies. In the meantime, you can still have SiteGround transfer your website over for free with their GrowBig and GoGeek plans.