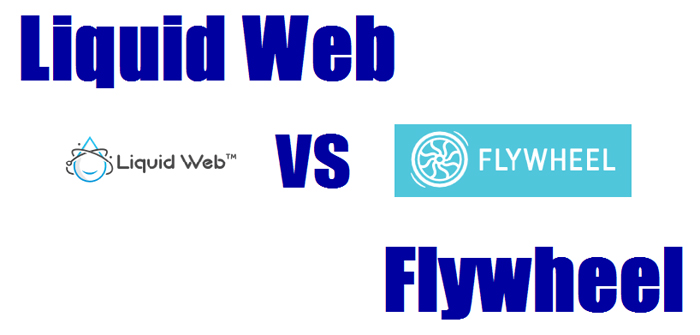 In this comparison of Liquid Web vs Flywheel, we take a look at two excellent managed WordPress hosting providers. Liquid Web offers Dedicated Servers and Cloud Hosting services in addition to managed WordPress, while Flywheel focuses specially on WordPress. However, both of these web hosts provide excellent features with their hosting plans. To find out which one is better for you, let's take a more detailed look.
Liquid Web vs Flywheel Details

| Category | Liquid Web | Flywheel | Comments |
| --- | --- | --- | --- |
| Setup | | | |
| Control Panel | | | |
| Data Centers | | | Flywheel has Data Centers in New York, San Francisco, Toronto, London, Frankfurt, Amsterdam, and Singapore. |
| Website Speed | | | |
| Security Features | | | Flywheel provides Free SSL and Hacker-Free Security. |
| Data Backup and Restore | | | Tie. Both provide Automated Daily Backups Stored 30 Days, plus Snapshot Backup Capability. |
| Automatic Updates | | | Liquid Web provides Automatic Plugin Updates in addition to WordPress Core. |
| Servers | | | Flywheel uses VPS Servers. |
| Network | | | |
| WordPress Development | | | Liquid Web includes iThemes Sync for managing multiple sites. |
| Resources | | | |
| Staging | | | See Below |
| Customer Support | | | See Below |
| Money Back Guarantee | | | Pro-Rated |
| Price/Value | | | |
Website Speed and Performance
In our testing and my personal experience, Liquid Web provides faster website speed overall than Flywheel. While on some occasions Flywheel's speed was impressive, Liquid Web has provided some of the fastest website speed times that we've experienced. They've really done a great job with their WordPress platform. Plus, they include image compression for even better site loading times. In this category, Liquid Web is the winner.
Website Staging
With both Liquid Web and Flywheel, you get full website staging for your WordPress sites. It's very easy to create a staging copy of your website from both of these web hosts. However, I found moving changes back to your live production website was easier with Flywheel. At Liquid Web you have to download and activate their migration plugin in order to push changes to your live site. So when it comes to staging, Flywheel has the advantage.
Data Backup and Restore
Data backup and restore is another important feature that a managed WordPress hosting plan should include. And again, Liquid Web and Flywheel do not disappoint when it comes to this feature. Liquid Web not only provides automated daily backups that are stored offsite, but you can also easily manually create a backup when you need to. Likewise, Flywheel also includes automated daily backups plus the ability to create a backup at your discretion. Both of these hosts also provide easy access to your backup copies. We'll have to call it a tie here.
Customer Support
Customer support is another area where Liquid Web starts to distinguish itself from Flywheel. That's not to say that the support isn't good at Flywheel—it is. In fact, flywheel is very good when it comes to issue resolution. Where Liquid Web shines more is the immediate response times, and their superior live chat support availability. For customer support, Liquid Web definitely has the edge.

Liquid Web
Plans:
Personal ($29 mo.)
1 Website/20GB Storage
Freelance ($69 mo.)
4 Websites/40GB Storage
Professional ($99 mo.)
10 Websites/100GB Storage
Business ($149 mo.)
25 Websites/150GB Storage
Data Centers: Lansing, Michigan; Phoenix, AZ; Amsterdam, EUR
Free Domain?:: No
Money Back Guarantee: Pro-Rated
Advantages of Choosing Liquid Web:
Specialize in Upscale Managed Hosting
Automatic Plugin Updates
100% Uptime Guarantee
Auto Image Compression
Manage Multiple Sites with iThemes Sync
iThemes Security Pro
No Pageview Limits
Automatic Daily Backups Stored Offsite for 30 Days
Full Server Access

Flywheel
Plans:
Tiny ($14.00 mo.)
1 Website/5GB Storage
Personal ($28.00 mo.)
1 Website/10GB Storage
Professional ($69.00 mo.)
1 Website/20GB Storage
Data Centers: New York, San Francisco, Toronto, London, Frankfurt, Amsterdam, Singapore
Free Domain?: No
Money Back Guarantee: 30 Days
Advantages of Flywheel
Exclusively WordPress
VPS Servers
More Data Center Locations
Nightly Offsite Data Backups
One-Click Staging
Hacker-Free Security
Billing Transfer for Consultants
Recommendation
For your premium managed WordPress hosting, these are two quality candidates. In most cases, we would recommend Liquid Web—particularly those needing multiple website hosting (developers, consultants, agencies, etc.). Liquid Web's outstanding performance and premium features definitely establish them as one of the leaders in premium managed WordPress hosting.
If you only need single site hosting and you can't afford Liquid Web's pricing, then you should go with Flywheel. Otherwise, Liquid Web is our winner here. See our Liquid Web Review Ratings below.