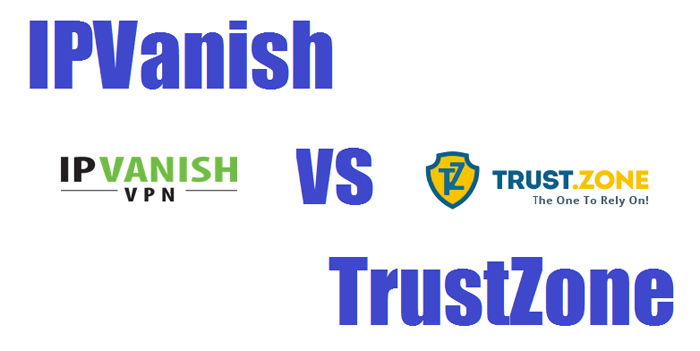 Which VPN is better? IPVanish or TrustZone? In this comparison of IPVanish vs TrustZone, we take a detailed look at the advantages each has to offer and which VPN provider is a better choice for you.
IPVanish vs TrustZone: Features
Overall, when it comes to features, IPVanish is ahead of TrustZone. IPVanish lets you have 10 simultaneous connections on multiple devices as opposed to just 3 with TrustZone. Also, IPVanish's VPN app is far superior and more user-friendly. And, the installation and setup process is much easier with IPVanish. With TrustZone, it's a much more tedious process to get things configured properly.
IPVanish vs TrustZone: VPN Network
IPVanish is also the winner when considering VPN networks. IPVanish has over 1100 severs in over 60 countries. Contrast that to TrustZone which has only 165 VPN servers in 34 countries. And, it's much easier switching servers with IPVanish. TrustZone's application requires you to download and install the configuration file for each server you want to use.
IPVanish vs TrustZone: Customer Support
IPVanish provides live chat support and a 7 day money back guarantee. TrustZone doesn't include live chat support and has a 3 day trial period. Their support is also limited to certain hours of the day. So unfortunately, you could have a situation like mine where your support ticket isn't answered for 3 days. In the customer support category, IPVanish is definitely the winner.
IPVanish vs TrustZone: Value
TrustZone has lower prices and offers more payment methods you can use. Their monthly rate is $6.99 as opposed to $10 at IPVanish. The yearly rate is also lower at $3.33 mo. while IPVanish will cost you $6.49 per month for one year. IPVanish does provide more features, so it's a closer call. But in this category, TrustZone is ahead.
IPVanish vs TrustZone Details

| | IPVanish | TrustZone | Comments |
| --- | --- | --- | --- |
| Servers: | | | 1100+ |
| Countries: | | | 60+ |
| Devices: | | | Windows, Mac, iOS, Android, Windows Phone, Ubuntu, Chrome, Routers |
| Features: | | | |
| VPN App: | | | Easy Server Switching |
| Connections: | | | 10 Simultaneous |
| Customer Support: | | | Live Chat Support |
| Payment Methods: | | | Visa, MasterCard, American Express, Discover, JBL, PayPal, Bitcoin, Emercoin, Paymentwall |
| Guarantee: | | | 7 Day Money Back Guarantee |
| Value: | | | |

IPVanish
Monthly @ $10.00 mo.
3 Months @ $8.99 mo.
1 Year @ $6.49 mo.

TrustZone
Monthly @ $6.99 mo.
1 Year @ $3.33 mo.
2 Years @ $2.66 mo.
Recommendation
For this comparison of IPVanish and TrustZone, for most users I would recommend IPVanish. IPVanish is much easier to setup and use. You can have up to 10 concurrent connections. And, their customer support is superior. The exception might be if you're looking for the cheapest solution. Then, you might want to consider TrustZone. However, IPVanish is definitely the overall winner. See our IPVanish Review Ratings below.