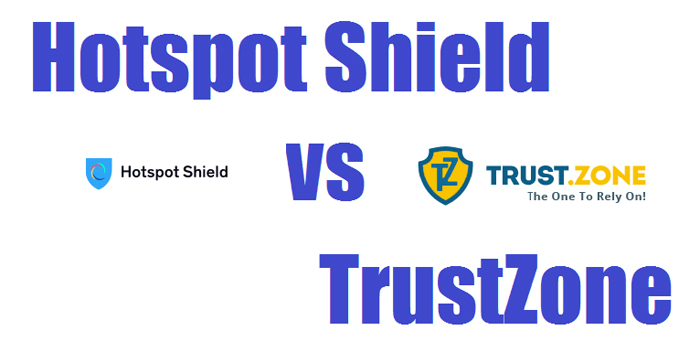 Which VPN is better? Hotspot Shield or TrustZone? In this comparison of Hotspot Shield vs TrustZone, we take a detailed look at the advantages each has to offer and which VPN provider is a better choice for you.
Hotspot Shield vs TrustZone: Features
Hotspot Shield and TrustZone both provide the vital features necessary for a successful VPN experience. However, Hotspot Shield also offers business VPN plans. And, the installation, setup, and server switching are far superior. Therefore, Hotspot Shield is the clear winner in this category.
Hotspot Shield vs TrustZone: VPN Network
Hotspot Shield also is ahead of TrustZone when it comes to the respective VPN networks. While TrustZone does have servers in more countries (34 vs 25), they only have 165 VPN servers as compared to Hotspot Shield's over 2500 VPN servers.
Hotspot Shield vs TrustZone: Customer Support
Here's another area where Hotspot Shield shines over TrustZone. Hotspot Shield provides live chat support for all customers and 24/7 live tech support for its business plan customers. Conversely, TrustZone only offers support ticket help—and only during certain hours. I had to wait 3 days for a response to a setup question I had. So, for customer support, Hotspot Shield is far ahead.
Hotspot Shield vs TrustZone: Value
The one area where TrustZone is competitive with Hotspot Shield is value. Prices at TrustZone are lower across the board. However, because Hotspot Shield provides superior features and support, it's still a very close call in this category. We'll give a slight edge to TrustZone.
Hotspot Shield vs TrustZone Details

| | Hotspot Shield | TrustZone | Comments |
| --- | --- | --- | --- |
| Servers: | | | 2500+ |
| Countries: | | | 34 |
| Devices: | | | Tie |
| Features: | | | Business VPN Plans Available |
| VPN App: | | | Easy Server Switching |
| Connections: | | | 5 Simultaneous |
| Customer Support: | | | Live Chat plus 24/7 Live Tech Support for Businesses |
| Payment Methods: | | | Visa, MasterCard, American Express, Discover, JBL, PayPal, Bitcoin, Emercoin, Paymentwall |
| Guarantee: | | | 45 Days |
| Value: | | | |

Hotspot Shield
Monthly @ $12.99 mo.
6 Months @ $8.99 mo.
1 Year @ $5.99 mo.
3 Years @ $3.49 mo.

TrustZone
Monthly @ $6.99 mo.
1 Year @ $3.33 mo.
2 Years @ $2.66 mo.
Recommendation
In this VPN comparison between Hotspot Shield and TrustZone, Hotspot Shield is definitely the winner. Hotspot Shield provides a superior VPN experience based on their easier installation and setup process, premium VPN features, better user-friendly VPN app, and more responsive customer support.
Although TrustZone delivers solid VPN performance, getting things set up and configured properly takes more time and effort than with other VPNs such as Hotspot Shield. Hotspot Shield provides a much smoother VPN experience that you can take advantage of much more quickly and easily.
For both new and experienced web users, and especially for business usage, I would recommend Hotspot Shield. See our Hotspot Shield Review Ratings below.