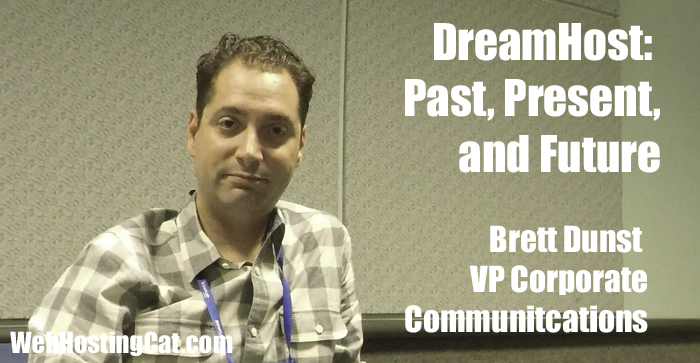 For over 20 years now DreamHost has been a force in the web hosting industry. Being headquartered in southern California, we've always had a special interest in what's going at the company. Brett Dunst is VP of Corporate Communications at DreamHost, and I recently had a chance to chat with him about DreamHost's current focus and what they have in store for the future.
We talked about the web hosting industry in general, as well as the expansion of DreamHost's product line, managed WordPress hosting, the new DreamHost Remixer site builder, cloud computing, and security.
Web Hosting Cat: DreamHost has been in business for over two decades now. How have you seen things grow over the years and how is DreamHost doing these days?
Brett Dunst: We're doing great! Things have really changed quite a bit since we first started. We started in a college dorm room renting out server space to local businesses who wanted a website. Back then, the customer orientation was: Sign up for our hosting, you get an empty web directory, just go nuts—learn HTML, that's it. But that's not so much the case anymore. There's a lot of great website builders out there that have really automated a lot of the hard work, making it easier and quicker than ever to build a website.
WHC: What types of hosting customers does DreamHost tend to attract?
BD: There are many, many niches. People really like that we're independent because in this industry there's been so much consolidation in the last decade. We also really have focused on our noble cause—which is, help people own their digital content.
WHC: DreamHost has been expanding its product line beyond web hosting. Can you talk a little bit about some of the new things that have come up?
BD: Absolutely. CEPH—an open source storage system that we developed. We incubated it inside of DreamHost. We ended up spinning it off a consulting company called Inktank, helped people deploy it and get installed. It's really great. We created it to solve a problem that we had. Instead of using customized storage hardware from companies like NetApp, we can use off the shelf hardware from anywhere and deploy just huge petabyte scale data storage. We productized that in a product that we call DreamObjects—it's our object storage system. People tend to think of us as a typical shared hosting company and may not realize that we have many advanced services out there that we've built from the ground up.
WHC: WordPress has always been a big part of DreamHost. How do you see managed WordPress hosting playing out in the future?
BD: Well, you said it. WordPress is it. It powers something like 25% of the web today. We've definitely seen that reflected in our own customer adoption. WordPress is huge. There is a definite demand for managed WordPress services. People don't want to have to install WordPress, keep it updated, maintain it, things like that. We offer a service called DreamPress that provides a managed WordPress installation. It really helps free up people from managing their installation of WordPress to actually just focusing on their content that's going to drive traffic to their site.
WHC: DreamHost recently unveiled their Remixer website builder. Can you tell us about it?
BD: Remixer is that latest product that we've put out there. It is designed to fill a need somewhere in between WordPress and website builders. Right now website builders–there's a lot of established players in the market and there all extremely mature and extremely powerful—but almost to a fault. It's kind of intimidating for new users who maybe just want a single page website for example. They don't necessarily need to click through 20 different font choices or clipart choices. Our focus in building Remixer has been not to compete with those guys because they do a lot. We wanted to focus very directly on making it easy and very quick to deploy a website.
WHC: Cloud computing continues to be one of the most interesting areas of the hosting industry. DreamHost has always been big on cloud hosting and cloud storage with DreamCompute and DreamObjects. What do you see with cloud hosting on a go forward basis?
BD: It's interesting. The typical web hosting customer is not all that interested in cloud hosting. They might think of Apple iCloud for example. So, it's been a challenge kind of explaining that proposition to traditional hosting customers. But those that tend to outgrow traditional hosting understand the value that it brings and have been pretty receptive to it.
WHC: Security is a big concern for many these days. What can you tell us about some of the security features and procedures that DreamHost utilizes?
BD: We have a pretty amazing internal security team in house. They have actually spent the better part of the last decade building their own detection and threat mitigation tools that are constantly updated. So, what we did in the last year is we were able to take that tool that's got almost a decade of hard work put into it and turn it into a customer facing tool. So customers are now able to opt in to have these regular automated security scans using the exact same heuristics that our internal security team uses to audit their sites regularly.
WHC: What's coming up in the future at DreamHost?
BD: I think you're going to see a lot more focus on Remixer. At this point we're listening to our customer's feedback. We're figuring out how we can improve it, planning out the road map for the future. Managed WordPress: We're not just going to stop with DreamPress. We're going to continue to enhance that using the same customer feedback and direction to help us steer the ship. So, our big focus is WordPress I would say.