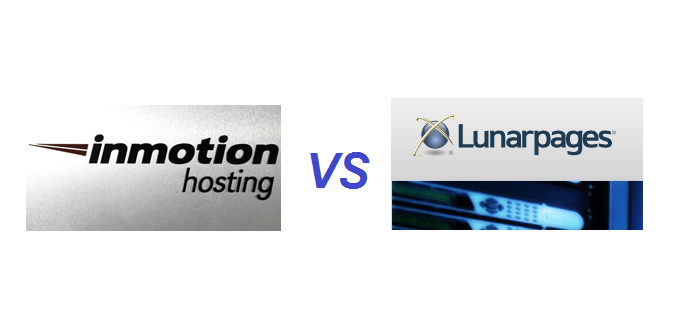 UPDATE 2017: Since our original posting, InMotion Hosting has continued to innovate and improve their services. We've updated the data below. As a result, we consider InMotion to be an even better value for business hosting plans. They are now the clear winner in this comparison.
For me, this is one of the most intriguing web hosting comparisons: Two established web hosts from Southern California (my area)—and two hosting companies that I've had personal experience with. Lunarpages was the first web hosting company I ever used, and I'm still using InMotion Hosting to this day. While both of these companies offer a wide range of web hosting services, in this comparison we're focusing on just the Business Hosting plans.
The first significant finding here is the large disparity in prices. InMotion's three business hosting plans are priced from $5.99 mo. to $13.99 mo. (see below for how you can pay even less). On the other hand, Lunarpages business hosting packages run from $24.95 mo. up to $64.95 mo. It is true that there are some premium features included with the Lunarpages plans, but I'm very surprised that you don't even get unlimited storage or bandwidth except with their $64.95 plan. I would definitely give the edge to InMotion Hosting as far as value goes.
Both of these web hosts offer excellent speed with their business hosting plans. InMotion utilizes their Max Speed Zone technology, while Lunarpages employs a content delivery network. Likewise, both companies use top quality hardware in their data centers. As for customer support, InMotion has always been outstanding for me. I did have some issues with Lunarpages support, but that was a number of years ago and it appears they are back on track at this point.
Some other items to note when comparing InMotion Hosting and Lunarpages are that both offer the cPanel interface and Softaculous application installation. Also, both web hosts provide data backup and restore services. Truthfully, the business hosting plans from both of these companies will provide all of the critical speed, power, security, and software applications necessary for most business websites.
With both of these web hosting companies offering robust features in their business hosting plans, again what truly seems to pop out at you is the price difference. Even at $24.95, the base business package at Lunarpages seems high. Their top tier business plan is impressive, but at a cost of $64.95 per month, you might be better off with a VPS or dedicated hosting plan. In contrast, InMotion Hosting's business packages are far less expensive yet also include outstanding features. If you click on the link below, you can save even more (56% off).

InMotion Hosting
Started Business: 2001
BBB Rating: A+
Data Center Locations: Los Angeles, CA and Washington, D.C.
Price: $3.49 mo. – $13.99 mo.
Unlimited Bandwidth: Yes
Unlimited Storage: Yes
Unlimited Email: Yes
Host Multiple Domains: Yes
Hosting Interface: cPanel
Server Uptime: 99.9%
Full Refund Period: 90 Days
Dedicated Hosting Available: Yes
Free Extras:
Free data restore once every four months.
$75 – $100 Google Adwords Credit
Premium Website Builder
Advantages of Choosing InMotion:
InMotion utilizes their Max Speed Zones for faster performance.
No charge to restore your data from their backups once every four months.
cPanel interface with easy 1 click software installs using Softaculous.
They offer phone, email, and chat support.
You get a separate Account Management Panel for your account and billing issues.
Fast live chat customer support responses.
You get over 400 applications to use for your websites.
Secure Remote Server Access via Command Line (SSH)
Pre-Installation of WordPress, Joomla, or PrestaShop
WP-CLI Available for Use with SSH
Choice of MySQL or PostgreSQL Databases
Google Apps Integration Made Easier
90 Day Money Back Guarantee

Lunarpages
Started Business: 1998
BBB Rating: N/A
Data Center Locations: California, Arizona, Nevada
Price: $24.95 mo.
Unlimited Bandwidth: No (200GB)
Unlimited Storage: No (20GB)
Unlimited Email: Yes
Host Multiple Domains: Yes
Hosting Interface: cPanel
Server Uptime: 99.9%
Full Refund Period: 30 Days
Dedicated Hosting Available: Yes
Free Extras:
Dedicated IP.
SSL Certificate.
$50 Facebook Ads Credit
Advantages of Choosing Lunarpages:
Cloudfare content delivery network included.
Premium Restore Service lets you retrieve data at no extra charge.
Many additional levels of hosting packages available.