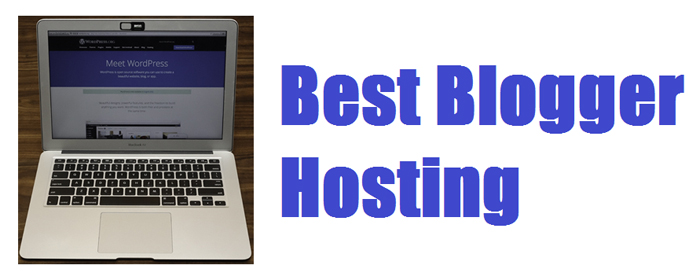 If you need web hosting for your blog, keep reading to find out which web host you should choose. Despite what some might think, blogging is still a hugely popular vehicle for sharing information and ideas. In this article, we take a look at the Best Blogger Hosting for 2022.
While there are many blogging platforms available, WordPress is by far the most popular. So in this article on blogger hosting, I'm going to focus primarily on WordPress features and benefits. First, let's take a look at what WordPress.org recommends in terms of requirements and hosting. Then, I'll give you my top 3 recommendations for blogger hosting. Since I have personal experience using all of the web hosting companies we're going to look at here, I can tell you first hand what's good and not so good about each host.
If you're specifically looking for a managed WordPress hosting solution, check out our updated guide here.
What Does WordPress Recommend?
WordPress.org lists three main recommendations for hosting:
Proper PHP Version
For example, at this time they list PHP version 7.4 or higher. The version of PHP that you use can make a huge difference in your site's performance. For instance, upgrading to PHP 7 provides a significant boost in speed over previous versions. Because of the importance of PHP to WordPress, I always look for a web host that provides the most current versions of PHP with their hosting plans.
Proper MySQL or MariaDB Version
For example, at this time they list MySQL 5.6 or higher and MariaDB 10.0 or greater. Similar to PHP, a good web host should strive to provide the most currently supported version of your database software.
HTTPS Support
Because website security is such a concern, and with the added emphasis for https by Google and web browsers these days, implementing SSL is even more critical for everyone—including WordPress sites. While all web hosts that I know can support https, what you really want to look for is a web hosting plan that includes free SSL certificates. A growing number of web hosts now offer free Let's Encrypt SSL certificates that allow you to utilize https at no extra cost.
Key Hosting Features for Bloggers
Combining the above suggestions from WordPress.org along with my own recommendations for bloggers, here are the key features you should look for when choosing your web hosting.
Pre-Installation or One-Click Installation of WordPress
Most Current Version Support of PHP and MySQL
Optimized Website Speed and Security
Advanced Caching Technology
Content Delivery Network (CDN)
Free SSL Certificates
Automated Data Backups
Automatic Updates
Responsive Customer Support
So What is the Best Blogger Hosting?
With so many WordPress hosting options currently available, in this article we'll go over the three web hosting companies recommended by WordPress.org. Then, additionally I'll present my three favorite blogger hosting options.
You should definitely be able to find the right blogger hosting solution amongst these six recommended web hosting companies.
WordPress.org Recommendations
WordPress.org lists just three web hosting recommendations for WordPress. Let's go over their three picks and then I'll give you my top 3 choices for WordPress blogger hosting.
SiteGround
SiteGround includes automatic daily backups retained for 30 days from which you can easily restore your website. Their SuperCacher technology really helps reduce your site loading times so your websites run faster. And free Let's Encrypt SSL is included.
What I really like about SiteGround is that they are constantly evolving with new innovative and proprietary technologies. For example, in recent times they have upgraded their entire Shared Hosting platform, improved their server restore procedures, and streamlined their automated updates system. In fact, you can now have your WordPress plugins updated automatically in addition to your core WordPress.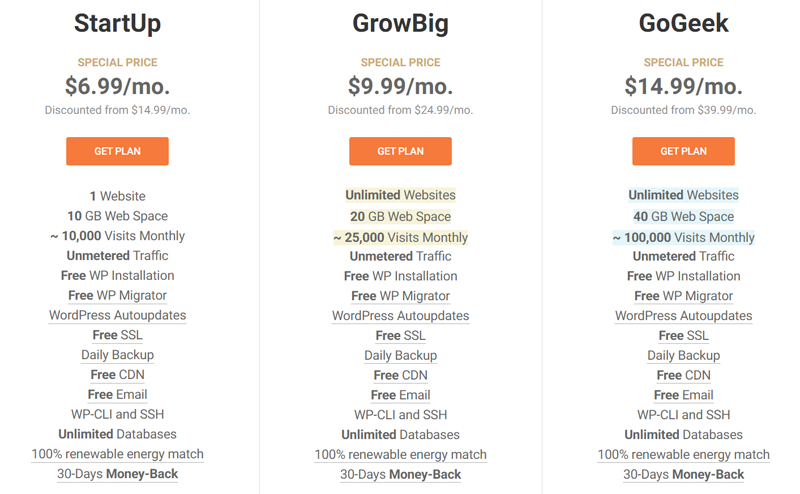 Bluehost


Bluehost is definitely one of the better-known web hosting companies around, and they have also emphasized their WordPress hosting features for many years. They are now part of the Endurance International Group (EIG) that includes many other web hosting companies including HostGator, iPage, Fat Cow, etc.
Of the three recommended hosts by WordPress.org, I would recommend Bluehost. Because of SiteGround's price increases, Bluehost is now a better deal. And, Bluehost is also a great choice for new WordPress users as they include two easy ways to create your WordPress blog and they include their customized WordPress dashboard that is great for beginners.
DreamHost


Like Bluehost, DreamHost is another hosting company that has focused a lot of their efforts on WordPress hosting. DreamHost has definitely made improvements with their customer support response times and their pricing. They have also bolstered their hosting features. However, I'm still not a big fan of their control panel dashboard.
WebHostingCat.com Recommendations
While all three of the hosting recommendations by WordPress.org are certainly credible, my top choices for WordPress Blogger Hosting somewhat differ based on my own experiences. Here are my top three recommendations.
GreenGeeks
GreenGeeks is definitely one of my picks for best WordPress blogger hosting. Their hosting plans are value packed with premium features for your websites. And remember, when you choose a green web host like GreenGeeks, you're actually helping to save our environment while creating your blogs.
For most bloggers, GreenGeeks Lite hosting plan is more than sufficient—providing unlimited disk space and bandwidth—all at a cost of only $2.49 mo. However, with GreenGeeks Pro and Premium plans, you get their PowerCacher technology along with more computing resources to make your sites run faster.
No matter which hosting plan you choose from GreenGeeks, you'll get a free domain, free Let's Encrypt SSL, Cloudflare CDN, proactive server monitoring, and nightly data backups.
And, while the customer support at other hosting companies has declined, GreenGeeks still provides top notch support via phone, email, and live chat. Unlike other web hosts, the live chat support response times are very impressive.
And just released in 2021, GreenGeeks now provides their Quick Launch Wizard that really simplifies and speeds up the process of creating your blog in WordPress. GreenGeeks has also lowered their prices, making them an even better option for blogger hosting.
InMotion Hosting
InMotion Hosting has always been one of my top web hosting picks for business websites. I've been an InMotion customer for over 10 years now and continue to enjoy the performance and support I receive from them.
InMotion Hosting continues to offer an outstanding combination of hosting features, website speed and performance, and excellent responsive customer support. Besides their Max Speed Zone Technology, InMotion now also includes their UltraStack Servers with advanced layered caching that are connected to their high-speed network for even better performance.
The only downside with InMotion is that their Data Backup Manager does cost an extra $2 per month. However, I use it and it's an invaluable tool for data backup and restores.
WP Engine
WP Engine has been my choice for Premium Managed WordPress Hosting for years now. If WordPress is your choice as a blogging platform and you're looking for the added assistance of a managed hosting plan, you can't do any better in my opinion. WP Engine focuses solely and completely on WordPress hosting.
WP Engine is great for WordPress bloggers that may need some extra help in the maintenance area of their website. Their support staff truly are WordPress experts. Unlike some other managed web hosts, they will take the extra step to make sure any questions or issues you have are resolved promptly.
Best Blogger Hosting Features