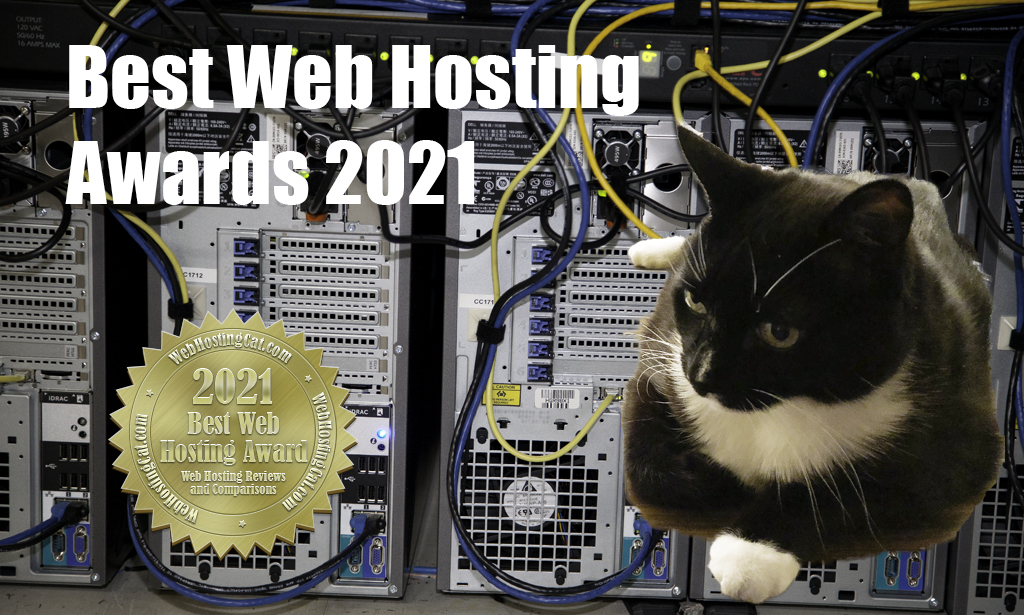 It's time for our annual Best Web Hosting Awards list for 2021. This year, we have a dozen awards going to the companies that have demonstrated to us outstanding service and support in web hosting and website related functions.
In addition to providing excellent hosting features and performance, this year's awards also reflect the current requirements website owners require such as easy and quick site creation, as well as superior WordPress and WooCommerce hosting.
2021 Best Web Hosting Award Winners
Best Shared Hosting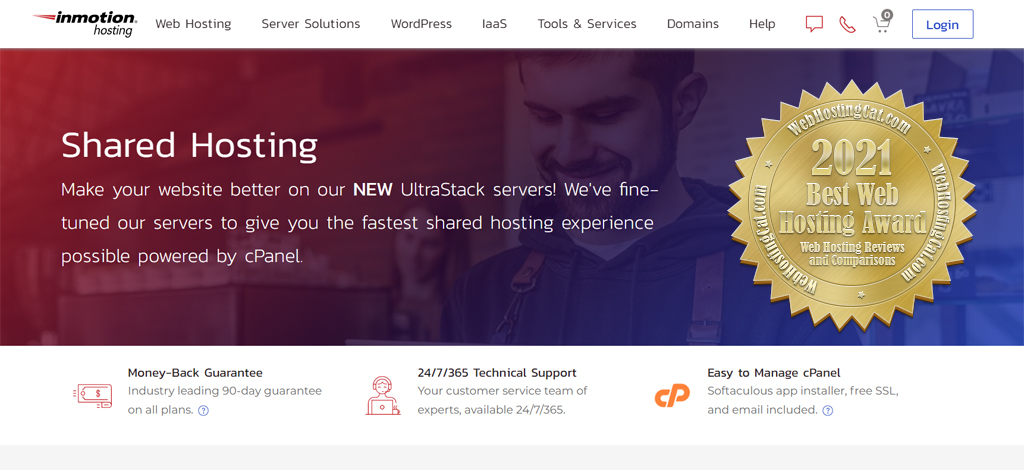 Shared Hosting continues to be the most popular type of hosting plan in 2021. As I mentioned, besides including the traditional features of quality website performance and support, these days there is a big emphasis on providing easier website creation methods—particularly for WordPress.
While there are a number of excellent shared hosting providers, this year's award once again goes to InMotion Hosting. For over a decade, I've been totally impressed with the features, website performance, and customer support they have provided. And they have continually improved their hosting plans as the web has evolved. InMotion's latest improvements include their UltraStack servers that, combined with their Max Speed Zone Technology, provide even faster website speed.
Best VPS Hosting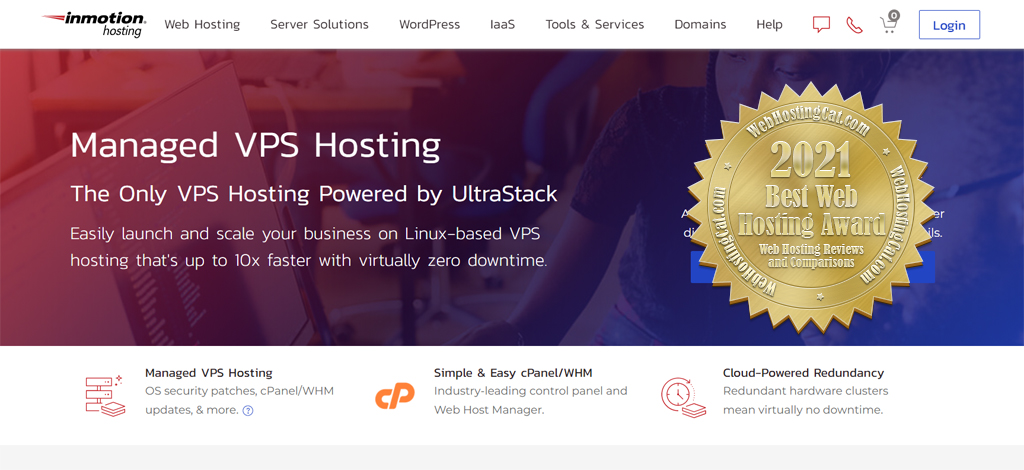 Just as with their Shared Hosting, InMotion has also continually provided excellent VPS Hosting options. With their Managed VPS Hosting plans, you get outstanding features and support, and the new customer discount prices make it an even better deal.
If you're looking to upgrade to VPS for the first time, you'll find InMotion Hosting to be one of the easier options. The managed VPS features combined with their easy-to-use cPanel and WHM control panels make the process of moving to VPS much more user-friendly. And the Cloud Powered Redundancy helps keep your websites up and running.
Best Dedicated Servers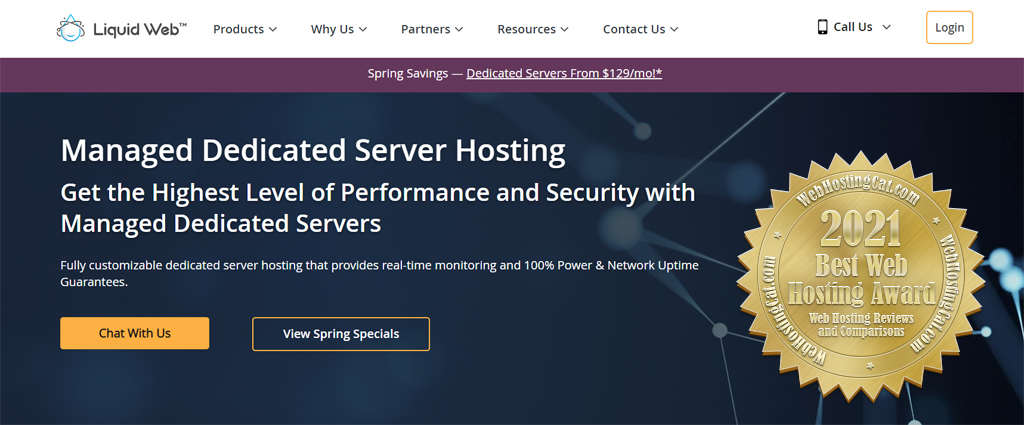 Liquid Web again wins the award for best dedicated servers this year. They have the best selection of dedicated web servers. And, since they have moved their WordPress and WooCommerce hosting services to their partner company Nexcess, Liquid Web can now devote even more time to their Dedicated Server hosting.
Best Blogger Hosting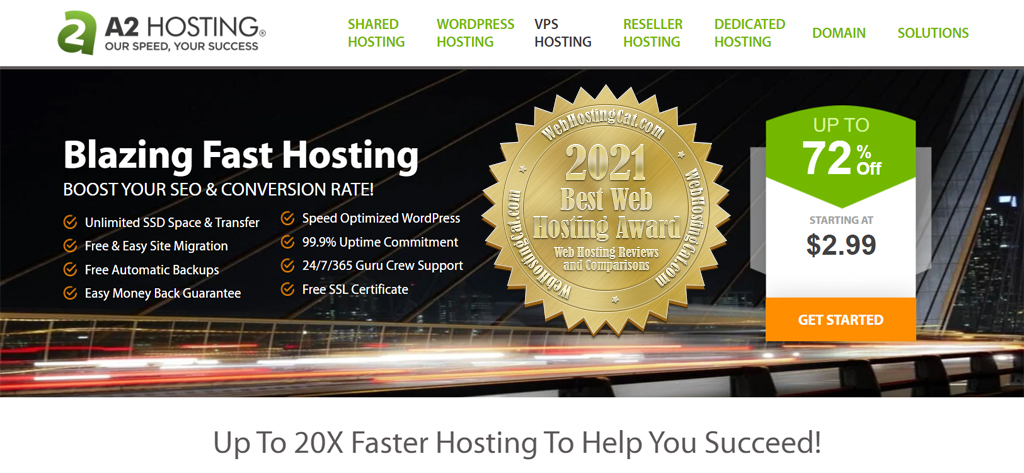 Because WordPress is so popular, there are a number of great choices for WordPress hosting. However, for pure blogger hosting, A2 Hosting is the award winner this year.
For starters, A2 Hosting offers some of the best value-packed hosting plans available. And A2's optimized WordPress environment for speed and security is perfect for bloggers. A2 will also pre-install WordPress so you can get started with your blog sooner. Also, with A2 Hosting you get advanced features such as server rewind data backups and automatic updates to assist you as your blog grows.
Best Managed WordPress Hosting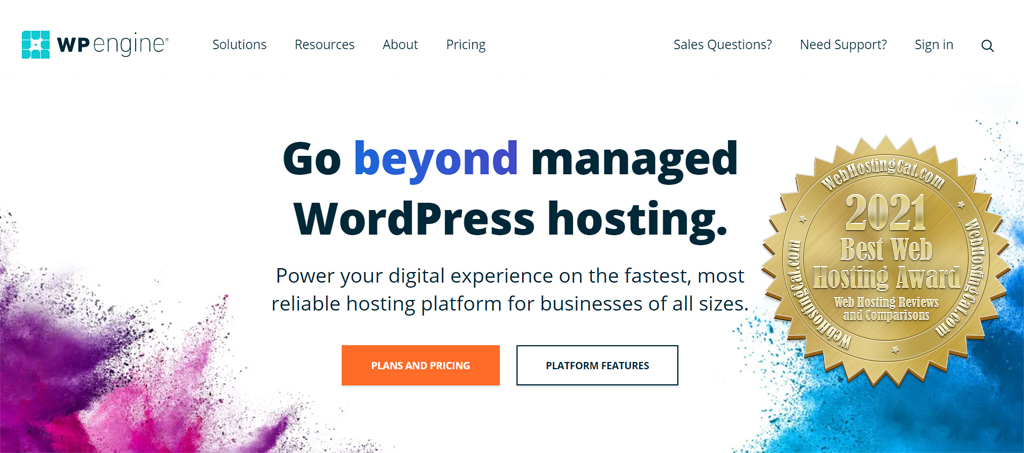 There is a reason why WebHostingCat.com is hosted by WP Engine. Quite simply, they are the best managed WordPress hosting option in my opinion. Although the managed WordPress hosting field continues to grow and there are some great WordPress hosting providers, WP Engine continues to be the best of the best—and is again this year's award winner.
With WP Engine, we get faster website speed. And, the managed hosting features such as automated data backups and security scanning has proven to be invaluable. When it comes to support, WP Engine is also outstanding. Unlike other so called managed WordPress providers that give you average support, the support team at WP Engine are WordPress experts and will really take the time to help you out.
Best WooCommerce Hosting

With more people selling online these days, Ecommerce continues thrive, and WooCommerce provides the best combination of features, simplicity, and WordPress platform benefits for Ecommerce websites. When it comes to WooCommerce Hosting, Nexcess is the award winner.
Formerly part of Liquid Web, Nexcess' Managed WooCommerce Hosting not only offers great features and performance for all levels of online stores, but they have also expanded the line of WooCommerce hosting plans to make things more affordable even for new stores.
Best Green Web Hosting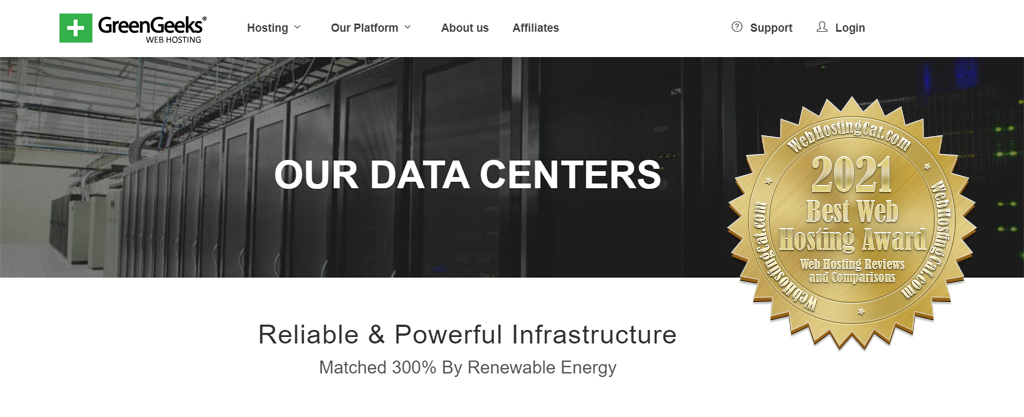 GreenGeeks is a multiple-time winner for best green web hosting—and for good reasons. They continue to lead the industry with their 300% renewable energy commitment and partnership with the Bonneville Environmental Foundation. GreenGeeks CEO Trey Gardner continues to lead his team in providing outstanding web hosting services that also protect our environment.
Best Beginner Web Hosting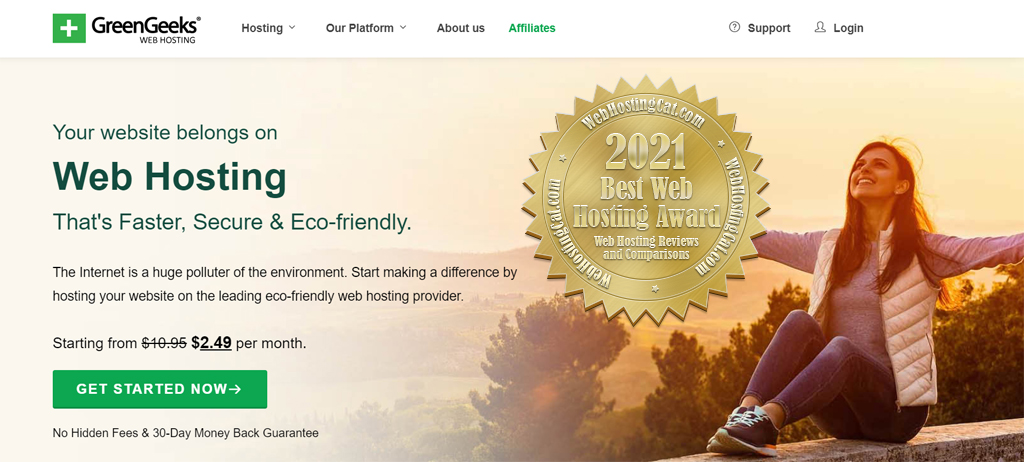 GreenGeeks is a multiple award winner this year due to their continued improvements to their hosting plans. Besides their outstanding green web hosting, GreenGeeks also focuses on helping their customers achieve success. And, in order to help their customers get their websites up and running quicker, they now provide their Quick Launch Wizard that guides new users in creating their first website.
The Quick Launch Wizard can even go a step further if you need more assistance. You can actually have the GreenGeeks team create your site for you. They also provide free website migration if you're moving from another host.
Best Website Builder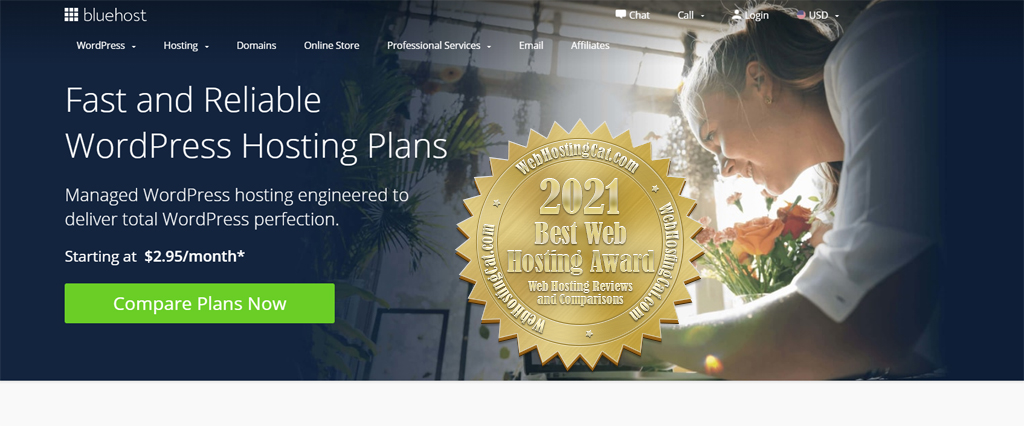 There was a time when you had to choose whether you wanted to use a website builder or have the benefits of WordPress. But these days, there are a growing number of WordPress website builders available. This year's award for best website builder goes to Bluehost.
Bluehost actually provides two easy ways to create your WordPress sites. You can either use the Bluehost wizard that guides you through the process, or use the website builder that makes things even easier. And with Bluehost you also get their easy to use drag and drop editor plus their customized WordPress dashboard.
Best Domain Name Registrar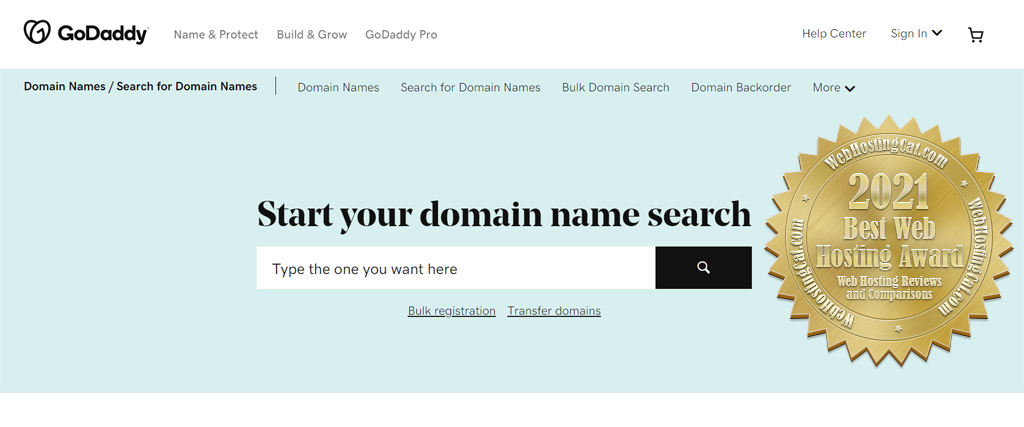 GoDaddy's marketing message may have changed over the years, but they are still the largest domain registrar—and in our opinion, the best one. They offer the ability to register a huge selection of domain extensions as well as providing other domain name services such as domain name auctions and broker services. So once again this year, GoDaddy is the award winner for best domain name registrar.
Best Email Autoresponder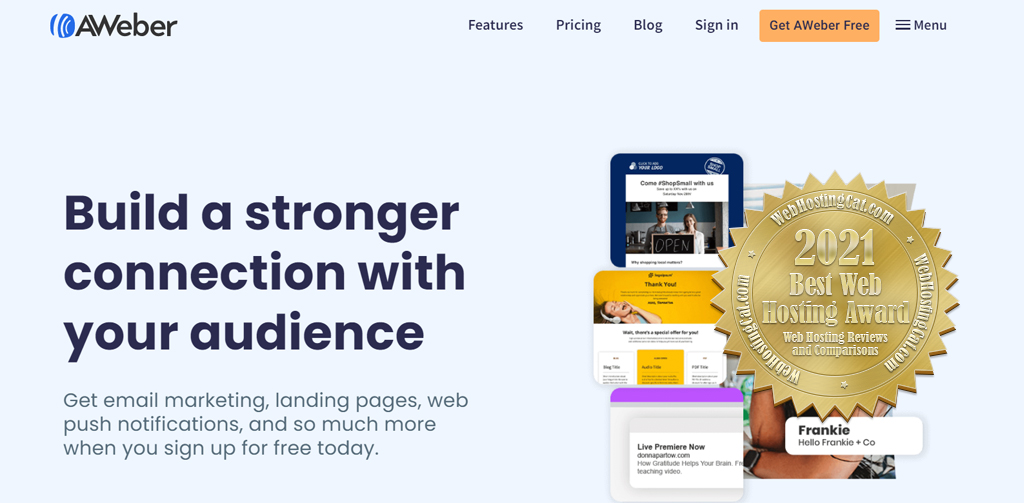 Getting the right web hosting is the first step to achieving a successful website and online business. However, one of the first steps you should take after getting your hosting and creating your site is to incorporate email marketing and build your email list. AWeber continues to be the best choice in our opinion for email marketing services. And you can now use AWeber for free!
Best Digital Marketing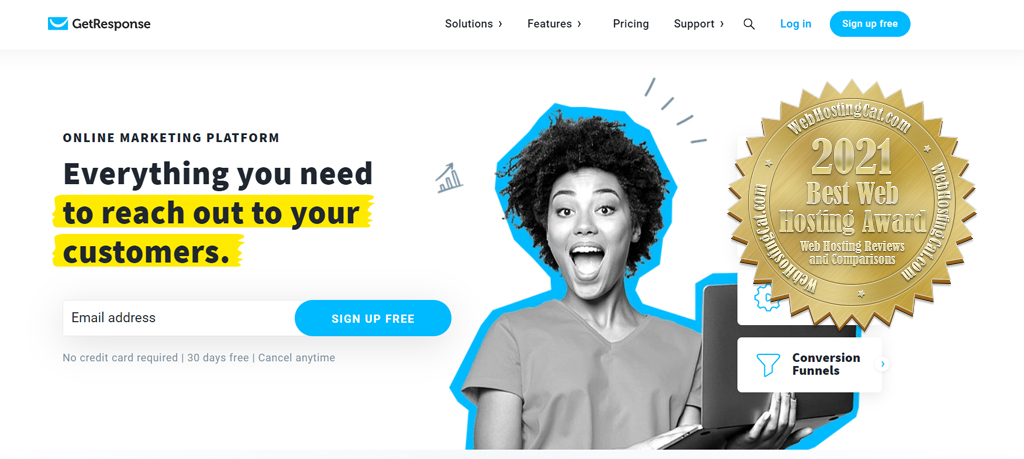 GetResponse is this year's award winner for best digital marketing. If you're looking for more than just email marketing, GetResponse offers an impressive selection of marketing tools. GetResponse has distinguished themselves from the competition by providing not only email marketing, but also landing pages, forms and pop-ups, sales funnels, and even support for webinars. And, they provide their services at very reasonable rates.
2021 Best Web Hosting Award Winners