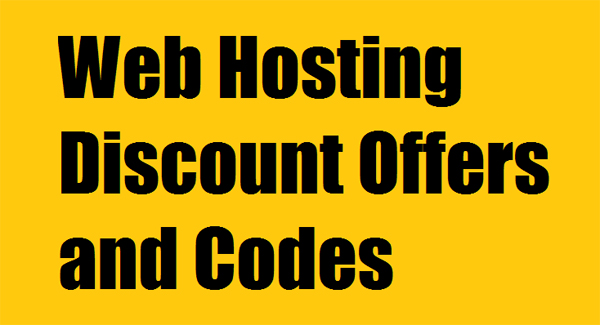 Web Hosting Discount Offers and Codes
Want to save money on your web hosting? Here are some of the absolute best discounts and promo codes available at this time. Because we do business with a lot of web hosting companies, we've even been able to get some exclusive deals we can pass along to you.
A2 Hosting – 62% Discount


A2 Hosting may not be as familiar a name as some of the other web hosts here, but they definitely belong in the top web hosting group as far as I'm concerned. With features such as optimized WordPress speed and security, CloudFlare CDN, and turbo server options for extra fast site loading, A2 is very impressive. I have their Turbo hosting plan, and you can get it at up to a 62% discount by clicking here and using code SOFAST!.
Bluehost – $2.95 mo.


Bluehost remains on the WordPress.org recommendation list. And, they have recently made some excellent improvement for WordPress beginners. You can get their Shared Hosting for only $2.95 mo. by using this link.
DreamHost – 20% Discount*


DreamHost is one of the web hosts we've seen improvements from lately—including better customer support response times. And they've continued to expand their hosting services to include cloud services and managed WordPress hosting. Our exclusive discount will give you 20% off on your DreamHost hosting plan. Just click here.
HostGator – 45% Discount*


HostGator is another hosting company we've seen improvement from recently. They've always had an impressive lineup of web hosting plans, and in the past was definitely one of the top hosting companies I dealt with. Hopefully, the recent improvements signal a return to those times. We're now able to get you a 45% discount. Just click this link for HostGator.
InMotion Hosting – 50% Discount*


We've written extensively about InMotion Hosting over the years. And as I've been one of their customers since 2009, I've been able to witness first-hand the excellent features such as their Max Speed Zone Technology, great website performance, and very responsive and helpful customer support. InMotion has received our Best Business Hosting Award multiple times. For our exclusive 50% discount, click here.
iPage – Save 81%


iPage has always been a great alternative for budget web hosting. And, they continue to offer a featured packed shared hosting plan that is great for beginners. They also offer one of the lowest introductory priced hosting plans. You can get their hosting for only $1.99 mo. (that's a savings of 81%) by clicking here.
Liquid Web – 25% Off (First 3 Months)*


Liquid Web has definitely taken managed web hosting to a whole new level. If you have (or plan to have) a mission-critical website that makes you money, then you really should consider a managed hosting solution provider such as Liquid Web. They've put together an outstanding team that really strives to give customers the white glove treatment. If you really want true managed web hosting, Liquid Web is the answer. And with our exclusive discount offer, you can save 25% on your first three months at Liquid Web. Just click this link and enter code 25OFF2019.
SiteGround – 70% Off


SiteGround continues to impress us with their improvements and innovation to their web hosting lineup. They already had some of the best managed hosting plans, but they have since upgraded their entire shared hosting platform and recently improved their website security options. Click here to get up to 70% off at SiteGround.
Web Hosting Hub – $1.99 mo. (First 3 Months)*


Web Hosting Hub is a great choice for bloggers that may need extra resources. You can choose from three levels of shared hosting (Spark, Nitro, and Dynamo) to suit your needs. Get up to 78% off with your first three months at $1.99 mo. by clicking here.
WP Engine – 20% Discount*


WP Engine focuses only on WordPress hosting. If you need premium managed WordPress hosting for your business or personal website, they should be at the top of your list. I've always enjoyed outstanding performance and support from them. While WP Engine does cost a bit more, you can get our exclusive 20% discount by using this link.
*Exclusive offer for WebHostingCat.com visitors.
Web Hosting Special Discounts