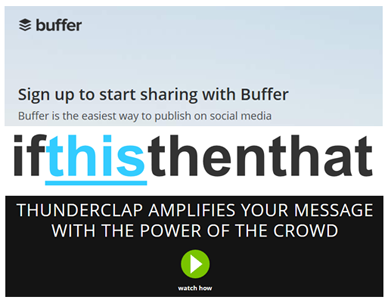 While your own website should be your main focus, social media has become a great way to promote and draw traffic to your site. On top of that, there are now many useful tools that let you more easily and effectively use social media. Seemingly, there are new tools popping up every day. These social media tools help you out primarily in two ways. They can schedule and automate tasks to free up your time, and they can be used to run promotional campaigns.
Here are three social media tools that I've been testing out lately:
Buffer



Buffer is a social media scheduling tool that allows you to compose your posts in advance and have them actually appear at a specified time of your choice. In addition to freeing up some of your time, Buffer also shortens your links and provides you with analytical data such as number of clicks.
Currently, you can connect Buffer to Twitter, Facebook, LinkedIn, Google+, and app.net.
Buffer is free to join and use a basic account. If you upgrade to a paid account, you'll be able to add more social profiles, schedule more posts, and have more flexibility in scheduling times. There is also a Business Account available that allows you to integrate it with Google Analytics and access much more analytical data.
IFTTT



IFTTT (pronounced like gift without the g) stands for If This, Than That. IFTTT lets you set up automated actions based on certain triggers.
For example:
When links are posted to your Facebook Page, a blog post can be generated on your WordPress site with a reminder to visit that page.
You can automatically generate a new WordPress post whenever you add a new photo on Flickr.
Automatically generate a post on your WordPress website when you upload a video to YouTube.
The basic building blocks in IFTTT are called Channels (Facebook, Twitter, WordPress, etc.). The combination of a trigger and an action is referred to as a Recipe. You can create your own personal recipes or use one of the shared recipes from the IFTTT community. Currently, there are 130 channels available and numerous triggers and actions you can set up.
IFTTT is free to join and setting up your Recipes (triggers and actions) is very easy.
Thunderclap



Recently, one of my Twitter pals asked me if I had ever used Thunderclap. I responded that I wasn't familiar with it but it did look interesting and I'd check it out further. Thunderclap is a tool used for social media promotion campaigns—getting the word out. Whether you want to promote a social cause, non-profit entity, or your business brand, Thunderclap helps you to synchronize your social media and get your message out by rallying your online friends to join the cause.
Basically, once you set up a campaign (and are approved by Thunderclap), you promote it by:
Embedding a widget to your website
Sending out Tweets
Posting on Facebook
YouTube Videos
Promoting on Tumblr
Sending out Emails
The list of Thunderclap users is impressive and includes:
The White House
Major League Baseball
Sony Pictures
Levis
People Magazine
Mozilla
And More
You can sign up for a free individual Thunderclap plan, or one of their three paid level plans that offer more features and options.
Your Website, Social Media Sites, and Social Media Tools in That Order
There are of course many more social media tools available. However, here I wanted to highlight and demonstrate how they can be used to help you in promoting your sites. Just remember not to get too caught up in utilizing your social media. Your own website should always be your primary focus.