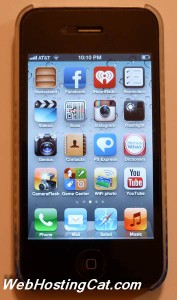 With smartphones and tablet computers selling at a tremendous rate, the need to have your website customized and optimized for mobile computer is more important than ever. There's a huge potential market that you don't want to miss out on because of a site that is unreadable or too cumbersome to use on mobile devices.
Surprisingly, until just recently there didn't seem to be much of an effort by web hosting companies to address this issue with their web hosting plans. Specifically, I couldn't find any web hosts that had any services to make their customers websites smartphone friendly. There wasn't anything listed on their company sites and when I asked directly if they had mobile web hosting features, the answer was no. But fortunately, that's not the case anymore.
Currently, I've run across several web hosting companies that are now actively promoting their web hosting services as being mobile ready. For example, Go Daddy is now featuring their Mobile Site Converter powered by DudaMobile which will automatically convert your site and is optimized for iPhone, Android, and Blackberry. 1&1 Hosting has been advertising their MyWebsite hosting plan for some time. It's specifically geared toward first time website owners. And now the 1&1 MyWebsite fully optimizes your site for use on tablets and smartphones (iPad, iPhone, Android). Meanwhile at iPage, they are offering a 60% discount on goMobi's excellent mobile site builder.
While designing your website to look great on desktop and laptop computers may still be your primary objective, it's nice to know that the mobile computing audience is finally being addressed by web hosting companies.